Steven Spielberg and George Lucas warn of movie industry 'implosion' and $50 tickets: Is this the end of Hollywood as we know it?
Veteran directors warn of fewer theatres and higher ticket prices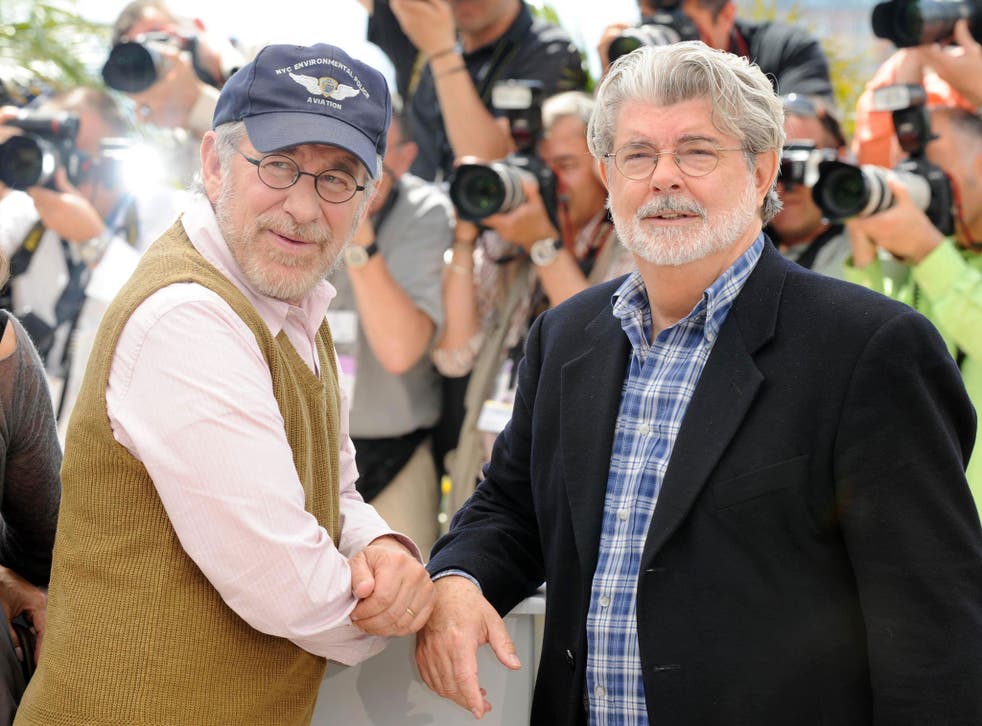 It will come as little comfort to young filmmakers that even Steven Spielberg has difficulty getting a movie financed.
Speaking to film students this week, Spielberg warned of an imminent "implosion" in the industry, saying several successive blockbuster box-office flops would radically alter the Hollywood business model. In future, the director suggested, audiences will be expected to pay more to see large-scale films than their more understated counterparts.
"You're gonna have to pay $25 [£16] for the next Iron Man," he said. "You're probably only going to have to pay $7 to see Lincoln." Spielberg also revealed that Lincoln, his Oscar-winning 2012 biopic of the 16th US President, had come "this close" to being an HBO television film, and only earned a theatrical release because the director co-owns his own film studio, Dreamworks.
Hollywood elder statesmen Spielberg, 66, and George Lucas, 69, were speaking together on Wednesday at the opening of a new building at the University of Southern California's School of Cinematic Arts in Los Angeles. The two men have made some of the most successful blockbusters in history, including Star Wars, Jaws and Raiders of the Lost Ark. "When I first started making movies," Spielberg recalled, "my movies stayed in theatres for one year… E.T was in a theatre for a year and four months... That was an amazing situation."
But, he warned, "There's eventually going to be an implosion, or a big meltdown… where three or four or maybe even a half-dozen mega-budget movies are going to go crashing into the ground, and that's going to change the paradigm."
Audiences now have so much choice about how to spend their time and entertainment dollars, he explained, that studios are forced to put their weight behind only the biggest titles. "You're at the point right now where a studio would rather invest $250m in one film for a real shot at the brass ring than make a whole bunch of really interesting, deeply personal – and even maybe historical – projects that may get lost in the shuffle," he said.
Lucas agreed, discussing the difficulty he too faced in bringing his World War Two drama Red Tails to the big screen. "You're talking about Steven Spielberg and George Lucas can't get their movie into a theatre," the Star Wars creator said, predicting that the business of film exhibition would become more like Broadway or West End theatre. "What you're going to end up with is fewer theatres. Bigger theatres, with a lot of nice things. Going to the movies is going to cost you 50 bucks, maybe 100. Maybe 150."
The directors' comments echoed those of other filmmakers, such as Steven Soderbergh, who recently announced his retirement from cinema after failing to get an American theatrical release for his Liberace biopic, Behind the Candelabra. The film was broadcast on HBO in the US.
Lucas described cable television as "much more adventurous" than film. "I think eventually the Lincolns will go away and they're going to be on television," he said.
Access unlimited streaming of movies and TV shows with Amazon Prime Video Sign up now for a 30-day free trial
Sign up
Hollywood turkeys: Big budget flops
AFTER EARTH (2013)
Will Smith's father-and-son sci-fi is the star's first summer flop in two decades. It has so far grossed about $97m worldwide, still some $30m shy of its production budget.
JOHN CARTER (2012)
Disney was thought to have lost about $200m on this Mars-set fantasy sci-fi. By far the fattest turkey of 2012.
BATTLESHIP (2012)
John Carter star Taylor Kitsch also fronted this $220m belly flop, which made just $25.4m in its opening weekend.
Join our new commenting forum
Join thought-provoking conversations, follow other Independent readers and see their replies