The Hateful Eight producer shuts down misogyny claims as 'fishing for stupidity'
'This guy is the most pro-woman ever. [Look at] Uma Thurman [in Kill Bill], Pam Grier [in Jackie Brown], Melanie Laurent and Diane Kruger [in Inglourious Basterds].'
Christopher Hooton
Monday 28 December 2015 10:27 Comments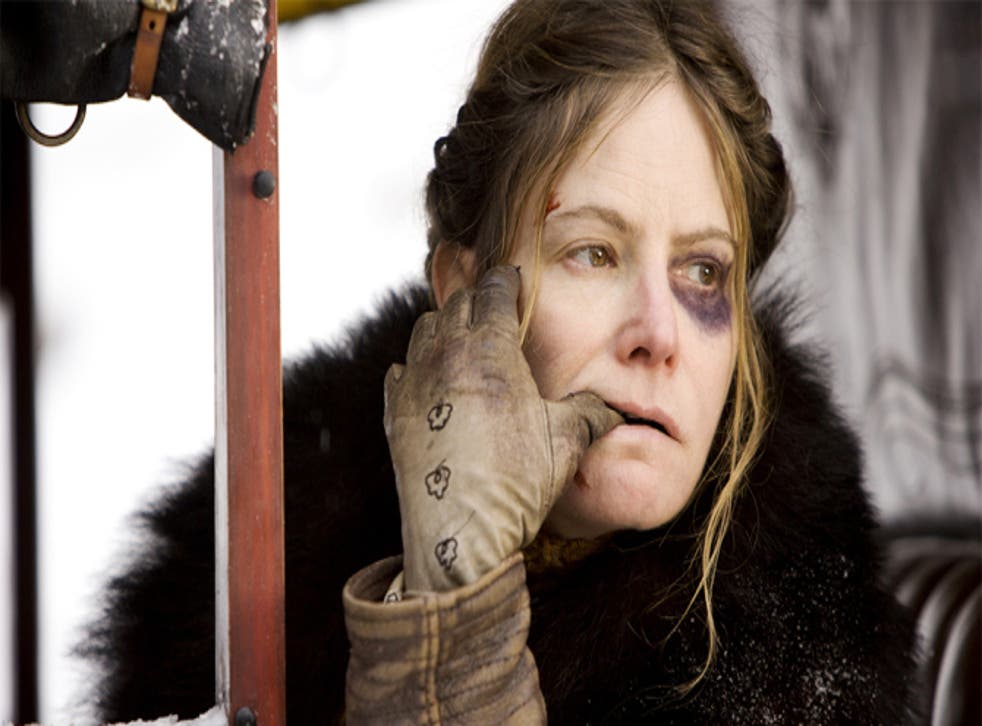 It wouldn't be a Quentin Tarantino release without accusations of racism and/or sexism, and lo and behold a few were levelled at the director this week over his next film, The Hateful Eight.
The Western sees a lot of physical abuse dished out on Daisy Domergue (Jennifer Jason Leigh) by John Ruth (Kurt Russell), something Tarantino previously said is designed to make you hate the latter character.
"When John Ruth [played by Kurt Russell] cracks her over the head that very first time, you feel this ripple going through the audience - because it almost does seem like one of the last taboos left," he told Variety.
"You're supposed to say, 'Oh my God. John Ruth is a brutal bastard!' That is what you're supposed to say. I want your allegiances, to one degree or the other, to shift slightly as the movie goes on, and frankly, depending on where you're coming from."
When online commenters suggested the scenes amount to misogyny endemic in the filmmaker rather the film's plot, producer Harvey Weinstein was not happy.
"This guy is the most pro-woman ever," he said.. "[Look at] Uma Thurman [in Kill Bill], Pam Grier [in Jackie Brown], Melanie Laurent and Diane Kruger [in Inglourious Basterds].
"If there are cries of misogyny, we will sit down and make them watch Jackie Brown, and at the end of the Jackie Brown seminar, they will have to say, 'Hey, we're just fishing for stupidity.'"
Leigh backed him up.
Quentin writes the best parts for women out there," she added. "He really does. He writes very brave, bold, insane, fabulous women. Nobody writes women like he does."
As for her character, she explained: "She's a leader. And she's tough. And she's hateful and a survivor and scrappy. I thought it was funny, but I didn't think it was misogynistic for a second. [Tarantino] doesn't have an ounce of misogyny in him. It's not in his writing. It's not in his being."
The Hateful Eight, which Tarantino believes sees his best direction yet, opens in UK cinemas on 8 January.
Register for free to continue reading
Registration is a free and easy way to support our truly independent journalism
By registering, you will also enjoy limited access to Premium articles, exclusive newsletters, commenting, and virtual events with our leading journalists
Already have an account? sign in
Join our new commenting forum
Join thought-provoking conversations, follow other Independent readers and see their replies