TIFF 2016 line-up: 10 films tipped to follow in the footsteps of past Oscar winners
Including The Magnificent Seven, new Tom Ford film Nocturnal Animals and Snowden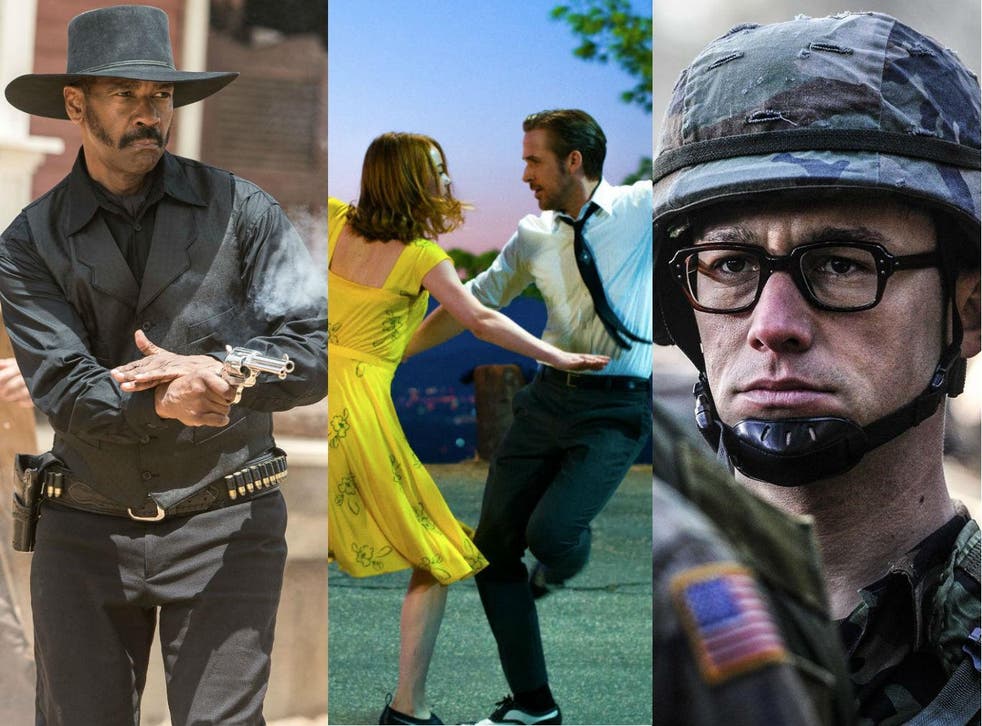 The line-up for this year's Toronto International Film Festival (TIFF) has been released and it's as impressive as ever.
Alongside a host of films that have been doing the festival rounds since Sundance and Cannes earlier on this year (The Birth of a Nation, Loving, Paterson), the festival will premiere a whole number of films that are set to either do big box office business or become involved in the 2017 Oscar race (The Martian managed both last year).
Films to have received TIFF premieres in the past include Argo, The King's Speech and Silver Linings Playbook. Below is a handful of the films set to be shown at this year's festival that is due to take place in Canada this September.
Toronto International Film Festival 2016 line-up

Show all 19
The Magnificent Seven

This high-octane remake of the classic 1960 western - which reunites Antoine Fuqua with his Training Day stars Denzel Washington and Ethan Hawke - will open proceedings in blistering form. Well, if the trailer's anything to go by.
Deepwater Horizon
Lone Survivor director Peter Berg (Friday Night Lights) is tapping back into 'unnerving biographical' mode with this disaster thriller about the 2010 drilling rig explosion and oil spill in the Gulf of Mexico. Mark Wahlberg, Dylan O'Brien and father-daughter duo Kurt Russell/Kate Hudson star.
Arrival
Despite having no trailers or stills, Canadian filmmaker Denis Villeneuve (currently shooting Blade Runner 2) will debut his latest at the festival. A short story adaptation of Ted Chiang's Story of Your Life, the sci-fi follows an expert linguist tasked with determining the intentions of invading extra-terrestrials and promises to retain the eerie atmosphere conjured in Enemy.
La La Land

All eyes are on filmmaker Damien Chazelle's romantic musical following the acclaim heaped upon his superior drama Whiplash (2014). The film sees Crazy Stupid Love co-stars Gosling and Stone re-team for a simple tale about a jazz pianist who falls for an aspiring actress in Los Angeles.
Snowden

Platoon, Born on the Fourth of July, JFK... Oliver Stone's filmmaking reputation - despite recent lackluster efforts - precedes him. Next, he's made an all-star biopic (Joseph Gordon-Levitt, Shailene Woodley, Melissa Leo, Tom Wilkinson, Nicolas Cage) about Edward Snowden, the computer professional who leaked thousands of classified NSA documents to the press in 2013.
Nocturnal Animals
It's been seven years since fashion designer Tom Ford released his Colin Firth-starring debut A Single Man. Now he's back with this unsettling drama which stars Amy Adams as an art gallery owner who feels threatened by her ex-husband's novel. The impressive cast includes Jake Gyllenhaal, Isla Fisher, Aaron Taylor-Johnson and Michael Shannon and Jake Gyllenhaal.

American Pastoral

Ewan McGregor makes his directorial debut with this period adaptation of Philip Roth's novel American Pastoral. The drama - set in the 60s - centers on a successful businessman (McGregor) whose missing daughter (Dakota Fanning) is accused of a violent bombing in post-war America.
Queen of Katwe

Indian-American filmmaker Mira Nair (Monsoon Wedding) is the director behind this long-awaited biopic of Ugandan chess prodigy Phiona Mutesi. That Mutesi is played by 12 Years a Slave Oscar-winner Lupita Nyong'o is reason enough to anticipate this Disney-produced film.
A United Kingdom
Having generated attention for her charming tale Belle (2013), British filmmaker Amma Asante is back, this time recounting the true-life story of Botswanaian President Seretse Khama and the London-born First Lady, Ruth Williams Kharma. A United Kingdom is also set to open the 60th BFI London Film Festival.
The Edge of Seventeen
First-time director Kelly Fremon Craig's coming-of-age comedy follows high school student Nadine (Hailee Steinfeld) whose worldview is thrown into disarray when her older brother (Everybody Wants Some!!'s Blake Jenner) begins dating her best friend. Kyra Sedgwick and Woody Harrelson also star in this closing night film which is said to capture the essence of classic John Hughes films.
Toronto International Film Festival (TIFF) takes place from 8-18 September.
Join our new commenting forum
Join thought-provoking conversations, follow other Independent readers and see their replies