The Independent's journalism is supported by our readers. When you purchase through links on our site, we may earn commission.
Oscars: Viola Davis becomes only 23rd actor to win an Oscar, Emmy and Tony with Best Supporting Actress gong
They call it the triple crown of acting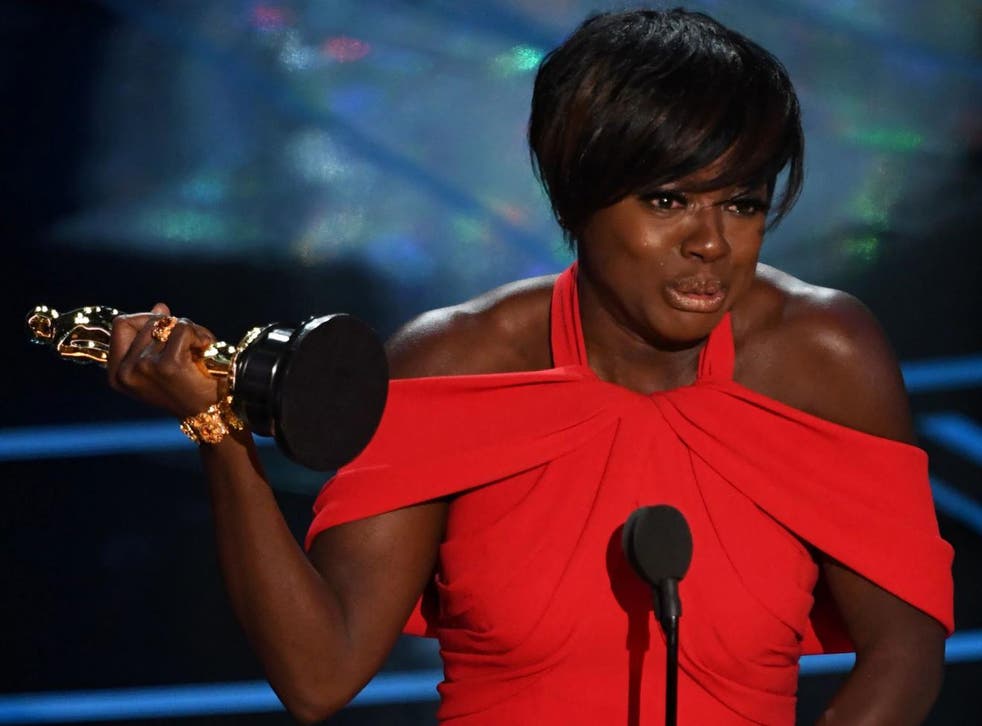 When Viola Davis won the Best Supporting Actress prize at the Academy Awards, she became the 23rd person to achieve the triple crown of acting: a competitive Oscar, Emmy and Tony (two Tonys, in her case). She is the first African American to join the club.
Receiving an award is a fickle honour - a function of timing, campaigning and momentum as much as talent - but winning the triple crown is a meaningful Hollywood achievement. It requires both range and longevity. Club members are all deeply respected in their field; there's not a stowaway in the bunch. Acting's triple crown is a rare distinction. Not even Davis's idol, Meryl Streep, has achieved it.
There are indeed more than 22 actors who've received all three awards, but they did so for reasons other than just acting - or the awards were non-competitive in nature, such as an honorary Oscar. For example, John Gielgud and Whoopi Goldberg received all three, but his Tony came for directing a play and hers came for producing a musical. Audrey Hepburn, with an Oscar and Tony on her mantel, received an Emmy in 1993 for a TV special about gardens, but she wasn't playing a role. Liza Minnelli's Emmy for Liza With a Z, in which she starred, was - alas - for a non-acting category.
Much is made of the "EGOT," which adds a Grammy Award to the mix, but that's a distinction that doesn't solely honour acting. In fact, there's just one person who's competitively achieved an EGOT entirely through performance (we don't count the "spoken word" Grammy category as acting). That person is No. 8 on this list of triple-crowners, presented here in reverse chronology from when they joined the club.
Oscars 2017: Best dressed on the red carpet

Show all 25
23. Viola Davis won her Oscar, after two prior nominations, for Fences, the film adaptation of the August Wilson play, for which she also won the second of her two Tonys.
1 Oscar: Fences (2017)
1 Emmy: How to Get Away with Murder (2015)
2 Tonys: King Hedley II (2001), Fences (2010)
22. Jessica Lange is the most recent joiner, courtesy of one of the great stage roles: Mary Tyrone, the drug-addled matriarch of Eugene O'Neill's Long Day's Journey Into Night, which closed on Broadway last June.
2 Oscars: Tootsie (1983), Blue Sky (1995)
3 Emmys: Grey Gardens (2009), American Horror Story (2012, 2014)
1 Tony: Long Day's Journey Into Night (2016)
21. Frances McDormand is a quintessential triple-crowner - lacking physical vanity, trained as a classic theatre actor and versatile over a long period of time. "I have done both Stella and Blanche in Streetcar," she said, holding her Tony, wearing a jean jacket, "and I've played all three of Chekhov's sisters."
1 Oscar: Fargo (1997)
1 Tony: Good People (2011)
1 Emmy: Olive Kitteridge (2015)
20. Helen Mirren, who didn't start her awards streak until she turned 50, can thank British royalty for her triple crown. She has one of each award for playing Elizabeth I or Elizabeth II.
4 Emmys: The Passion of Ayn Rand (1999), Elizabeth I (2006), the Prime Suspect franchise (1996 and 2007)
Access unlimited streaming of movies and TV shows with Amazon Prime Video Sign up now for a 30-day free trial
Sign up
1 Oscar: The Queen (2007)
1 Tony: The Audience (2015)
19. Christopher Plummer, Captain Von Trapp himself, finally worked his way to an Oscar at age 82 (making him the oldest acting winner). "You're only two years older than me, darling," he said to his Oscar. "Where have you been all my life?"
2 Tonys: Cyrano (1974), Barrymore (1997)
2 Emmys: Arthur Hailey's The Moneychangers (1977) and for his voice-over work in the animated series Madeline (1994).
1 Oscar: Beginners (2012)
18. Ellen Burstyn, already a household name because of The Exorcist, had quite a year in 1975. In the span of 12 days, she won an Oscar and a Tony. She skipped the former's ceremony because she was performing in the play that won her the latter.
1 Oscar: Alice Doesn't Live Here Anymore (1975)
1 Tony: Same Time, Next Year (1975)
2 Emmys: Law & Order: Special Victims Unit (2009), Political Animals (2013)
17. Geoffrey Rush, the only Australian member of the club, completed the first two legs of the triple crown by playing real-life misfits: piano prodigy David Helfgott and British comic actor Peter Sellers.
1 Oscar: Shine (1997)
1 Emmy: The Life and Death of Peter Sellers (2005)
1 Tony: Exit the King (2009)
16. Al Pacino accepted his first Tony less than a week before his 29th birthday. He would have to wait over 20 years, through eight Oscar nominations, before completing the second leg. When Jodie Foster called his name at the Oscars, triple-crowner Vanessa Redgrave - sitting behind him - throttled his shoulders with excitement.
2 Tonys: Does a Tiger Wear a Necktie? (1969), The Basic Training of Pavlo Hummel (1977)
1 Oscar: Scent of a Woman (1993)
2 Emmys: Angels in America (2003), You Don't Know Jack (2010)
15. Maggie Smith has a habit of not attending the Emmys ceremony. "If we call your name and you're not here to accept," Jimmy Kimmel said at last year's show, "the Emmy goes to the next name on the list. It's called the Maggie Smith Rule." She won. Kimmel grabbed the statuette. "We're not mailing this to her," he said.
2 Oscars: The Prime of Miss Jean Brodie (1970), California Suite (1979)
1 Tony: Lettice and Lovage (1990)
4 Emmys: My House in Umbria (2003), Downton Abbey (2011, 2012, 2016)
14. Vanessa Redgrave was heckled during her Oscar speech for referring to "Zionist hoodlums" riling the Middle East, but by the end of the speech the audience was mostly applauding. Like Lange, she got her Tony for playing Mary Tyrone.
1 Oscar: Julia (1978)
2 Emmys: Playing for Time (1981), If These Walls Could Talk 2 (2000)
1 Tony: Long Day's Journey Into Night (2003)
13. Anne Bancroft, up against Bette Davis for the Oscar in 1963, didn't attend the ceremony. Joan Crawford, Davis's rival and un-nominated co-star in Whatever Happened to Baby Jane?, had offered all the non-Davis nominees who wouldn't be there that she'd go up to accept the Oscar on their behalf. Crawford followed Bancroft's written instructions, which were identical to her Tony speech for the same role, as Annie Sullivan. She simply thanked her director, writer and producer.
2 Tonys: Two for the Seesaw (1958), The Miracle Worker (1960)
1 Oscar: The Miracle Worker (1963)
1 Emmy: Deep in My Heart (1999)
12. Jeremy Irons, after beginning his career in the West End, won a Tony for his Broadway debut and, seven years later, accepted an Oscar from Jessica Tandy, who had just attained the triple crown herself.
1 Tony: The Real Thing (1984)
1 Oscar: Reversal of Fortune (1991)
3 Emmys: Elizabeth I (2006) and two for voice-over work: Big Cat Week (2014), The Great War and the Shaping of the 20th Century (1997)
11. Jessica Tandy took the longest to complete her triple crown. There were 42 years between her first Tony, for originating the role of Blanche DuBois in A Streetcar Named Desire, and her first Oscar, for bringing the titular stage character in Driving Miss Daisy to the screen.
3 Tonys: A Streetcar Named Desire (1948), The Gin Game (1978), Foxfire (1983)
1 Emmy: Foxfire (1988)
1 Oscar: Driving Miss Daisy (1990)
10. Jason Robards racked up 16 nominations across the triple-crown board and is one of only five actors to win consecutive Oscars for acting (the others are Tom Hanks, Katharine Hepburn, Luise Rainer and Spencer Tracy).
1 Tony: The Disenchanted (1959)
2 Oscars: All the President's Men (1977), Julia (1978)
1 Emmy: Inherit the Wind (1988)
9. Maureen Stapleton wore her Oscar dress the following night on The Tonight Show, explaining that she was repeating the outfit because "it cost a lot of money." She then admitted to Johnny Carson that she hadn't even seen the movie for which she'd won.
2 Tonys: The Rose Tattoo (1951), The Gingerbread Lady (1971)
1 Emmy: Among the Paths to Eden (1968)
1 Oscar: Reds (1982)
8. Rita Moreno not only attained the triple crown of acting - she has a competitive Grammy Award as well. Moreno also gave one of the best (and shortest) Oscar acceptance speeches: "I can't believe it! Good Lord. I leave you with that."
1 Oscar: West Side Story (1962)
1 Tony: The Ritz (1975)
2 Emmys: The Muppet Show (1977), The Rockford Files (1978)
7. Jack Albertson, a former pool shark and vaudevillian, would gain immortality by playing Grandpa Joe in Willy Wonka and the Chocolate Factory in 1971, but first he parlayed a part written by playwright Frank Gilroy through the first two legs of the triple crown.
1 Tony: The Subject Was Roses (1965)
1 Oscar: The Subject Was Roses (1969)
2 Emmys: Cher (1975), Chico and the Man (1976)
6. Paul Scofield, a British actor known for his interpretations of Shakespeare, achieved the triple crown in the shortest span of time of anyone in the club: seven years. Two of the awards came for playing Sir Thomas More in the stage and film versions of Robert Bolt's A Man for All Seasons.
1 Tony: A Man for All Seasons (1962)
1 Oscar: A Man for All Seasons (1967)
1 Emmy: Male of the Species (1969)
5. Melvyn Douglas made a name for himself 20 years before he started winning awards, opposite Greta Garbo in the classic Ninotchka. He accepted only his Tony Award, for best lead actor in a play, in person.
1 Tony: The Best Man (1960)
2 Oscars: Hud (1964) and Being There (1980)
1 Emmy: CBS Playhouse (1968)
4. Shirley Booth, like Marisa Tomei and Jennifer Lawrence decades later, tripped on the stairs when accepting her Oscar, during the first televised Academy Awards - which was held in Hollywood and New York simultaneously. "I guess this is the peak," she said from the stage in New York, though her starring role in the NBC sitcom Hazel would come within a decade.
3 Tonys: Goodbye, My Fancy (1949), Come Back, Little Sheba (1950), The Time of the Cuckoo (1953)
1 Oscar: Come Back, Little Sheba (1953)
2 Emmys: Hazel (1962, 1963)
3. Ingrid Bergman uttered one of the best humblebrags in the history of the Academy Awards when she nabbed her third statuette: "It's always very nice to get an Oscar." She then conceded that the award really belonged to Italian actress Valentina Cortese, nominated for Day for Night.
3 Oscars: Gaslight (1945), Anastasia (1957), Murder on the Orient Express (1975)
1 Tony: Joan of Lorraine (1947)
2 Emmys: Startime (1960), A Woman Called Golda (1982)
2. Thomas Mitchell, one of cinema's great character actors, had a sterling year in 1939: He was Scarlett O'Hara's father in Gone With the Wind, a reporter covering Jimmy Stewart in Mr. Smith Goes to Washington and the comic relief in Stagecoach, which began his run at the triple crown. Mitchell won his best-actor Emmy over the likes of Charlton Heston and Jack Webb, back when the prize wasn't tied to a particular show. In the year prior, he appeared in multiple TV series, including Suspense and The Gulf Playhouse.
1 Oscar: Stagecoach (1940)
1 Emmy: 1953
1 Tony: Hazel Flagg (1953)
1. Helen Hayes, the D.C.-born first lady of the American theatre, won her Emmy over Peggy Wood and June Lockhart, among others, in the same year and manner as Mitchell did. In the three years preceding the award, Hayes mostly played royalty, such as Queen Victoria in Robert Montgomery Presents and Mary Stuart in Pulitzer Prize Playhouse.
2 Oscars: The Sin of Madelon Claudet (1932), Airport (1971)
2 Tonys: Happy Birthday (1947), Time Remembered (1958)
1 Emmy: 1953
The Washington Post
Join our new commenting forum
Join thought-provoking conversations, follow other Independent readers and see their replies