Oscars 2015 predictions: Hollywood producers go all out in last bid to earn votes from Academy Awards members
In 1999, Harvey Weinstein, who produced The Imitation Game, is said to have spent $5m on the campaign for Shakespeare in Love to win Best Picture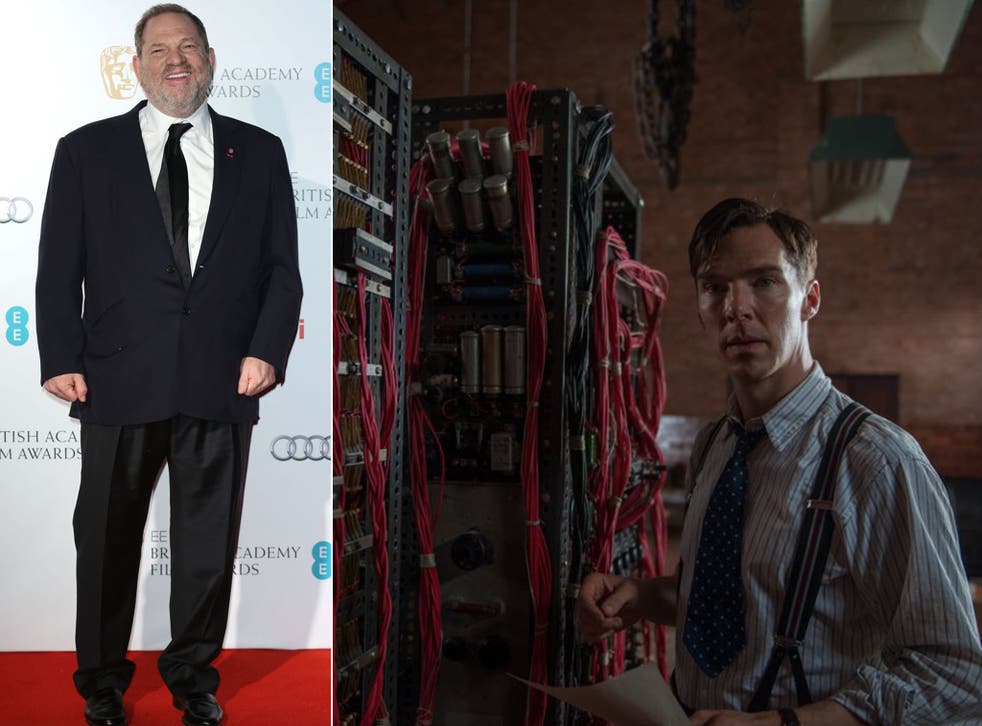 In Hollywood, in the desperate last days of the Oscars race, it's hard to escape the campaign ads, whether or not you're a member of the Academy. One billboard for The Imitation Game looms over Santa Monica Boulevard, exhorting citizens to: "Honour the Man. Honour the Film."
In a recent interview, the film's producer, Harvey Weinstein, said the UK government ought to honour its subject, the Enigma code-breaker Alan Turing, and give royal pardons to the thousands who, like Turing, were prosecuted under pre-1967 laws outlawing homosexuality. Weinstein added that he was willing to surrender his honorary CBE for the cause.
If the message seems a tad shameless – support gay rights: vote for The Imitation Game – then it's consistent with the producer's previous tactics. During his first major Oscar campaign, for My Left Foot in 1990, Weinstein sent thousands of chocolate feet to Academy members. Voting for the 2015 Oscars ends on Tuesday, and the ceremony is next Sunday. And with the race still running, why not go all out?
The southern California airwaves are thick with ads for Oscar contenders, says Tim Gray, awards editor at Variety: "Selma opened over a month ago, but it just had a tribute at the Grammys. ABC interviewed Michael Keaton this week; Birdman opened in October. Why are they interviewing him now? Because Academy voters have their ballots in their hands."
Oscars 2015 nominations

Show all 28
In 1999, Weinstein is said to have spent an unprecedented $5m (£3.25m) on the campaign for Shakespeare in Love, winning Best Picture. Nowadays, studios routinely splurge up to $10m to persuade the Academy of a film's merits. It's by no means a rash investment: some nominated films are still opening in international markets, and an Oscar or two could boost their box-office takings exponentially.
Richard Linklater's Boyhood was the best reviewed film of the year, so much so that a handful of dissenting critics had to write think-pieces explaining why they disagreed with the overwhelming majority of their peers. It has hoovered up critics' awards such as the Golden Globes, which are chosen by the Hollywood Foreign Press Association.
But since industry groups began giving out silverware, the tide has turned in favour of Birdman, which has won the top prizes at guild awards for producers, directors, and actors.
"It looks like a repeat of four years ago, when The King's Speech stopped The Social Network juggernaut," says Tom O'Neil, founder of awards prediction website GoldDerby.com. "The Social Network swept the critics' awards, but as soon as we heard from the industry itself, everything was The King's Speech."
Julianne Moore (Still Alice), JK Simmons (Whiplash) and Patricia Arquette (Boyhood) have won every gong on offer for Best Actress, Best Supporting Actor and Best Supporting Actress respectively.
Access unlimited streaming of movies and TV shows with Amazon Prime Video Sign up now for a 30-day free trial
Sign up
Best Actor seems to have come down to a sprint between Keaton and the thoroughbred Eddie Redmayne, the latter ahead by a nose in the final stretch. The Imitation Game's star Benedict Cumberbatch, who was married yesterday, is also a contender.
Those filling out sweepstakes may wish to take the following into account: seven of the past 10 Oscars went to actors portraying historical figures, from Ray Charles to King George VI. (Eight, if you count Daniel Day-Lewis's character in There Will Be Blood, who was based on the real-life oil-man Edward Doheny.) Keaton's is the only fictional character in this year's category.
"Superhero movies are the staple of cinema-going, so you need some form of 'branded entertainment' to capture an audience," explains Eric Fellner, producer of The Theory of Everything, which stars Redmayne as Stephen Hawking. "A story about someone known has a hook into the marketplace that an original film doesn't." Biopic subjects, he adds, are "highbrow superheroes".
Join our new commenting forum
Join thought-provoking conversations, follow other Independent readers and see their replies