12 Years A Slave, review: 'Steve McQueen forces us to confront the brutality of slavery'
McQueen confronts what few filmmakers have been prepared to address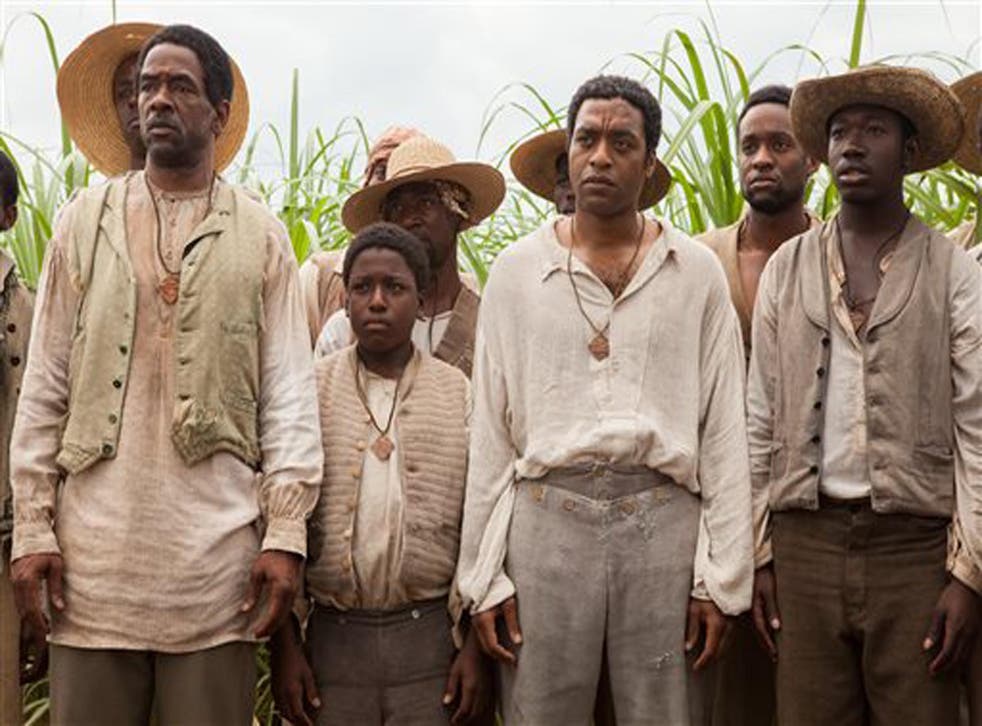 "There is no sin. A man does as he pleases with his property," the most brutal of the slave owners, Edwin Epps (Michael Fassbender), blithely declares after an act of extreme viciousness late on in Steve McQueen's Oscar front-runner, 12 Years A Slave. His choice of words is telling. It points both to what makes the film so powerful and to why it often seems so one-dimensional as drama.
Academic and scholar of black history Henry Louis Gates Jr. has called 12 Years A Slave "the most vivid and authentic portrayal of American slavery ever captured on screen." Such a verdict is hard to dispute. McQueen depicts the horrific experiences of Solomon Northup (Chiwetel Ejiofor), the free man kidnapped and sold into slavery, in utterly unflinching fashion. The film's strength lies in its frankness and avoidance of either sentimentality or Quentin Tarantino-style irony.
The white slave owners, Epps the worst of them, aren't worried or guilt-stricken about their own brutality. They don't even question it. The most dismaying aspect of the film for contemporary audiences is likely to be the rigid mindset of these owners. They simply aren't interested in the suffering of their slaves, who are treated throughout as livestock. ("Very likely he will grow into a fine beast," a trader tells buyers of a young boy at a slave auction.) Even the "kindly" owner, William Ford (Benedict Cumberbatch), doesn't see his slaves as equals.
12 Years A Slave film stills

Show all 10
The plot line is given away in the very title. (The front of Northup's 1853 memoir, on which John Ridley's screenplay is based, tells readers right at the outset that Northup, "a citizen of New York," was "kidnapped in Washington City in 1841 and rescued in 1853, from a cotton plantation near the Red River in Louisiana.")
In a series of brilliantly shot tableau-style scenes, McQueen reveals the full extent of the degradation Northup endured. The film shows again and again the casual, matter of fact way in which the owners abuse the slaves, beating them, locking them up and even lynching them. These owners simply can't imagine that slaves have the same deep rooted emotional ties to families that they do. One tells a grief stricken mother whose kids have been taken away from her to "have something to eat and some rest...your children will soon be forgotten".
The reason we know about Northup's experiences is that he wrote about them. McQueen has stated that the book felt as "important" to him as Anne Frank's diary and that he was startled by how little recognized it was (although it had been a bestseller in the 1850s).
Northup was a family man; educated, cultured and an accomplished violin player. Chiwetel Ejiofor captures brilliantly his character's sense of bewilderment at his plight, his initial despair, his resilience and his battle to keep his dignity and self-respect. There is something Kafkaesque about what befalls him. We see him touring round Washington with a pair of mountebank-like theatre folk who are dressed like the fox and the cat in Pinocchio. They get him drunk and he wakes up in irons. When he tries to protest that he is a free man, he is whipped brutally. His refinements count for nothing. Stripped of his clothes and possessions, he is just another lot in a slave trader's auction. Even his name is taken from him.
Occasionally, there is something fetishistic about McQueen's portrayal of slaves being lashed. McQueen has a fascination with the suffering male body. There are plentiful sequences here of Northup and others being brutalised. What makes the imagery of flayed and bloody flesh all the more shocking is that it comes in the context of a Nineteenth Century costume drama which, at least in the early scenes, has its share of waistcoats, hats and bonnets.
One of the most shocking scenes involves the beautiful young female slave Patsey (Lupita Nyong'o) who is Epps' mistress. Her ostensible "crime" is visiting a nearby plantation to get hold of some soap. ("I stank so much I made myself gag," she pleads). Epps uses this as the pretext to have her whipped. It is sheer spite and malice on behalf of the slave owner who is egged on by his wife, Mistress Epps (Sarah Paulson). There is also self-loathing in his actions. He is attracted to Patsey, admires her prodigious work rate in the fields but despises his own feelings toward her.
Access unlimited streaming of movies and TV shows with Amazon Prime Video Sign up now for a 30-day free trial
Sign up
Epps is sadistic in the extreme. It's a measure of Fassbender's skill as an actor that he is at least able to hint at the insecurities in a character who has nothing remotely sympathetic about him.
The female protagonists here have a complexity that the men often lack. As played by Nyong'o, Patsey is defiant and enigmatic. Paulson's Mistress Epps is an intensely jealous, repressed and insecure figure. McQueen may not give us much sense of the inner lives of the slave owners or of how they justify their own behaviour to themselves but he makes it clear that they are a wretchedly unhappy bunch.
Many of the best recent American films ( Gravity and All Is Lost among them) have been survival stories. 12 Years A Slave is easily the most harrowing. That is because Northup isn't fighting against the elements. His adversaries are his fellow human beings.
Some of the cameos strike a jarring note. For example, Brad Pitt, playing a folksy carpenter, looks and sounds as if he is on leave from a Quaker oats commercial.
In terms of storytelling, there isn't much dramatic tension here. This is primarily a chronicle of suffering and exploitation. Its brilliance lies in its frankness. McQueen is forcing audiences to confront the dehumanising brutality of slavery, something few other filmmakers have been prepared to address.
Video: 12 Years a Slave director heckled
Join our new commenting forum
Join thought-provoking conversations, follow other Independent readers and see their replies