The Big Short review: They did it, they made the financial crisis intelligible and entertaining
A sneering yet irresistible film about our own greed and stupidity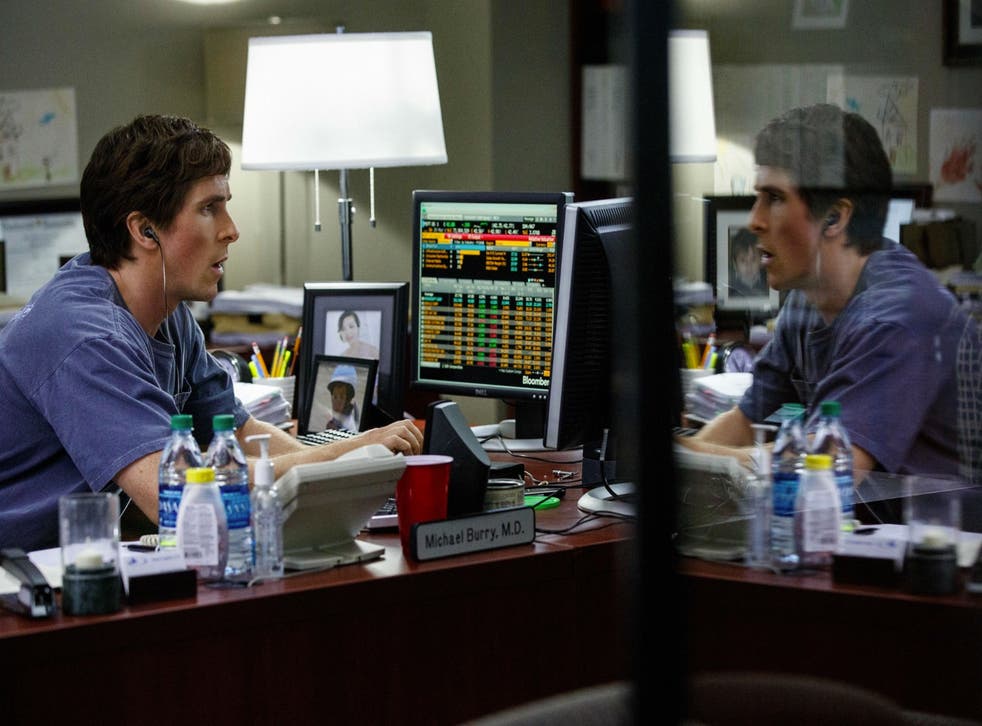 Synopsis: 'Four outsiders in the world of high-finance who predicted the credit and housing bubble collapse of the mid-2000s decide to take on the big banks for their lack of foresight and greed.'
Moments after leaving a screening of The Big Short, a cheery young man with a camera crew walked up to me saying that he was filming an HSBC advert and wanted to know what my plans were for 2016.
"Growing seeds," I replied, echoing the advice of Brad Pitt's Ben Rickert, the film's chief detractor of global commerce and the banking system.
It was hard not to get caught up in the sentiments of the film - an emphatic takedown of almost unfathomable corruption disguised as a slick, A-lister-driven comedy.
The decision to bring Anchorman's Adam McKay on board for the project proved absolutely crucial, and it was clear he completely understood a) that people don't really understand what happened to the economy in 2007, no matter how much they might claim to in front of their friends and b) that they imagined it to be dreary, at least in contrast to whatever exoskeletal superheroes might be beating each other up in the next cinema screen.
The film tackles these points with brilliant fourth wall-breaking, narrative side-stepping asides, that I won't ruin for you but perfectly skewer our apathy.
Granted, McKay might not have been able to pull off the feat without such star power - Christian Bale, Steve Carell, Ryan Gosling, Brad Pitt - and they're all on fantastic form here. Bale has a brilliant energy as a socially inept but self-aware maths genius who predicts the bursting of the housing bubble, Carell plays early-seasons-of-The-US-Office Michael Scott if he'd been left in a hot car for 10 hours, Gosling has the smallest job to do of the four but gets it done as a showy douchebag and Pitt provides relief as a more level-headed, jaded banking veteran.
Scorsese's influence is heavy here, and the film is very similar in a lot of ways to The Wolf of Wall Street, though I'd argue it's a better one.
While TWOWS was hilariously slapstick and DiCaprio was as magnetic as ever, it got a bit unwieldy toward the end, and ultimately lacked any emotional impact beyond the demise of one very delusional man. The Big Short in contrast feels more controlled, and aims less for "aren't bankers awful" and more "isn't the entire financial system completely corrupt, and isn't it terrifying that the world is run by humans when all humans are basically just self-interested and/or winging it all the time".
Access unlimited streaming of movies and TV shows with Amazon Prime Video Sign up now for a 30-day free trial
Sign up
The Big Short is an adaptation of a non-fiction book of the same name, and very playful with it, being completely overt about any inaccuracies added to make it more entertaining, echoing the theme of our short attention span for anything "mathsy", however vital it might be to know.
It looks as though Bale and Carell will both vie for the Best Actor awards this year (they definitely are at the Golden Globes) and for me it's the latter who is the most deserving though both are brilliant, with Carell's character Mark Baum proving the heart of the film - a look of utter self-disgust on his face when he realises exactly what it is he has achieved.
Some may argue that the film is too preachy, but it left me feeling annoyed with myself that I hadn't taken a keener interest in why we the people ended up footing the bill for a financial pummelling in which we were also the victim, and that can only be a good thing.
Serious but entertaining and intricate but funny is a difficult balance to strike, but The Big Short manages it masterfully.
Join our new commenting forum
Join thought-provoking conversations, follow other Independent readers and see their replies