Birdman (or the Unexpected Virtue of Ignorance), Venice Film Festival opening, film review: Funny and poignant
Alejandro González Iñárritu's drama is sure to win awards nominations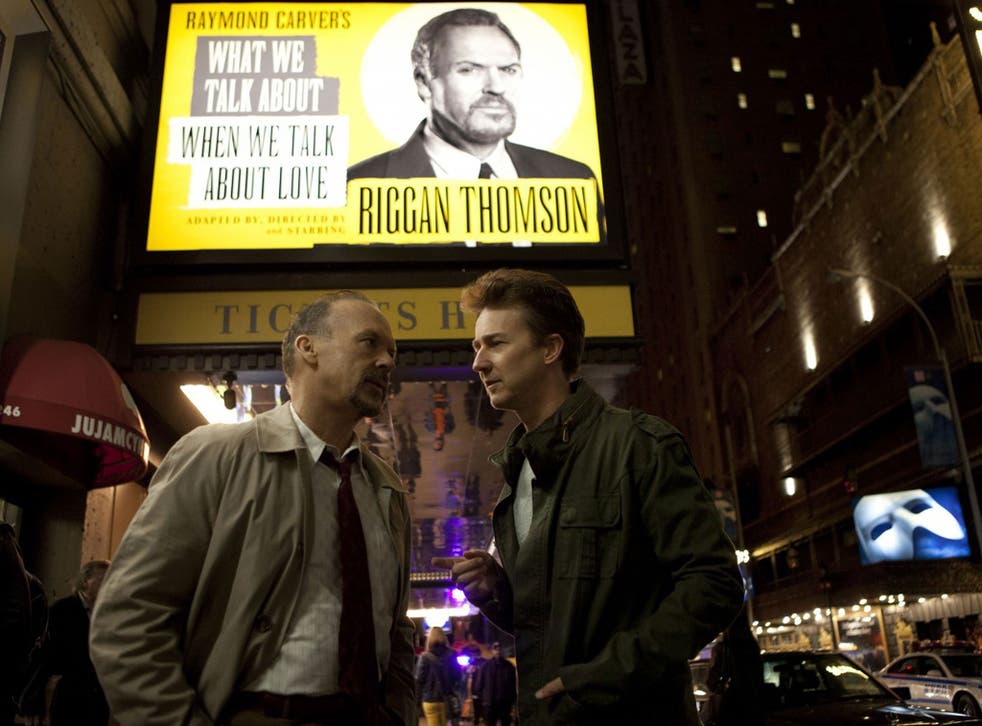 Needy, self-obsessed actors are to the fore in Alejandro González Iñárritu's Birdman, a bravura backstage drama which looks bound to resurrect Michaerl Keaton's faltering career and is very likely to win the former Batman and Beetlejuice star some major awards nominations.
The film (which opened this year's Venice Festival) follows the faltering attempts by a one time movie actor, Riggan Thompson (Keaton), to regain his self-respect by staging and starring in a Broadway play based on Raymond Carver's short stories. Thompson is first seen in his dressing room, dressed in his white underpants, seeming to levitate. He owes his reputation and his wealth (now fast vanishing) to his time as action hero Birdman – a role that still haunts him.
Most films about the staging of plays tend to be talky and claustrophobic affairs. Birdman doesn't skimp on the dialogue, delivered at machine gun pace throughout. The film is almost entirely in the theatre where the play is previewing. Even so, thanks to the astonishing cinematography by Emmanuel Lubezki – which in its own, very different way, matches his Oscar winning work on Gravity - there is no sense we are cooped up. This is a film in which the camera is never still for a moment and in which the illusion is given that we are watching one continual and frenzied shot.
Keaton isn't as slender as in his superhero days. He captures brilliantly the arrogance, vulnerability and downright desperation of his character.
The former Birdman now, in his own estimation, looks like "a turkey with leukaemia." He has invested all his money in the play which, at least initially, seems like a glorified vanity project. As his recovering drug addict daughter (a very spiky Emma Stone) is quick to tell him, he is completely out of touch with the preoccupations of the new digital generation.
In its lesser moments, the screenplay (written by Iñárritu with a host of collaborators) is too flippant and self-reflexive. The jokes about movies, gossip and celebrity are labored. At times, the film presents its actor protagonists in a very negative light. They are neurotic, backbiting types whose private lives seem to be in a permanent state of chaos. Birdman, though, becomes funnier and more poignant the longer it lasts.
There is heroism as well as monumental vanity in Thomson's Quixotic project to re-invent himself as a "serious" actor. Edward Norton excels as his co-star, a Brando-like method actor who strives after absolute reality on stage but whose shambolic private life is characterized by cheating and subterfuge. Naomi Watts and Andrea Riseborough are also funny and poignant by turns as the other members of the small ensemble. Lindsay Duncan, meanwhile, plays the nastiest theatre critic this side of George Sanders'
Addison DeWitt in All About Eve. There are some tremendous set-pieces here, among them a spoof of superhero films in which Birdman takes wing and a comic scene in which Thompson is locked out of the theatre after sneaking off for a cigarette between scenes. He has to brave the crowds in his Y-fronts to re-enter through the main entrance.
Birdman starts like a flippant theatrical in-joke but the tone gradually changes. Late on, by the time we are listening to a hobo declaiming the "life is but a shadow" soliloquy from Macbeth, the film has somehow developed a tragic grandeur of its own. Keaton doesn't try to ingratiate himself with us. He shows Riggan Thompson in all his vanity and obnoxiousness. However, Thompson is also ready to face extreme pain, humiliation and the threat of bankruptcy in pursuit of his art. He takes his craft so seriously that we have to respect it too.
Join our new commenting forum
Join thought-provoking conversations, follow other Independent readers and see their replies