Camp X-Ray, film review: Twilight is well and truly over for Kristen Stewart in Guantanamo
Co-star Peyman Moaadi's excellence in these exchanges elevates Stewart: this is the best we've ever seen her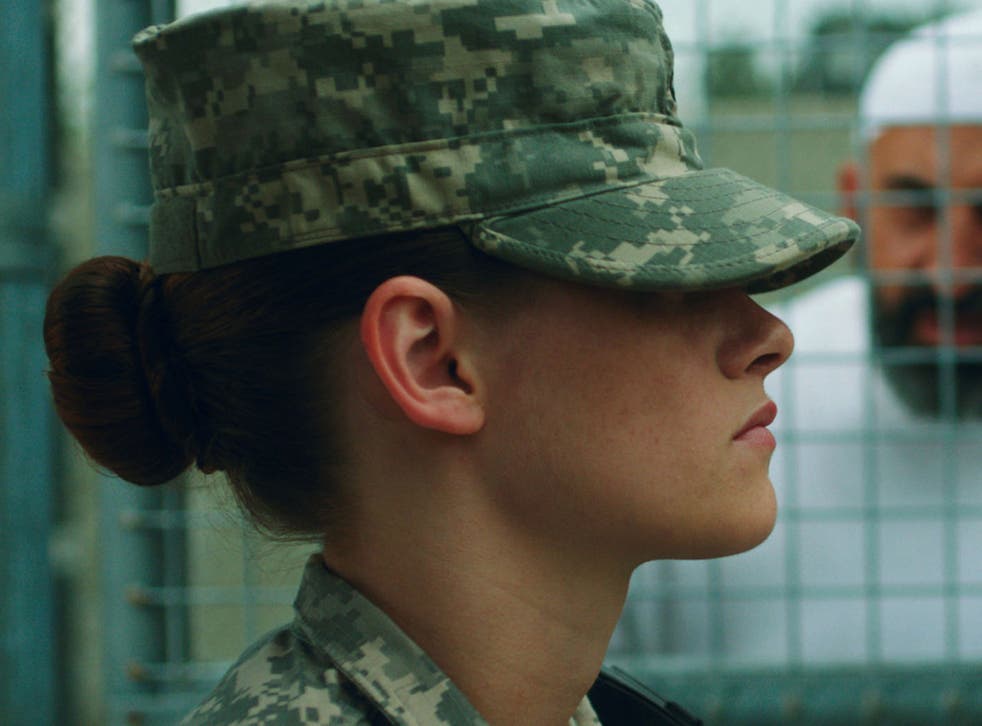 Critics who love to loathe Kristen Stewart will jeer that the actress has finally found an outlet for her trademark scowl: as a rookie US guard at Guantanamo Bay.
But her part as Private Cole in Camp X-Ray, a debut film feature by Peter Sattler, is actually a vehicle for Stewart to express the vulnerability lurking behind her red-carpet taciturnity. Here, the Twilight star confronts different monsters, and Sattler's point is that they tend to be the ones signing the orders, not the ones kept behind bars.
Sattler, a former graphic designer, says he wanted to make a film about humans, not politics, but it's in every frame: the opening shots of the World Trade Center towers burning, a man kneeling down to pray being hooded and snatched away to Camp X-Ray, and the question from a new guard: "Why do we call them detainees, not prisoners?" "Because," Cole replies, "prisoners are subject to the terms of the Geneva Convention. Detainees are not."
By the time Private Cole arrives, it's eight years after 9/11 and the inmates are no longer kept in cages. Yet the guards must still check on them every three minutes in case of attempted suicide. Their shift consists of a circular walk between six different cells, morning and night. Cell, corridor and occasionally the yard: Sattler shows that the young soldiers are as confined as those they guard, their tedious daily rituals the same.
Cole is kicked, spat upon and showered with excrement by detainees during the first few minutes of the movie: nevertheless, her character looks even more uncomfortable trying to fit in at the military's off-duty parties. Soon, despite being warned that there can be no connection with her charges, confrontations become conversations with Prisoner 471, a man named Ali, played by Peyman Moaadi of Iranian Oscar-winner A Separation.
Ali is mesmerising; one minute demanding the latest Harry Potter book, the next smearing faeces on his captor, his chatter incessant. Ali's humanity is all too evident from the start; Cole's is revealed far more slowly.
But Moaadi's excellence in these exchanges elevates Stewart: this is the best we've ever seen her. Nothing good awaits a guard and a captive who become friends, and the last scenes are seen through the fog of Cole's tears.
The actress seemed to suffer her own punishment after being pilloried for her liaison with Snow White and the Huntsman director Rupert Sanders; this is the first part she's taken in two years, saying "it spoke to me".
Presumably she now understands a lot more about the unfairness of life: at one point in the film, Ali says despairingly: "They told me three years ago they knew I was innocent. But no country will receive me now I have been in this place."
Access unlimited streaming of movies and TV shows with Amazon Prime Video Sign up now for a 30-day free trial
Sign up
It will take all of Stewart's star power to sell this to the America outside of liberal Sundance's enthusiastic reception. As the guards salute the stars and stripes at sunrise over Guantanamo, their detainees kneel for prayer. Sattler is saying that we are all the same. Who, here, is ready to hear that?
Join our new commenting forum
Join thought-provoking conversations, follow other Independent readers and see their replies