Carol, Cannes review: Cate Blanchett is striking in impressive lesbian melodrama
Blanchett and Rooney Mara make an extraordinarily potent couple in a film that looks bound to be competing for awards in Cannes and beyond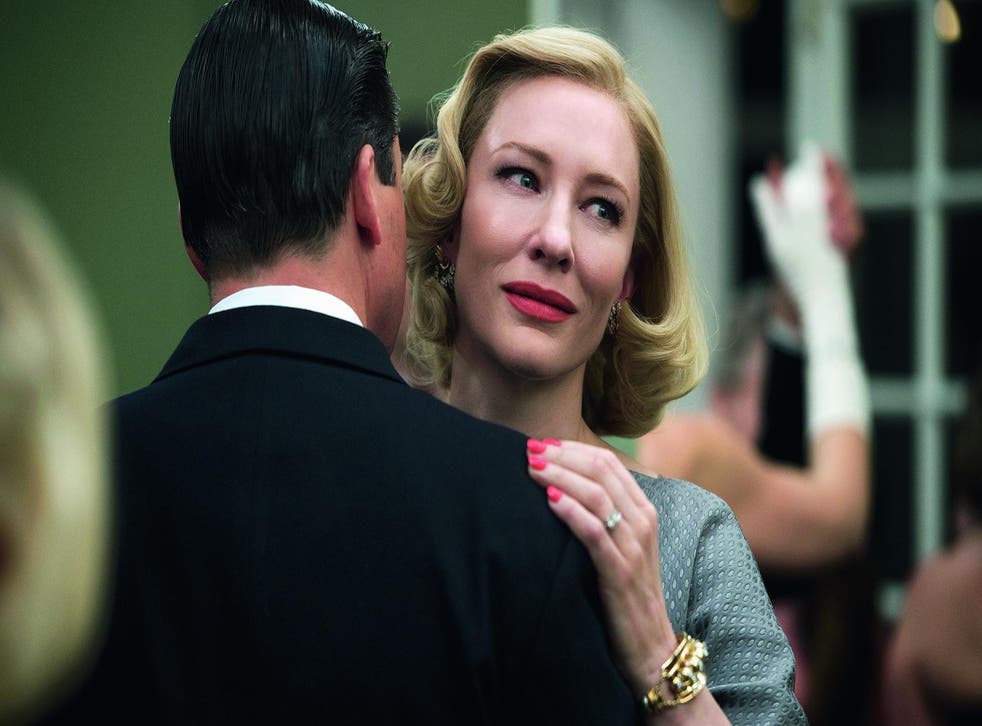 In what has been a very patchy Cannes competition so far, Todd Haynes' Carol comes as a relief. Many of the films showing in the festival have been duds and Gus Van Sant's Sea Of Trees, booed at its press screening, scored a 12 year low in trade magazine Screen International's critic reviews poll. Haynes' new film, though, is an impressive piece of work, a lesbian melodrama which is probing, thoughtful and finally very moving.
It boasts two stiking performances: a Barbara Stanwyck-style virtuoso turn from Cate Blanchett as the married woman Carol and a quieter but equally strongly charged one from Rooney Mara as Therese, the young department store worker who becomes her lover.
Carol is adapted from a Patricia Highsmith novel (The Price Of Salt, published in 1952) but this isn't the typical Highsmith adaptation. We do see a gun at the bottom of a suitcase and there is a fleeting appearance from a private detective but there are no murders here or Ripley-style psychopaths up to nefarious games. Instead, this is a very closely focused character study.
Blanchett's Carol is a typical upper middle-class American family woman. She is very glamorous, wears fur coats and has her hair as beautifully coiffed as any movie star. There is a revealing, wonderfully shot early sequence in a department store in New York. This is where Carol and Therese first meet. It is Christmas time. Everything seems colourful and opulent. This is the 1950s, the beginning of an era of mass consumption in American culture.
What we also realise is that the Eisnehower-era doesn't have tolerance for non-conformity. Little details - the Christmas hats that all the staff wear, the near identical clothes of the women shopping, the big brother-style tannoy voice telling customers what to buy - hint at how rigidly behaviour is controlled.
Carol is married to a man who loves her. They have a daughter and enjoy a life of affluence. However, she is also trapped. When she leaves her gloves behind in the department store, thereby giving Therese the opportunity to get in touch with her, she is clearly looking for a means of escape.
The sumptuous costume and production design here recall those of Haynes' 2002 film, Far From Heaven, to which this seems a companion piece. In a sly and subversive fashion, Haynes again lays bare the tensions in a society which refuses to acknowledge "difference" of any sort. Blanchett's Carol is chafing against the constraints of her role as wife and mom.
When she swears ("son of a bitch!"), that itself seems as if she is breaking a taboo. Expressing her sexual desire for a woman is another way of rebelling against the rigidly conformist world in which she is trapped.
Blanchett's performance matches that she gave in Woody Allen's Blue Jasmine. She is a fascinating actress because she brings such Clytemnestra-like fury to roles as fragile and vulnerable women.
Rooney Mara complements her by playing up the inscrutable side of her character. Together, they make an extraordinarily potent couple in a film that looks bound to be competing for awards in Cannes and beyond.
Join our new commenting forum
Join thought-provoking conversations, follow other Independent readers and see their replies