Central Intelligence review: A strong start fades into bland predictability
'Inevitably, the creepiness fades, the charm increases, and the film becomes progressively more bland and predictable as a result'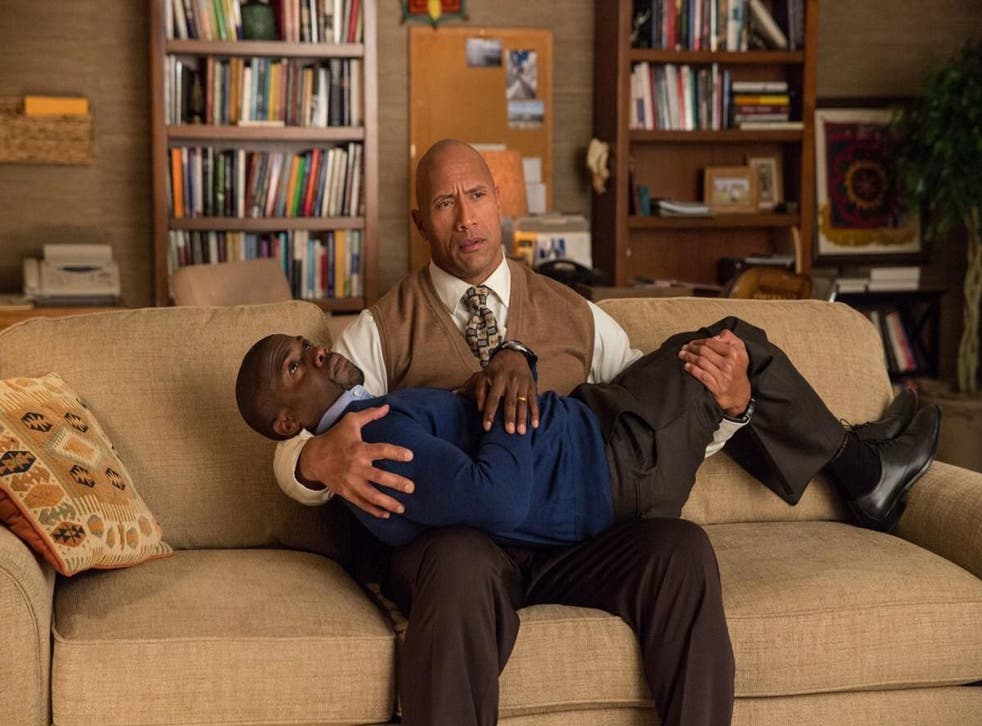 (12A) Rawson Marshall Thurber, 103 mins, starring: Kevin Hart, Dwayne Johnson, Aaron Paul
For a little while, Central Intelligence looks as if it might be a buddy movie with brains. We know to take the juvenile slapstick for granted and realise in advance that Kevin Hart will be as goofy and as loud-mouthed as in other recent comedies like Get Hard and Ride Along 2.
What makes this film intriguing, at least at the outset, is its ambiguity. Like Hart's character Calvin, we just can't tell how far we can trust Bob Stone/Robbie Weirdicht (Johnson), the muscle-bound CIA agent who blunders into Calvin's life with motives that are hard to fathom.
The film begins in a funny but very cruel fashion with Robbie Weirdicht dancing in the locker room shower at his high school. He's a blubbery and very geeky outsider, picked on by the rest of the school. Calvin, by contrast, is the most popular kid in the school, loved by his teachers and classmates alike and voted "most likely to succeed" in the graduating class of 1996.
A great future is predicted for him. When Robbie is ritually humiliated and paraded naked, looking like a beached whale in front of the school, Calvin shows him a little token of kindness.
Fast forward 20 years. Defying the great expectations everyone had for him, Calvin is in a dead-end office job as an accountant. He has been passed over for promotion, his marriage to his high school sweetheart is fraying and his old high school confidence and swagger have vanished. His best years seem already behind him. It's at this point Bob - as Robbie now calls himself - re-emerges.
The old loser from high school has been working out for six hours a day for 20 years on his pecs and abdominal muscles and looks and behaves as if he is a cross between Hercules and James Bond. Early on, the screenplay hints that Bob might be a little bit deranged and even psychopathic. He claims to Calvin that he has been betrayed by a Moriarty-like antagonist called the "Black Badger" and that his former bosses at the CIA have it in for him.
Central Intelligence Clip - Hot Yoga
Johnson gives an intriguing but strangely sinister performance as Bob, very different from his usual turns in action movies. Grinning inanely, he still has traces of his schoolboy naivety and diffidence but he's also slick, smart, and very violent when he needs to be. The film has some of the feel of old Jerry Lewis and Dean Martin comedies.
Hart is the neurotic. Johnson is the macho alpha male but the terms of their relationship are continually shifting. The screenplay provides its two leads with plenty of droll dialogue and in-jokes. There are comic asides on everything from psychoanalysis and CIA surveillance programmes to Taylor Swift's love life and 80s brat pack movies starring Molly Ringwald.
Where the film becomes unstuck is in its shabby and increasingly preposterous plotting (this is a high school reunion movie posing as an espionage thriller). Much of the comedy is based around Dwayne Johnson sending himself up and playing a character who's as creepy as he is charming. Inevitably, the creepiness fades, the charm increases, and the film becomes progressively more bland and predictable as a result.
Join our new commenting forum
Join thought-provoking conversations, follow other Independent readers and see their replies