Dad's Army, review: Mainwaring's men are back. And better than ever
It takes courage for me to say it, but this celebration surpasses the original
Wednesday 27 January 2016 00:30
comments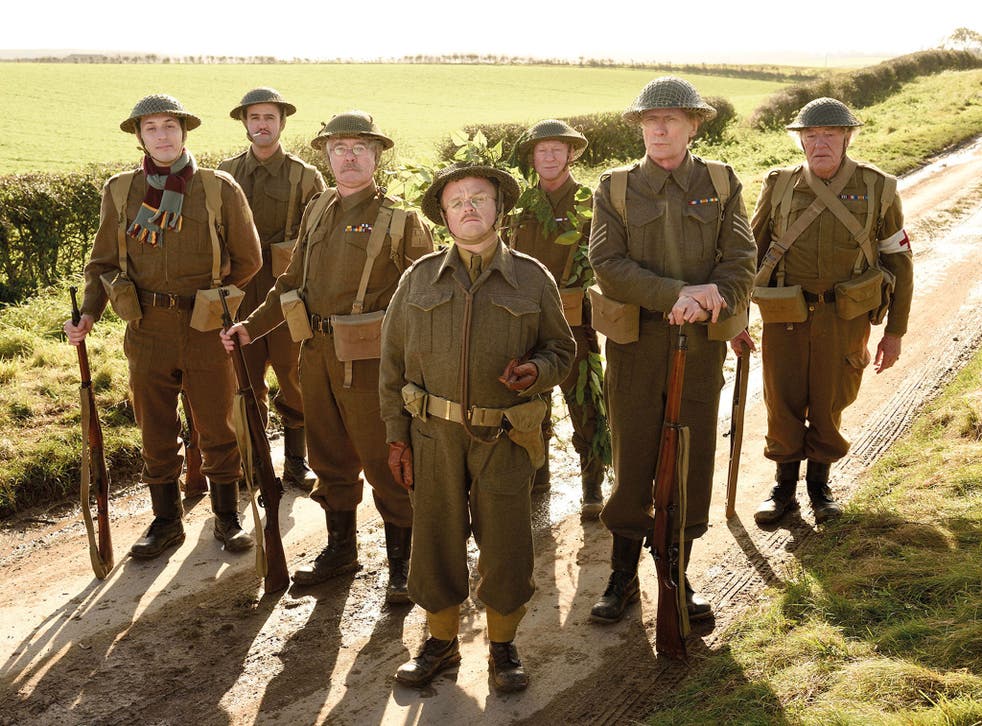 Permission to speak, sir? Thank you. I bring you an urgent dispatch from the front line of British comedy. Unlike Lance-Corporal Jones, I will get straight to the point.
This celebration of Dad's Army surpasses the original. Like facing up to the Nazi menace, it took courage for me to say that, such is my reverence for the original. I never thought I would live to see the day when anyone could better Arnold Ridley's sweet, bemused, bewildered Private Godfrey, but Michael Gambon has managed it. I read somewhere that Gambon has trouble remembering his lines these days. If so, this is the sort of role when such lapses may have dramatic benefit.
Captain Mainwaring is still vain and pompous; Sergeant Wilson remains his diffident, quietly subversive self; Private Fraser still thinks we're doomed; Private Walker is still selling nylons; and Jones, veteran of all those scrapes with the Kaiser's army and the fuzzy wuzzies, who don't like it up 'em, you know, (it's the cold steel), is still manfully resisting the urge to panic.
Scriptwriter Hamish McColl and director Oliver Parker made the very best of such an exceptionally strong cast including Gambon, with Toby Jones (Mainwaring), Tom Courtenay (Jones) and Bill Nighy (Wilson), especially living up to the challenge. Such a powerful line-up indeed that Sarah Lancashire, Alison Steadman and Bill Paterson have relatively minor roles. They say the actors had fun filming this and one can sense that. It is all as tasty and nostalgic as a slice of that upside-down cake that Godfrey's sister Dolly used to bake.
All the elements that made the original such a clever and durable and indeed lovable comedy are turned up for parade, present and correct: the wit, the subtle satires on our still mostly intact class system, and the knockabout (in just the right proportion). And most of all we cherish the finely drawn characters. The makers also reprised those famous end credits and the "Who do you think you are kidding Mr Hitler?" theme adds a fitting finale.
It is sobering to ponder that the first editions of David Croft and Jimmy Perry's original and brilliant TV series were first broadcast, in black and white, by the BBC only about a quarter-century after Hitler's war had ended. The cast, like today's, had almost all enjoyed a distinguished career in film and on stage and were well known faces, just as this lot are. There is something comforting in that familiarity, the catchphrases and the predictability of their tics and twitches. The last of the old series was made in 1977, and now we have this well-crafted reproduction, with added warmth from cameos by Ian Lavender (Pike) and Frank Williams (the vicar). Another nice link with the past.
Whereas in the originals the only romantic action was between Mavis Pike and Mr Wilson, and the eventide love that blossomed between Jones and the bosomy Mrs Fox – I can't count Mr Mainwaring's relationship with the unseen and fearsome Elizabeth – we now have Pike, and a believably frisky Wilson, being pursued by femme fatale Catherine Zeta-Jones. We have Felicity Montagu, as an all-too-present Mrs W, and the womenfolk who won the war are rightly visible now.
So, shamelessly enough, I can advise long-standing devotees of Dad's Army that they need not panic, that the remake was, after all, "awfully wise" as Wilson might put it. Welcome back to Walmington-on-Sea. Carry on.
Join our new commenting forum
Join thought-provoking conversations, follow other Independent readers and see their replies