The Dictator, Larry Charles, 83 mins (15) 2 Days in New York, Julie Delpy, 91 mins (15) The Raid, Gareth Huw Evans, 90 mins (18)
A despot so funny he gives offensiveness a good name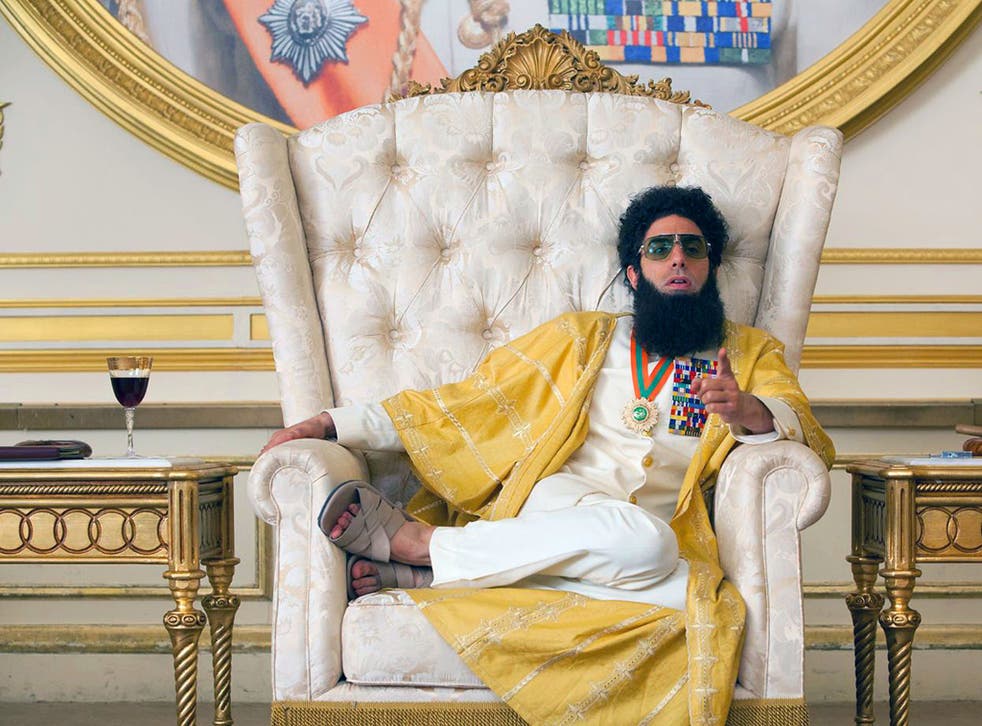 Anyone who's seen both Borat ... and Ali G Indahouse will assume that Sacha Baron Cohen is a lot more entertaining when he's bouncing off unsuspecting members of the public than he is when he's working from a proper screenplay. But anyone who's seen The Dictator will revise that assumption, pronto. Tightly scripted by Baron Cohen and three alumni of Seinfeld and Curb Your Enthusiasm, it may well be his best film, as well as the year's best comedy.
Baron Cohen stars as the despotic president of an oil-rich North African country. A childish, if vastly bearded tyrant, he stages his own Olympic Games in which he wins every gold medal, and he executes his chief nuclear scientist because the missiles he's manufacturing aren't pointy enough. A comedy about this monstrous dolt's reign would have been fine by me, but after an opening act that keeps the gags coming with Airplane-rivalling rapidity, he's deposed by his uncle, Ben Kingsley. Dumped on the streets of New York with no money, no servants, and no beard, he's rescued by Anna Faris, the liberal manager of a wholefood shop.
It's a worrying change of direction. After the scabrous opening scenes, it looks as if we might be in for the traditional story of a wicked man being redeemed by love. And that's just what we get – sort of. But the brilliance of The Dictator is that while it eventually fits into a conventional, romantic outline, it remains every bit as revolting, obscene, and taboo-trampling all the way through.
Again and again, you marvel at what Baron Cohen is getting away with. It just goes to show that you can make a joke about the most offensive subject matter, so long as it's funny enough – and in The Dictator the jokes are very funny and very offensive indeed.
There are more foreign visitors to Manhattan in 2 Days In New York, Julie Delpy's delightful sequel to 2 Days In Paris. In the five years since we last saw her, she's broken up with the boyfriend she had in that film, and is now living happily with Chris Rock and their two children from previous relationships. Then her father, her sister and her sister's boyfriend come to stay. The interlopers prove to be so eccentric and disruptive that Rock starts to question whether having an arty French girlfriend is quite as enviable as he once thought.
That's about it, as far as story is concerned, but 2 Days In New York is teeming with so many ideas that there isn't much room left for a plot. The dialogue covers parenting, race, sibling rivalry, the existence of the soul, and a lot more besides, while pulling off the rare trick of being hilarious in two languages. Delpy captures the specifics of bustling New York life, but, more universally, she captures the chaos experienced by everyone who's ever had their in-laws to stay. Meet The Fockers would have needed twice the brains and twice the laughs to get anywhere near it.
The Raid is an Indonesian action movie about a rookie policeman (Iko Uwais) who has to fight his way through an entire high-rise building's worth of thugs. The film has some of the most intricate, sustained and brutal martial arts sequences I've ever seen. But it's impressive even when the fists, feet and elbows aren't flying (inset left). Writer-director Gareth Huw Evans knows just how to control the mood and raise the tension in every scene, including the few that don't climax with a gusher of blood.
Join our new commenting forum
Join thought-provoking conversations, follow other Independent readers and see their replies