Ex Machina, review: Lively film engages with our fears about artificial intelligence
Alex Garland, 108 mins, starring: Domhnall Gleeson, Alicia Vikander, Sonoya Mizuno, Oscar Isaac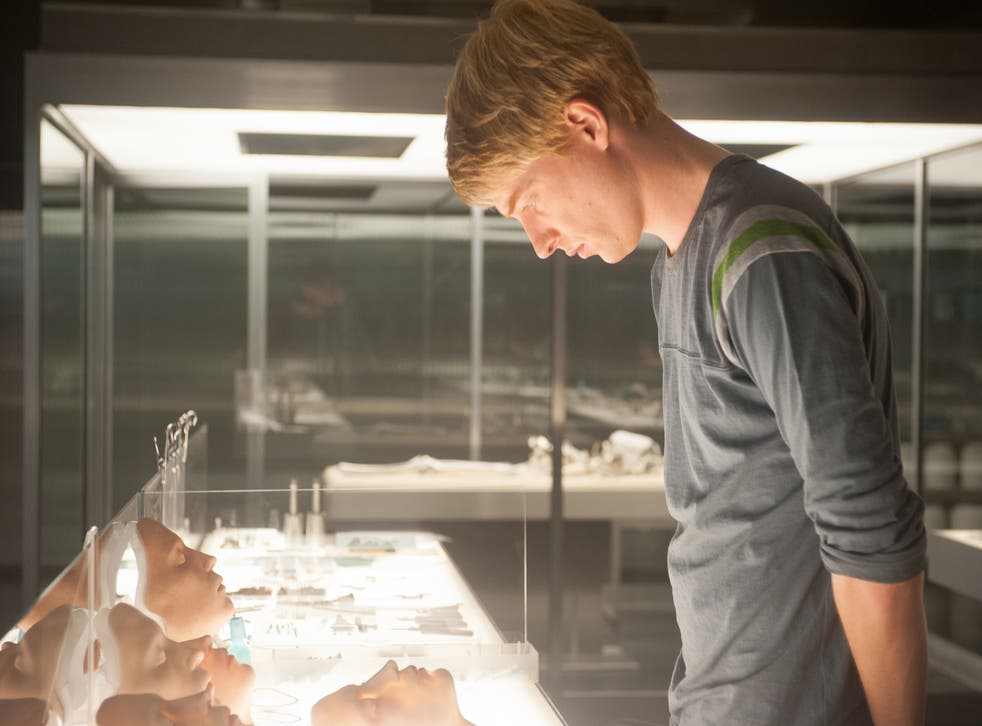 Novelist and screenwriter Alex Garland's first film as a director takes some very old ideas and gives them an ingenious new spin. One of its pleasures is the sure-footed way Garland combines traditional sci-fi thriller elements with the kind of self-conscious philosophising you find in cerebral art house movies.
This is both a ripping yarn and a film that engages with contemporary ideas (and fears) about artificial intelligence and robotics. It is claustrophobic (there are only three MAIN speaking parts) and a little clunky at times but is always lively and intelligent enough to get away with its own occasional stumbles.
Domhnall Gleeson plays Caleb, a 24-year-old computer coder working for internet giant Blue Book. He's "a good kid with a moral compass." At the start of the film, he wins a competition to spend a week with Blue Book's CEO Nathan (Oscar Isaac) at his remote mountain retreat.
Ex Machina has American characters and settings but a very European feel. (It was actually shot in Norway and at Pinewood Studios.) The film benefits from its mix of low key naturalism and hi-tech stylisation. Nathan may be one of the richest men in the world but that doesn't mean the filmmakers are working on an Interstellar-size budget. His hideaway home looks from the outside like a slightly scruffy chalet. The landscapes around it are rugged but beautiful. Nathan's taste in interior design is Richard Rogers-style 60s modernism. He owns a bizarre mix of paintings, everything from a Gustave Klimt to a Jackson Pollock. The music is nostalgic in a tongue in cheek way. (We hear snatches of Orchestral Manoeuvres In The Dark's 1980s anthem Enola Gay) The real tell-tale sign - one that Garland makes sure we notice - is the ornamental skull on the table in his sitting room.
Nathan is the latest variation on the Dr Frankenstein or Prospero-like recluse, trying to manipulate nature. As played by Oscar Issac, he seems more like a gonzo publisher than the traditional mad scientist in movies. He is bearded, bespectacled and his head is shaven. He drinks to excess and then sweats the toxins away by laying into his punch bag. Nathan is intelligent, arrogant and sardonic. Isaac, excellent as the hapless folk singer in Inside Llewyn Davis and equally impressive as the businessman on the make in A Most Violent Year (also out this week) here gets to be very obnoxious and abrasive.
The task Caleb has been set over his seven day stay is to carry out the "Turing test" (named after Bletchley Park's Alan Turing) to determine whether Nathan's robot girl Ava (Alicia Vikander) can think and feel like a human. Ava is very beautiful. She has a human face and hands, a partly translucent body made up of wires instead of sinews, and wears sleek metallic body armour. She could have looked very kitsch and Barbarella-like but it's a testament to the ingenuity of the costume design that we immediately take her seriously.
Ex Machina picture preview

Show all 14
Swedish actress Vikander (most recently seen playing Vera Brittain in A Testament Of Youth) trained as a dancer. She plays Ava as if she is a character in a Pina Bausch ballet. Ava moves like a marionette but manages to convince us - just as she does so quickly Caleb - that she has "real" feelings and consciousness. She has expressive, very sad eyes and, like the computer software system voiced by Scarlett Johansson in Spike Jonze's Her, seems to know intuitively what her male contact is thinking. Ava can register microscopic changes in Caleb's mood and expressions. She is fascinated by her own senses and takes a synaesthetic pleasure in "feeling" colour. There is also something innately mysterious about her. She does drawings but doesn't know what they're of. Ava seems always to be searching for something just out of her reach, desperately trying to piece together her identity. There is the same sense of yearning about her as was found in the little robot boy trying to reconnect with his mother in Steven Spielberg's A.I.
Garland isn't above a certain prurience. On one level, this is a boy's own fantasy. The robot prototypes that Nathan builds are all extraordinarily glamorous women. They have sexual awareness. The billionaire is a Bluebeard-like character who keeps his old models in a cupboard in the spare room. He makes sure Caleb knows that between Ava's legs, there is an "opening with a concentration of sensors." At least Ava has intelligence. The other woman in the house, Kyoko (played by dancer Sonoya Mizuno), is a glorified geisha who doesn't speak English and simply seems to be there to serve Nathan's needs.
The filmmakers throw in contemporary references to snooping, phone hacking and surveillance. As owner of the world's biggest internet company, ultra secretive himself, Nathan knows the search habits of his customers in the most intimate detail and is able to use that data to build up Artificial Intelligence that mimics human thought processes.
Access unlimited streaming of movies and TV shows with Amazon Prime Video Sign up now for a 30-day free trial
Sign up
In some sci-fi movies, the jargon and the hardware get in the way of the storytelling. Ex Machina doesn't suffer from any such problems. For all its gadgetry and moments of Georges Franju-like surrealism (skin being peeled off, eyes without faces), this is an impressively pared down affair - a chamber piece about characters stuck together in a claustrophobic environment and not sure who to trust as the tension and potential for violence keep on rising. Garland himself has said that his "sympathies lie with the robot."
It is ironic that Ex Machina is released in British cinemas in the month when Stephen Hawking and other eminent scientists signed an open letter warning of the "potential pitfalls" of AI. "Our AI systems must do what we want them to do," Hawking and co. wrote. As the film shows, robots , at least those in fiction, are all too inclined to have minds of their own.
Join our new commenting forum
Join thought-provoking conversations, follow other Independent readers and see their replies