Fifty Shades Darker review: 'A vanilla romantic drama with a few mildly transgressive scenes'
Plot wise, the film is utterly threadbare and the sex scenes, which are fairly graphic at times, are always accompanied by syrupy rock music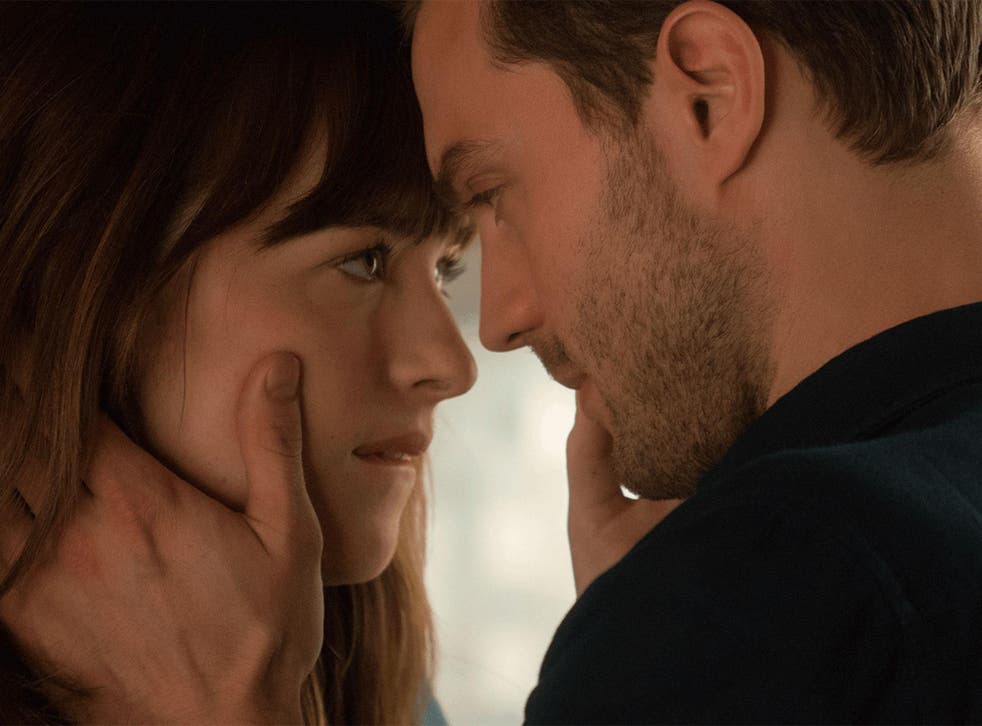 Dir James Foley, starring: Dakota Johnson, Jamie Dornan, Bella Heathcote
The dilemma that the second Fifty Shades film faces is summed up by one of the many truly dreadful, toe-curling lines that Anastasia "Ana" Steele (Dakota Johnson) utters to her beloved Christian Grey (Jamie Dornan). "I was being romantic and then you just go and distract me with your kinky f***ery," she tells him.
This is actually a very conventional, very "vanilla" romantic drama with a few mildly transgressive "kinky f***ery" scenes in Christian's "red room" thrown in for good measure. In the course of the movie, Christian undergoes a surprising transformation from troubled sexual sadist to conventional leading man, ready to go down on his bended knee for his beloved. The downside is that he is duller as a personality at the end of the film than at the beginning.
Nipple clamps put in an appearance and so do masks, leg clamps, and, most disconcertingly of all, some silver balls. "No, you're not putting those in my butt," Ana tells Christian but he quickly finds another cavity for them.
Trump supporter says 50 shades of Grey is to blame for Trump sexual assault remarks
The sex scenes, which are fairly graphic at times, are always accompanied by syrupy rock music. A particular nadir is reached when Christian secretly pleasures Ana in a crowded lift as Van Morrison's "Moondance" blasts away on the soundtrack. At least, there is a little ironic humour to leaven proceedings. "Does she dust in here," Ana asks Christian about the housekeeper as she surveys all the whips, collars and other assorted sex toys in the "red room". When the inevitable spanking scene takes place, it is tongue in cheek (although not quite literally so).
Plot wise, the film is utterly threadbare. Ana has landed a job as an assistant at a Seattle publishing house. At the beginning of the movie, she is adamant that she'll have nothing to do with Christian after her experiences in the first film. When he sends her flowers, she throws them straight in the bin. However, after running into him at a photographers' gallery, where all the pictures are of her, she shows remarkably little resistance when he asks her out. "OK, I will have dinner with you because I am hungry," is how she justifies her immediate capitulation. Soon, they are back together, but this time on her terms.
Every so often, we spot a distressed looking, Dickensian-waif like character lurking in the shadows. This is Leila (Bella Heathcote), one of Christian's former subs, who is now intensely jealous of Ana. Equally threatening is Kim Basinger's Elena, part Mrs Robinson from The Graduate and part Clytemnestra.
There are frequent references to Christian's difficult childhood and his drug addicted mother (the women he punishes are, apparently, symbolic versions of her). Another subplot concerns Ana's new boss, Jack Hyde (Eric Johnson), a louche and lecherous figure and not at all the type to be stuck with in the office after everyone else has gone home. There's one action-movie style scene in a helicopter. Ana digresses about her love of Jane Austen. Director James Foley seems to be nodding toward Stanley Kubrick's Eyes Wide Shut in the masked ball sequence.
Generally, though, the focus is on Christian's courtship of Ana. He is still obscenely wealthy. (He earns $24,000 every 15 minutes.) Every so often, he will say something like "take off your panties", but most of the rest of the dialogue here could equally well belong in the drippiest, most conventional romantic drama. Ana and Christian talk endlessly about "negotiating boundaries". They buy each other gifts. They send each other very dreary texts expressing their love for one another.
Fifty Shades Darker is an ordeal to watch not because of its gothic eroticism but because of its utter blandness. The film would surely have benefited from being gaudier, more kitsch and transgressive. Instead, this is telenovela-style storytelling with predictable villains and far too much simpering mawkishness.The cliffhanger ending is very crude too. It looks as if all these characters will soon be back for more. Cue the inevitable puns about flogging dead horses.
Join our new commenting forum
Join thought-provoking conversations, follow other Independent readers and see their replies