Fifty Shades of Grey: A flaccid performance from Jamie Dornan reveals his best asset is his body - movie review
First-look review: The most erotic moment in Sam Taylor-Wood's film was the sight of a skyscraper, according to our critic Kaleem Aftab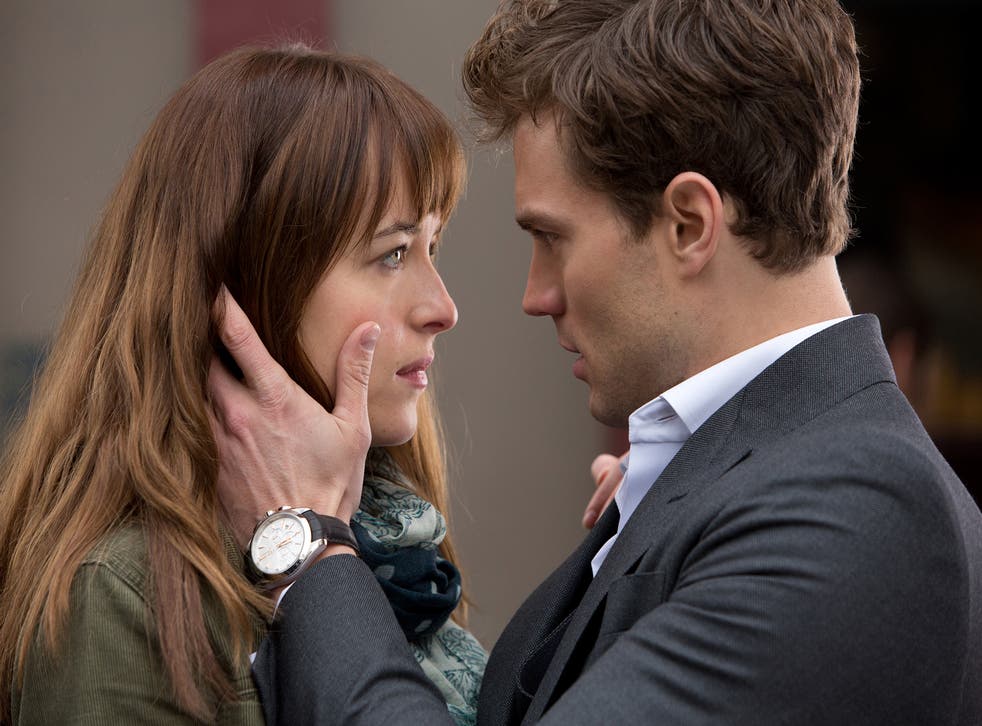 Sam Taylor-Johnson's adaptation of British novelist EL James' best-selling book is a tale of sexual desire versus romance. But it's a shame that the central tale of human power games gets seriously bogged down by some clumsy stereotypes, underwritten secondary characters and plotting that would have seemed light in a teen romance.
The film's strongest moments are the sex scenes (which take up a total of 15 minutes) and the negotiations over what sexual practices are permissible in a nascent relationship.
Receiving its world premiere in Berlin ahead of going on release in the UK this weekend, Sam Taylor-Johnson's film opens, predictably, with an image of grey clouds of different hues - and the visual metaphors stay obvious.
Fifty Shades of Grey film stills

Show all 24
We witness English lit student Anastasia Steele (Dakota Johnson) arrive at the offices of billionaire Christian Grey (Jamie Dornan) and look skyward up at the long protruding lines of a tall skyscraper. It's the closest thing to arousal in the film as the movie keeps within the confines of film classification boards by refusing to show genitalia and concentrating its gaze mainly on the female rather than male form.
Back when Taylor-Johnson was building her reputation as a visual artist, she made a short 8-minute erotic film Death Valley that featured a male masturbating alone in the desert with nothing left to the imagination. But to her credit, Taylor-Johnson proves that graphic images are not needed and this is the first mainstream Hollywood film that successfully shows female pleasure in bondage scenes.
Unfortunately, we have to wade through an awful lot that is trite in the first part that plays like the opening of a porn movie in which a washing machine repairman will turn up at a house and be met by a bored housewife.
Steele turns up at Grey's offices to interview him for a university paper. His model seems to be American Psycho's Patrick Bateman, he wears sharp suits, flashes his business card and has more money than an internet billionaire. How he came to be so rich is not very clear. She's a student in a flowery skirt, unbuttoned to make the collars out of shape and an unflattering blue cardigan. He immediately takes control.
The next meeting comes at her workplace, a handyman's store where he buys cable wire, rope and tape. As Steele comments he's the tools of a serial killer.
The roots of the novel as Twilight fan fiction become obvious as Grey fights his desire to corrupt the virginal Steele. These scenes are so wearing, that when Steele drunkenly phones Grey up and mocks his lame pick-up lines, it's impossible not to feel hard done by the fact that we've spent half an hour watching what she decries as lame in 30 seconds.
Access unlimited streaming of movies and TV shows with Amazon Prime Video Sign up now for a 30-day free trial
Sign up
The film hits its stride once Grey introduces his 'play room' where he keeps his sado-masochistic toys, and tells Steele he wants her to sign a contract whereby she'll agree to be his submissive and here the film threatens to be transgressive and revelatory.
The cat and mouse negotiations turn the power structure on its head and introduce the idea that extreme sex can be pleasurable if performed in the right manner. When Grey and Steele are the only characters on screen (and we lose the best friend Kate and the parental figures) the film is genuinely intriguing and Johnson announces herself as a star.
The daughter of Melanie Griffith and Don Johnson is notable for more than having her mother's good looks, as she jumps from being naive to forthright with aplomb. Opposite her Jamie Dornan is given the role of the man who never smiles, and he needs that straight face to deliver some hokey lines. It's also nice to see a film in which the best asset of the male star is his body. Taylor-Johnson seems to have turned the table on the casting methods of male directors with their leading ladies.
Yet ultimately this is a Hollywood film, and it follows a three act structure and has a morality that would satisfy the writers of the Hays Code. By European art-house standards, this seems rather tame, yet within the limits of Hollywood Taylor-Johnson has pushed them as far as she can and comes up against a brick wall that resist anything truly changing.
As a piece of multiplex entertainment, enjoyment will probably be determined by whether one is happy watching the same stereotypes being trotted out, but with more interesting sex scenes.
Join our new commenting forum
Join thought-provoking conversations, follow other Independent readers and see their replies