Film review: Simon Pegg and Edgar Wright return in The World's End
Film review: Simon Pegg and Edgar Wright return in The World's End

Show all 2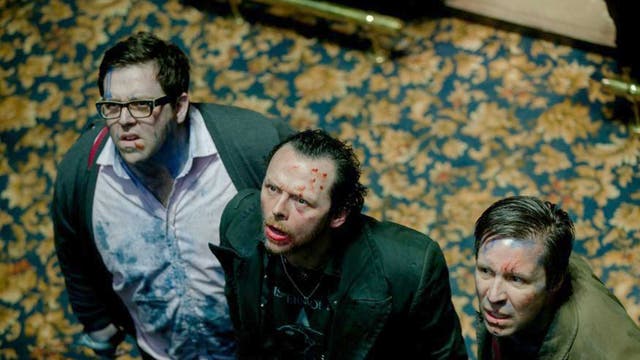 The first 45 minutes of this eschatological thriller-farce features some of the best work director Edgar Wright and co-screenwriter Simon Pegg have done. The film completes a loose trilogy begun with the excellent Shaun of the Dead (2004) and continued in the so-so Hot Fuzz (2007).
The premise is an oldie-but-goodie. Five former schoolfriends reconvene after many years to go on a nostalgic pub crawl around their old home town of Newton Haven. The chief mover behind the reunion is bumptious reprobate Gary (Simon Pegg), still sporting a black trenchcoat and plenty of attitude. While he can't let go of his delinquent youth, his "mates" have moved on: Andy (Nick Frost) is a corporate lawyer, Oliver (Martin Freeman) is an estate agent, Peter (Eddie Marsan) is a car salesman, and Steven (Paddy Considine)... has a 26-year-old girlfriend.
The early scenes of awkward camaraderie, mingled with resentment at Gary's disruptive re-emergence, create a sharp comic fizz. The fact that one of the quintet is now teetotal becomes a target of Gary's arch mockery: a man ordering water in a pub, he says, "is like a lion eating hummus".
The film is going down like Pimm's on a hot day when, of a sudden, it takes a knight's-move into, well, a potty sci-fi adventure fantasy. It seems that the good folk of Newton Haven have been supplanted by a race of android replicants – and that the World's End, once the final pub on their itinerary, may now mean the end of the world.
Rosamund Pike enters the fray as object of desire and a useful getaway driver, which is good news; the plot's berserk manoeuvres tend to dry up the jokes, which isn't. The performances are strong. Pegg hasn't been this obnoxious since he played Toby Young in How to Win Friends..., but he nails some fantastic lines; Frost gives a more melancholy and touching performance than one might have thought him capable of. It's fine in its way, a fond and silly salute to pub crawls, old friends, crap cars, roundabouts, British eccentricity and keeping your head in a crisis – it's just terribly hit-and-miss.
Join our new commenting forum
Join thought-provoking conversations, follow other Independent readers and see their replies