Film reviews round-up: Fences, The LEGO Batman Movie, Billy Lynn's Long Halftime Walk, Prevenge
Denzel Washington's take on a classic play, a spin-off to 2014's 'The LEGO Movie', Ang Lee's daring visual experiment, and a murderous pregnant woman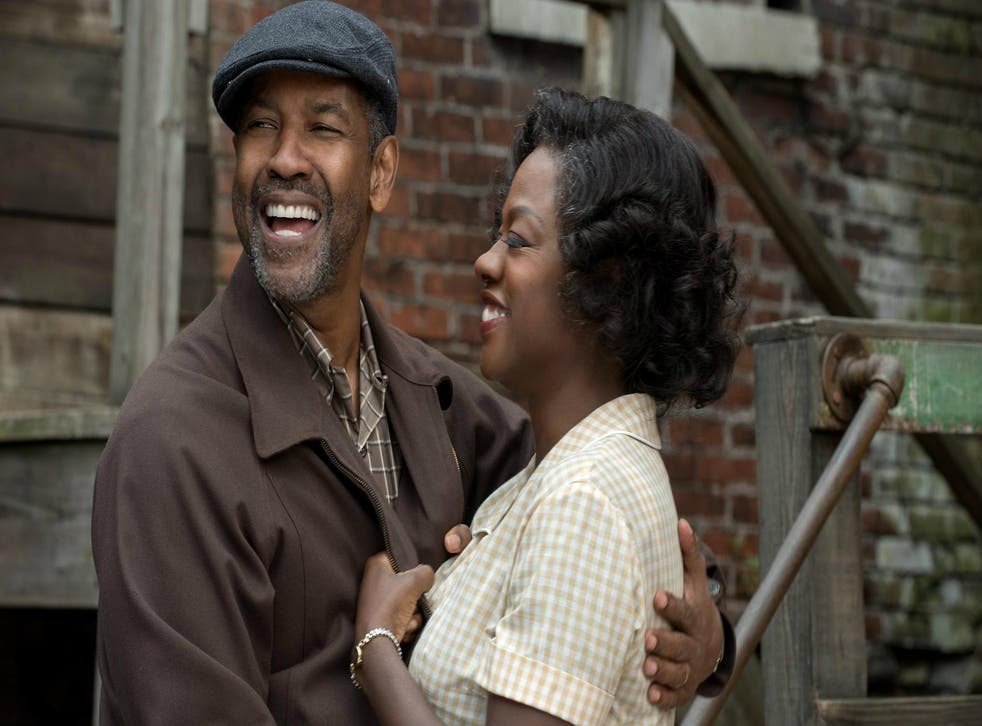 Fences (12A)
★★★★☆
Dir: Denzel Washington, 139 mins, starring: Denzel Washington, Viola Davis, Stephen Henderson, Jovan Adepo
The initial reaction among many viewers on watching Denzel Washington's Fences is likely to be that this isn't a "proper" movie at all – it's a filmed play. The source material is August Wilson's Pulitzer Prize-winning 1983 drama, and little has been done to make the project cinematic; the action unfolds almost entirely in the home or backyard of its main character.
Even so, within its own limitations, this is a magnificent piece of work, with exceptional performances from Washington and co-star Viola Davis. In its portrayal of a flawed family patriarch pursuing his own version of the American dream, Fences has much of the same emotional heft as Arthur Miller's Death Of A Salesman. The difference, of course, is that race is foregrounded. The hero/anti-hero is a black man hampered at every stage of his career because of the colour of his skin.
The setting is Pittsburgh in the 1950s. Troy Maxson (Washington) is a garbage collector. On the face of it, he is in control of his life. He owns his own house. He is happily married to Rose (Davis) and has a son, Cory (Jovan Adepo), who has prospects he never did. Troy works hard, gives his pay packet to Rose and gets drunk on Friday nights with his colleague and best friend, Jim (Stephen Henderson).
He revels in the power and respect he has in his own household and community. It doesn't take long, though, for us to notice his suppressed rage and many resentments. Troy could have been a top baseball player but never made it to the major leagues because, he's sure, he wasn't white.
He bristles at the idea that, as a black man, he is not allowed to drive the garbage truck – but only to load the rubbish into it. His guilt about his brother, who was shot in the head in the Second World War and whose pension has allowed Troy to secure his home, is self-evident too.
We're so used to seeing Denzel Washington in action movies that it is easy to forget his power and range as an actor. This is one of his most complex roles. He is playing a character who seems sympathetic and charismatic, exuding bonhomie in the early scenes, in particular, but who turns out to have a very mean streak.
For all his protestations about working so hard to put food in the bellies of his family members, he is self-centred in the extreme. His actions always have hidden meanings. He's bitterly opposed to his son pursuing a sporting career. Ostensibly, this is because he wants the son to avoid his own mistakes. We guess quickly, though, that he can't bear the idea of the son doing better than him. He's prey to self-pity, too, and thinks he deserves far better than he already has.
In the first part of Fences, Viola Davis's Rose is eclipsed by Washington. She is the doting wife, in the kitchen cooking the food for Troy and treating their relatives and friends with a tenderness and solicitude that he himself is too macho to show. Then comes the betrayal – the moment when Rose realises her cosy married life is not as secure as she had thought. Davis excels in these scenes, portraying her character's bewilderment, anger, and sadness in devastating fashion.
Access unlimited streaming of movies and TV shows with Amazon Prime Video Sign up now for a 30-day free trial
Sign up
As a director, Washington's primary interest is in the performances – his own and those of his fellow actors. There are a lot of close-ups. Shots are held for a considerable time as characters shoot the breeze on the porch or sit around the dinner table.
Just occasionally, we're taken away from the family home. Although there are brief interludes in bars, cemeteries, and offices – or on the streets themselves – very little is shown here that could not equally well be depicted on a stage. Even the self-consciously poetic shots of the baseball on a string dangling from a tree, or of the heap of discarded musical instruments, or of father and son sawing the wood to make the fences that will keep the outside world at bay, aren't especially cinematic.
This feels more like a record of a stage performance than a film in its own right. That, though, doesn't lessen its impact in the slightest or take away from the searing brilliance of the two leads.
The LEGO Batman Movie (U)
★★★☆☆
Dir: Chris McKay, 90 mins, voiced by: Will Arnett, Ralph Fiennes, Rosario Dawson
The LEGO Batman Movie is a tremendously witty and self-reflexive affair that probes far more deeply into the Caped Crusader's wounded psyche than most live-action movies. Its real strength, though, lies almost entirely in its screenplay and voice work. Visually, there is only so much that you can accomplish with plastic bricks.
Batman tells Joker early on that he doesn't do "ships" – as in relationships. He refuses even to acknowledge that Joker is his arch enemy. The aim of the film is to crack the emotional reserve of this most aloof of superheroes. He craves company, really. We know as much because when a hard night's crime fighting in Gotham City is over, he will head back to Wayne Manor to eat his Lobster Thermidor in front of the telly.
The Lego Batman Movie - Trailer 3
Warner Bros and DC Comics deserve credit for allowing the filmmakers to poke so much fun at one of their most lucrative franchises. Even as they do so, they are largely faithful to the essentials of the Batman myth. The LEGO Bruce Wayne/Batman voiced by Will Arnett isn't so different from the flesh and blood one played by Ben Affleck in last year's Batman vs Superman, on which this film is a massive improvement. Ralph Fiennes brings just the right measure of unctuousness to his voicing of faithful butler, Alfred.
One obvious hazard in customising Batman for a family audience is that the element of threat has to be removed. Joker is nothing like the grinning, demented dervish played most memorably by Heath Ledger. As voiced by Zach Galifianakis, he's a lovable rogue who wants to be best of frenemies with Batman and is utterly crestfallen that his adversary seems to barely notice him.
This is a U certificate film with LEGO protagonists – so the filmmakers can't deal in too much detail with the grim circumstances in which Bruce Wayne lost his parents. They provide him with his own son – a mischievous orphan he accidentally adopts when distracted by Barbara Gordon (Rosario Dawson). There's considerable ingenuity in the way in which the kid, Dick Grayson (voiced in plaintive fashion by Michael Cera), is slotted into the Batman universe.
The real wonder of The LEGO Batman Movie, like The LEGO Movie before it, is that it doesn't feel cynical in the slightest. We all know that the film exists at least partly for merchandising reasons and that it has been very carefully assembled to appeal both to wide-eyed children and their jaded parents. Even so, when it has all been joined together with such gleeful expertise, nobody is likely to complain.
Billy Lynn's Long Halftime Walk (15)
★★★★☆
Dir: Ang Lee, 113 mins, starring: Joe Alwyn, Vin Diesel, Kristen Stewart, Garrett Hedlund, Chris Tucker, Steve Martin
Ang Lee has surely made an aesthetic misjudgement in Billy Lynn's Long Halftime Walk by shooting on a high frame rate of 120 frames a second (as opposed to the 24 frames at which most films are made). The ultra hi-def image quality here may enable us to see every last wrinkle in characters' faces and cheerleaders' costumes, but the effect is more deadening than entrancing. This is the kind of movie that makes you yearn for the graininess and contrast of old-fashioned celluloid.
The real quality of Billy Lynn is in its storytelling and acting, not in the gimmickry of the cinematography. It plays like a modern-day version of William Wyler's The Best Years Of Our Lives. This, too, is a story about soldiers coming home and struggling to adapt to the America they encounter on return from the battlefield.
The difference is that they're only on temporary leave from Iraq. It's 2007. "Bravo Squad" is in Texas. Members of the unit, which acted heroically in battle against Iraqi insurgents, are being feted by the media. There is talk of a movie about them (with Hilary Swank mooted as the improbable star) and they are guests of honour at an American football game in the Dallas Cowboys' stadium.
At the centre of all the fuss is 19-year-old Billy Lynn (Joe Alwyn). He only signed up for the army after getting in a scrape that involved his sister's ex-boyfriend. However, in Iraq, he was filmed trying to rescue a fallen comrade and fighting at close quarters with enemy insurgents. He is regarded as an all-American hero but is clearly still traumatised by the events that made him famous. As he puts it at one stage, "It is sort of weird being honoured for the worst day of your life."
Billy Lynn's Long Halftime Walk - Trailer
The film is based on Ben Fountain's novel of the same name. Lee provides a cinematic equivalent to the stream of consciousness narrative style of modernist novels. Billy is continually reminded by the flares and noise at the American football match of events he witnessed in Iraq. Thanks to his training, he is hyper-observant – and the high frame rate ensures that we notice everything that is going on in the background too.
For all his flitting between genres and storytelling styles over his career, Lee has always been a superb director of actors. Here, under his coaxing, the cast members playing the young soldiers all manage to capture the contradictions in their characters. On the one hand, they're macho, trash-talking jocks, out to seduce the cheerleaders, drink as much free booze as possible and enjoy the spotlight.
On the other, they're young, vulnerable, probably suffering from PTSD, and all are painfully aware that once the media's attention turns elsewhere, they will quickly be forgotten. As Billy, British actor Alwyn, making his debut, has the same mix of sensitivity and mischief found in Christopher Walken at the start of his career. His performance is contrasted with the very creepy turn from Steve Martin as the wealthy businessman who owns the Dallas Cowboys and pretends to be supporting the soldiers when he is really out to exploit them.
The film is very good at capturing the camaraderie of the soldiers – and the sometimes desperate way in which they rely on one another. They're such a tight-knit group that they've become closer to each other than they are to their own families. Billy is devoted to his sister Kathryn (Kristen Stewart). It's as a direct consequence of misfortunes in her life that he ended up in Iraq. Nonetheless, his loyalty to her is never in danger of eclipsing his commitment to his fellow grunts.
There are sporadic moments of comedy along the way, for example the soldiers running amok on the football field or looking utterly bewildered when they're commandeered to join in during a half-time Destiny's Child performance. Lee also throws in an unlikely mini-romance between Billy and one of the cheerleaders (Mackenzie Leigh). Even here, at their most intimate moments, it's apparent that the lovers are playing pre-ordained roles. It's not so much his personality that attracts her as the version of him as the selfless GI-type constructed by the media.
No-one can really understand what the soldiers went through. There is a sense throughout that all of them, and Billy in particular, are resigned to the fact that they're outsiders as much as they are heroes.
The pity here is that the high frame rate gives the film such an ersatz look. If Lee had shot Billy Lynn in a more conventional way, the film's qualities would surely have been recognised. As it is, Billy Lynn's Long Halftime Walk has been utterly neglected at the US box office. There's a very good film lurking in here but it has come in the wrong casing.
Prevenge (15)
★★★☆☆
Dir: Alice Lowe, 90 mins, starring: Alice Lowe, Jo Hartley, Katie Dickie, Gemma Whelan, Kayvan Novak
Alice Lowe directs and stars in this grisly British comedy thriller about Ruth, a pregnant woman turned serial killer. She's not like Dennis Price in Kind Hearts And Coronets, elegantly bumping off relatives who stand in the way of an inheritance. Her approach to homicide is altogether cruder and more bloody.
Goaded by the talking foetus in her womb, she is out to kill the team members she holds responsible for the death of her partner in a climbing accident. Sometimes, the attempts at humour here feel very forced and obvious. For example, when a businesswoman talks about the "cut-throat" nature of her work, we can guess well in advance exactly what is going to happen next.
Lowe plays Ruth in engaging but deadpan fashion – one reason why all her victims are so quick to trust her. They cook for her, dance with her, advise her on what pets to buy and even let her use their upstairs loo, but that doesn't stop her from stabbing and slashing them to bloody smithereens.
The tone wobbles at times. Lowe doesn't always manage to reconcile the comic elements with the gore. The film often seems more like a cautionary tale about a nightmarish pregnancy than a conventional comedy. It is very morbid fare, but Lowe combines the Dario Argento-like bloodletting with a very British, very deadpan wit.
Join our new commenting forum
Join thought-provoking conversations, follow other Independent readers and see their replies