Film reviews round-up: The Man Who Invented Christmas, Wonder, Happy End, Love is Thicker Than Water
The writing of a holiday classic, a touching look at living with facial differences, Michael Haneke's latest, and a charming rom-com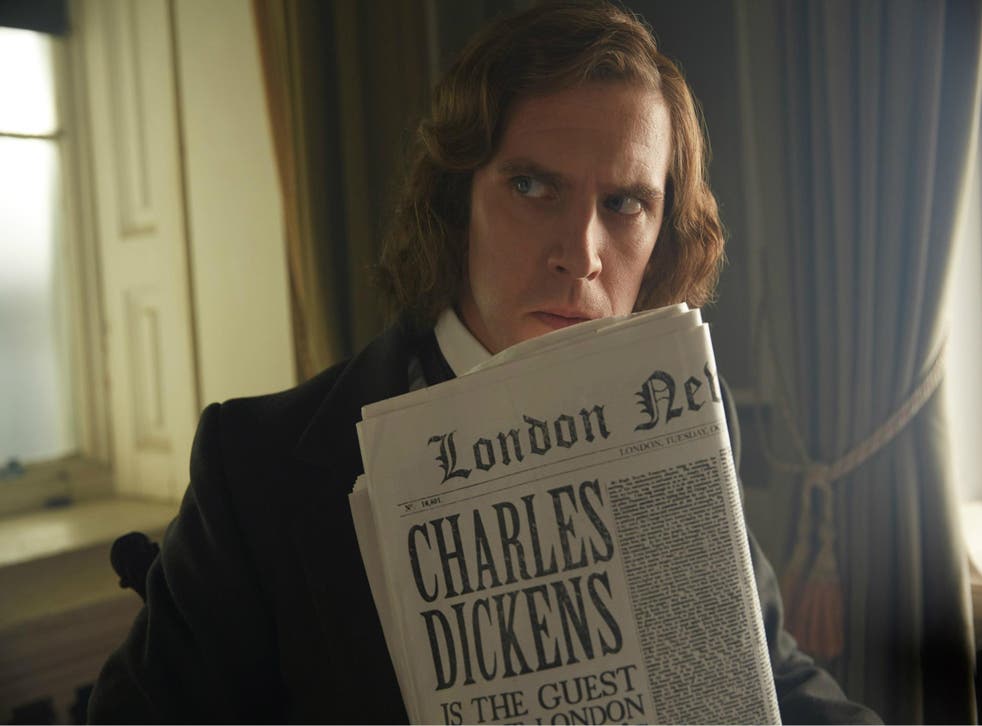 The Man Who Invented Christmas
★★★☆☆
Dir. Bharat Nalluri, 103 mins, starring: Dan Stevens, Christopher Plummer, Jonathan Pryce, Simon Callow, Miriam Margolyes, Ian McNeice
The snowflakes fall in slow motion in The Man Who Invented Christmas, a yuletide yarn telling the story of how Charles Dickens came to write A Christmas Carol. This is a gooey seasonal hodge-podge of a movie: partly a biopic, partly a ghost story, and full of strange echoes of It's A Wonderful Life. It's very soft-centred but succeeds in casting new light on an episode in its subject's much scrutinised life that hasn't been quite as exhaustively examined as one might have expected.
In the early 1840s, Dickens (Dan Stevens) is still in his early thirties and is already a literary superstar. He has just returned from a tour of the United States but his celebrity hasn't brought him financial security. With household bills to pay, a new child on the way, his impecunious father John Dickens (Jonathan Pryce) to support, and his most recent novels not selling as well as hoped, he needs money. The "ogre" of debt is threatening to eat him up.
One challenge that continually confounds director Bharat Nalluri is how harshly he should portray Dickens's Victorian London. He wants to acknowledge the dirt and the poverty, the social inequality and the blithe indifference that wealthy businessmen like Mr Grimsby (Bill Paterson) show toward the poor.
This, though, is a Christmas costume drama with all the trimmings. Slums and alleyways, drawing rooms and bustling streets, have been recreated in the film studios in an incongruously picturesque and artificial way. In their bonnets and top hats, all the characters seem as over-dressed as mannequins in a waxwork museum.
Susan Coyle's screenplay, based on Les Standiford's book, emphasises the speed with which Dickens wrote A Christmas Carol. The novelist pitched the idea to his unenthusiastic publishers, to whom he was already in debt, before he even had a title or a plot line. He had only a few weeks to complete the task in order to have the book ready for Christmas but went at the task in a manic fury.
The Man Who Invented Christmas - Trailer
There are tensions here which the film doesn't delve into too deeply. Dickens was writing A Christmas Carol to make money, not simply to spread good cheer. When he was in the frenzy of creation, he was as much of a bad-tempered curmudgeon as Scrooge himself.
Access unlimited streaming of movies and TV shows with Amazon Prime VideoSign up now for a 30-day free trial
Sign up
He had a genius for marketing and publicity as well as for writing. His publishers may have fretted that there was "not much of a market for Christmas books", but he saw the commercial upside. Dickens was the man who invented Christmas, not the one who invented Black Friday, but the eventual success of A Christmas Carol arguably paved the way for the riot of consumerism that Christmas has now become
Stevens plays Dickens with just the right measure of bustling energy. The writer can't keep still for a moment. He is always looking for inspiration, collecting potential names in the little notebook he carried with him, and drawing directly from his own life in creating his fictional characters. Tiny Tim is based on his crippled nephew, who died aged only 9. An especially gloomy waiter in the Garrick Club helped him portray Scrooge's deceased and enchained old business partner, Jacob Marley.
In the famous portrait, Dickens's Dream, completed after the author's death, Dickens is shown napping on a chair as the characters from his novels swarm around him. Here, as a much younger writer, he is in close dialogue with his fictional creations. In particular, Scrooge (Christopher Plummer), follows him, taunting and goading him. The ghosts of Christmas past, present and future also come to life. We are effectively being told the story of A Christmas Carol at the same time as Dickens is writing it.
The film offers the familiar pleasures you would expect in a costume drama about Dickens. It is full of colourful turns from well-known character actors. There is a roaring performance from Simon Callow as the self-important artist, John Leech, hired by Dickens to illustrate the book. We see the venerable Miriam Margolyes scurrying around in her petticoats as the kindly matron, Mrs Fisk.
In a quicksilver performance that would justify a movie of its own, Jonathan Pryce is part Don Quixote-like dreamer, part Micawber-like buffoon, as Dickens's cash-strapped father. He even gets to deliver some of King Lear's soliloquies. Whenever Dickens is becoming too precious, he is invariably brought back to earth by his very bluff friend and associate, John Forster (Justin Edwards), who speaks in a broad Geordie accent.
There is a nice comic cameo from Miles Jupp as Dickens's friend and rival, Thackeray, who loves to remind Dickens about any hostile review he has received. Some of the lines in Coyle's screenplay are very arch. "Oh, look, there's Macready," Dickens will say helpfully when he spots the famous actor in his club, just so we know who it is.
"No one is useless in this world who lightens the burden of another," is one of the conclusions Dickens reaches toward the end of the film. This seems like a variation on the famous ending of Frank Capra's It's A Wonderful Life when the angel Clarence lets James Stewart know "no man is a failure who has friends".
The Man Who Invented Christmas doesn't even begin to bear comparison with Capra's classic. It's the filmic equivalent of a trip to a Charles Dickens museum but it delivers exactly what we expect from it. The liveliness of the performances go a long way to compensating for the creakiness of the concept.
Wonder
★★★☆☆
Dir. Stephen Chbosky, 113 mins, starring: Jacob Tremblay, Julia Roberts, Daveed Diggs, Owen Wilson, Mandy Patinkin, Izabela Vidovic
Stephen Chbosky's Wonder is sharply enough written and performed to overcome its own very schmaltzy premise. The film is like The Elephant Man done as an American high-school comedy-drama. Jacob Tremblay, the brilliant young star of Oscar-winner Room, plays Auggie Pullman, a boy born with a deformed face.
After 27 operations and lots of plastic surgery, he still looks disfigured – one reason why he likes to wear a space helmet in public and has been educated at home by his mother (Julia Roberts). When he is sent off to school for the first time, other kids bully him and call him Freddy Krueger. We all know, though, that his inner beauty will shine through in time for the closing credits.
The film, adapted from RJ Palacio's novel, has an enjoyable quirkiness about it. Auggie is a mischievous and very bright boy who may succumb to self-pity on more than one occasion but who also relishes being the centre of attention. His mum dotes on him. So does his wisecracking, laidback businessman father (Owen Wilson) and his older sister, Via (soulfully played Izabela Vidovic), who has been forced to live in his shadow. The parents are too busy fretting about Auggie to pay much attention to her.
In the course of the movie, not just Auggie but almost all the other characters too learn to confront their insecurities. He brings out the best in them. If this was an old Disney family movie, the mawkishness might have been hard to stomach. As it is, we still have some very sentimental scenes, for instance those involving Daisy, the pet dog, the "real friend" that Auggie craves, and lots of hugging and tear-venting.
The screenplay, though, is surprisingly witty and well-observed. The comedy never descends into Diary Of A Wimpy Kid-like goofiness. Wonder makes serious and perceptive points about friendship, coming of age, endurance and basic human decency. It shows us plenty of bad and despicable behaviour but it puts that behaviour in context. Those who bully Auggie the most viciously are, of course, the most insecure, and kindness always trumps everything else in the end.
Happy End
★★★★☆
Dir. Michael Haneke, 108 mins, starring: Isabelle Huppert, Jean-Louis Trintignant, Mathieu Kassovitz, Fantine Harduin, Franz Rogowski, Loubna Abidar
The great Austrian director Michael Haneke's latest feature has a plot every bit as embroiled as those of old Hollywood family melodramas like Written On The Wind or All That Heaven Allows. The difference is that this is a European art-house movie in which all the passion has deliberately been strained out. Its fascination lies in Haneke's icily analytical approach to material other directors would treat in far more flamboyant fashion.
He is utterly relentless in probing away at the hypocrisies, bad faith and unhappiness of the family in question, the Laurents. They are wealthy industrialists living in a big house near Calais (not far from where the refugees are camped). In spite of their affluence, they're deeply miserable.
The newest addition to the household is the precocious but dangerous 12-year-old, Eve (Fantine Harduin), who has just poisoned her mother with prescription pills and needs somewhere to live. She is the daughter of Thomas Laurent (Mathieu Kassovitz) from his first marriage. Thomas has remarried, to Anais, and has a baby with her, but is engaged in a strange and sadistic love affair with a beautiful classical musician.
The ageing grandfather (the majestic Jean-Louis Trintignant) has severe memory problems and yearns to die. He drives cars into trees, tries to bribe his barber into helping him kill himself and asks for medical help in organising an assisted suicide – but he stays stubbornly alive. The matriarch of the family is Anne Laurent (played by Isabelle Huppert in similar vein to her character in Elle).
She runs the family construction business in a ruthless fashion. If a worker on one of their sites has been badly injured in a freak accident or a kid has been bitten by a dog, she will use bribery and intimidation to make the incident go away. She will never admit responsibility or apologise. Her son, Pierre (Franz Rogowski), drinks too much wine and has a social conscience which embarrasses the rest of the family. The Laurents treat their Moroccan maid and butler, Djamila and Rachid, in horribly condescending fashion.
There are flashes here of Bunuel-like humour at the expense of the bourgeois protagonists. In one bizarre shot held for a mini-eternity, we see Trintignant on his wheelchair, pushing himself down a busy street, seemingly looking for passers-by who might help him kill himself. Haneke shoots the scene from the other side of the road, as if from a hidden camera, as cars pass by.
Another moment of sudden violence is filmed in long shot from so far away we can barely see what is happening. Some scenes are filmed from Eve's mobile phone. Haneke is always trying to distance us from the action. We look in on the Laurents's troubled lives from a very detached perspective.
The Calais setting and the glimpses in passing of refugees suggest that the director is making some point about how far removed the Laurents are from the suffering and upheaval on their own doorstep. If there is a political subtext, it is oblique. It is very hard to sympathise with the family. None of them are likeable.
What is apparent, though, is their self-loathing and their inability to snatch anything other than passing pleasure and contentment, whether from music, sex or alcohol. This is a film in which barely any of the characters smile, let alone laugh. They're all haunted and guilty about something.
Haneke leaves it up to us to work out the roots of their discontent. In spite of his aloof filmmaking style, Happy End is very absorbing viewing. We've seen similar characters in countless other dramas and soap operas but their stories have never been told in as mysterious a way as they are here.
Love Is Thicker Than Water
★★★★☆
Dirs. Emily Harris, Ate De Jong, 105 mins, starring: Johnny Flynn, Lydia Wilson, Ellie Kendrick, Al Weaver, Juliet Stevenson, Henry Goodman
This likeable and charming romantic comedy tells the story of a love affair between a young Londoner from an affluent Jewish background and her working-class, Welsh boyfriend from Port Talbot.
Vida (Lydia Wilson) is a cellist whose ambition, pushed by her mother (Juliet Stevenson), is to play for an orchestra. Arthur (Johnny Flynn) is a cycle courier who is also a talented animator. They're besotted with one another. At first, as they roam around London together, going to gigs, drinking champagne at dawn, playing childish games and making love, they manage to keep the outside world at bay. Then comes the inevitable conflict as they have to deal with each others' families and they realise how different their backgrounds are.
The film is shot in freewheeling, very fluid fashion, with handheld camera work, animation and lots of music all used to convey the young lovers' carefree obsession with one another. Directors Ate De Jong and Emily Harris also detail the growing tensions between the lovers in a subtle and comic way.
Arthur is ill at ease with the pretentiousness and cultural snobbery of Vida's parents. Vida struggles to deal with Arthur's pigeon-fancying, fish-and-chip-eating, beer-quaffing relatives. Soon, cracks in the relationship appear. When the two families come together for an engagement party, the gulf between them begins to appear unbridgeable.
We can guess exactly how the story will unfold but that doesn't lessen the humour or the gentle pathos. Lydia Wilson and Johnny Flynn have an obvious rapport and there are nicely judged character turns too from Stevenson as Vida's haughty and mysterious mother, Henry Goodman as her easygoing father and from Sharon Morgan as Arthur's kindly but indiscreet mother.
Join our new commenting forum
Join thought-provoking conversations, follow other Independent readers and see their replies