Film reviews round-up: Moana, Bleed For This, Chi-Raq, Edge of Seventeen
Disney's latest animated princess, one of boxing's greatest comebacks, and Spike Lee's unique adaptation of the Lysistrata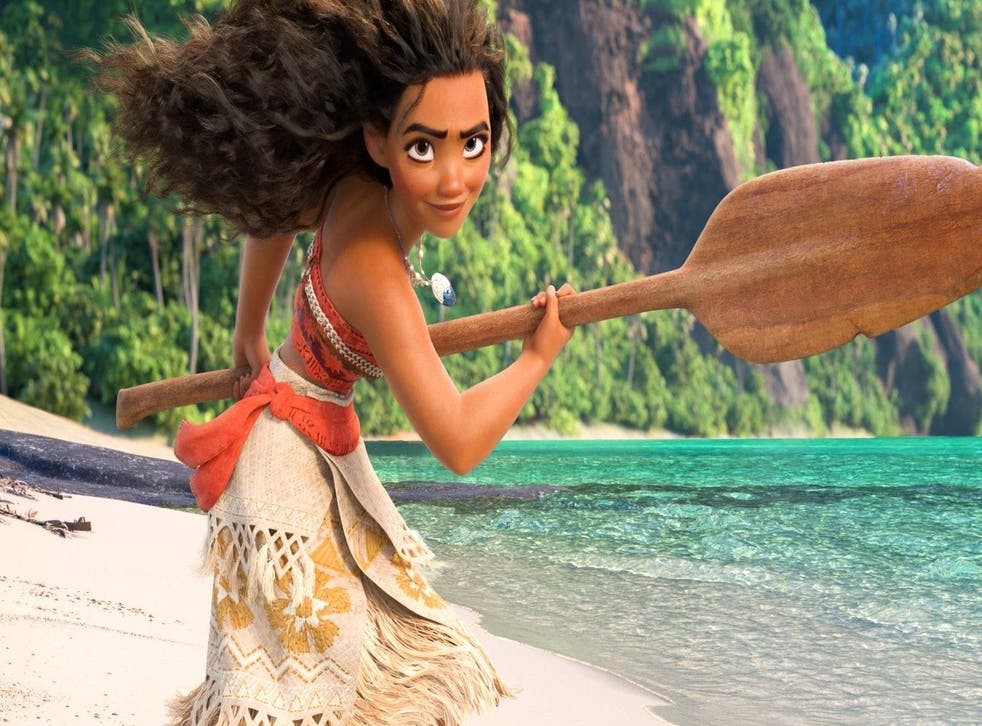 Bleed For This (15)
★★★☆☆
Ben Younger, 117 mins, starring: Miles Teller, Aaron Eckhart, Katey Sagal, Ciarán Hinds, Ted Levine, Christina Evangelista, Liz Carey
Bleed For This is an enjoyable but very generic and old-fashioned boxing movie that arrives in British cinemas at an unfortunate moment. It tells the true story of Vinny Pazienza, a Rhode Island brawler and world champ who returned to the ring successfully after breaking his neck in a car crash. Earlier this week, British boxer Nick Blackwell who rashly started sparring again after suffering a serious head injury in a fight against Chris Eubank Jr. was put in an induced coma.
Writer-director Ben Younger isn't much interested in the medical risks that Vinny took in making his comeback. The intention here is to tell a rousing and colourful story about a fighter beating the odds. After the car crash, Vinny had to wear a metal brace (a "halo") on his head for several months. We already know that he has "heart" (even if he wears it on his "f*cking chin") and that he is ready "to die in the ring."
The main pleasures here lie in the colourful evocation of Vinny's background and from the very lively, if sometimes caricatured, supporting performances. Miles Teller plays Vinny as a jack-the-lad who likes womanising and gambling - and who'll never quit in a fight.
Surprisingly, Teller never hits the pitch of intensity here that he did when playing the jazz drummer in Whiplash. Vinny is much the same personality after his injury as before. The "halo" may give him the look of a Christ-like martyr with a metal crown of thorns but he is not too much given to introspection.
He just wants to work and train and fight, whatever his doctors say. Bleed For This may be executive produced by Martin Scorsese but it seems distinctly lightweight by comparison with Scorsese's own far darker and more disturbing Raging Bull.
In this corner, Vinny has his dad Angelo, a bulky, combative figure played in best Soprano-like fashion by the great Irish actor, Ciaran Hinds. Angelo boasts endlessly about his son but doesn't worry unduly about his well-being.
Aaron Eckhart and Miles Teller star in Bleed For This
When Vinny's promoter Lou Duva (Ted Levine) suggests it's time for the fighter to quit after losing three bouts in a row, Angelo is having none of it. In the more emotional moments after the accident, Hinds' Italian accent slips a little but it's a wonderfully vivid, scene-stealing turn.
The family is ardently Catholic. When Vinny is fighting, his mother (Katey Sagal) sits in her homemade shrine, surrounded by crosses, trinkets, and pictures of saints. His sisters, meanwhile, watch the fights on TV, hollering support for their brother.
Access unlimited streaming of movies and TV shows with Amazon Prime Video Sign up now for a 30-day free trial
Sign up
One insight the film does provide is that there is no false sentimentality about professional boxing. Money rules. "The machine don't stop for anybody," Vinny is told after his accident. No-one wants to spar with him. It seems unthinkable that he'll get a license to fight again let alone be in a high-stakes bout.
Then, the media picks up on his story and the same promoters who've been ignoring him realise that this is an underdog story that will capture the punters' imagination. "I can sell this," the matchmaker proclaims as if the marketability of the fight is all that matters.
As in every self-respecting boxing movie, there has to be an eccentric coach ready to turn the troubled fighter's career around. Here, Aaron Eckhart (in a sometimes too visible skull cap) takes on the role. His character Kevin Rooney used to train world heavyweight champ Mike Tyson but appears to be on the skids. Rooney, though, can see what the other coaches missed. Vinny is powerful enough to fight at a higher weight level rather than have to starve and sweat himself.
Certain scenes are stylishly shot. The car crash, filmed from above and with the sound of the car horn going off as Vinny lies slumped and unconscious, is chilling. Director Younger captures the seedy, sweaty atmosphere of the gyms where Vinny trains and throws in plenty of scenes of Vinny and his family around the dinner table, bickering, and gossiping.
Weigh-ins and pre-fight rituals are wryly observed. Early on, when he is desperately trying to lose weight, Vinny wraps himself in cling film and exercises madly on a gym bike to shed the pounds moments before he is due on the scales. The fights themselves are strictly routine. Vinny gets battered and bloodied but always comes out swinging.
Thanks to Rooney's coaching, he is actually a more efficient and evasive fighter after the accident than before it. His epic bout with Roberto Duran ends exactly as you expect it to. That's one of the problems with the film - it is utterly predictable. There are no feints or combinations in the storytelling here that we haven't seen in ring movies many times before.

Edge of Seventeen (15)
★★★☆☆
Kelly Fremon Craig, 104 mins, starring: Hailee Steinfeld, Haley Lu Richardson, Blake Jenner, Kyra Sedgwick, Woody Harrelson, Hayden Szeto,
Edge Of Seventeen does a very fair job of portraying the anguished inner life of its needy adolescent protagonist. Nadine (Hailee Steinfeld) a teenager, is having a tough time at high school. Her beloved father is dead, her mother (Kyra Sedgwick) is as messed up as she is, and she feels intensely jealous of her good looking, seemingly well adjusted and popular older brother Darian (Blake Jenner).
Every lunch hour, she slopes into the classroom of her history teacher Mr Bruner (Woody Harrelson) and shares her complaints about the world and her suicidal fantasies with him. He is even more sardonic than she is and shows her minimal sympathy. Just when it seems that things can't get any worse, her best (and only friend) Krista (Haley Lu Richardson) starts an affair with her brother.
Writer-director Kelly Fremon Craig comes up with plenty of very barbed one-liners and truthful observations about Nadine's growing pains. In times of maximum stress, the teenager looks for consolation in junk food (cheeseburgers, ice cream, yoghurts, and slushies figure prominently in her diet). Nadine is both precocious and very naive.
This becomes painfully evident in her scenes with the handsome and rebellious Nick (Alexander Calvert), who works in the local pet store. In conversation with Krista or when she is texting, she is very frank about her sexual desires but when she is face to face with the object of her lust, her innocence becomes apparent.
Like Nadine herself, the film is occasionally taxing on our patience. You can't help but feel sympathy for Mr. Bruner as Nadine burdens him (and us) with all her neurotic fears and fantasies. We all know that Nadine will eventually blossom forth and turn from a caterpillar into a butterfly. Nonetheless, there's enough acerbic humour and raw observation to stop this story of yet another mixed-up in-betweener becoming just too mushy.
Chi-Raq (15)
★★☆☆☆
Spike Lee, 1278 mins, starring: Nick Cannon, Teyonah Parris, Wesley Snipes, Angela Bassett, Samuel L. Jackson, John Cusack
Spike Lee's sprawling modern-day adaptation of Aristophanes' comedy Lysistrata transfers the action from ancient Greece to modern-day Chicago, where rival gangs the Spartans and the Trojans are running amok, black on black violence is out of hand, and where more Americans are dying than in the war in Iraq.
To stem the bloodshed, Lysistrata (Teyonah Parris) launches a "no peace, no pussy" campaign. Unless the men stop killing each other, the women will refuse to have sex with them. This is a film of inspired moments but one that becomes increasingly baggy and uneven the longer it progresses.
The characters talk in rhyming slang. The performances are vivid enough. Teyonah Parris makes a very fiery lead. Samuel L. Jackson is on hand in a series of ever more gaudy outfits to act as the chorus/narrator to events. Wesley Snipes enjoys himself as one-eyed gangster-leader Cyclops while Angela Bassett lends the film some gravitas as a strong-willed peace activist who lost her child many years before to a stray bullet. Meanwhile, playing a peace activist preacher, John Cusack gets to deliver a very rousing sermon.
In its lesser moments, though, the film plays like a bad student revue. Some of the gambits here - the women taking over the military barracks by playing on the lust of the commanders, the final reel "love off"- are downright silly. The humour is often prurient.
Lee risks trivialising serious subject matter. He is dealing with racism in its modern-guise ("mass incarceration is the new Jim Crow"), poverty and exploitation but the knockabout comedy weakens any polemical thrust the movie might otherwise have had.
Moana (PG)
★★★★☆
Ron Clements, John Musker, 113 mins, voiced by: Dwayne Johnson, Auli'i Cravalho, Alan Tudyk, Jemaine Clement, Nicole Scherzinger
Moana is the 56th Disney animated feature film and it shows how far the studio has come since the days of Snow White. The heroine here isn't another of Disney's caucasian princesses but a rebellious and single-minded young Polynesian girl - daughter of the chief and destined to revive the tribe's sea-faring tradition.
What impresses most here is the way the filmmakers combine the traditional Disney elements - the sentimentality, the slapstick and the iridescent animation - with a storyline rooted in South Sea island myth and culture. The filmmakers don't try to make their characters behave like suburban Americans.
There are plenty of good gags, many involving a dim-witted but seemingly indestructible chicken. There is a memorable battle sequence involving the diminutive, furry but lethal pirates called the Kakamora. The filmmakers make plenty of comic capital of the attritional relationship between Moana (voiced by Auli'i Cravalho) and the slightly blubbery and not as courageous as he should be demi-god Maui (Dwayne Johnson).
You can't help but be delighted by the way that Maui's tattoos take on a (hand drawn) life of their own. This is a coming of age story but one on an epic scale.
Join our new commenting forum
Join thought-provoking conversations, follow other Independent readers and see their replies