Film reviews round-up: Snowden, Office Christmas Party, Life Animated, The Black Hen
Oliver Stone's latest biopic, Jennifer Aniston's latest comedy, a documentary on an autistic boy's relationship with Disney, and an Iranian tale of a lost hen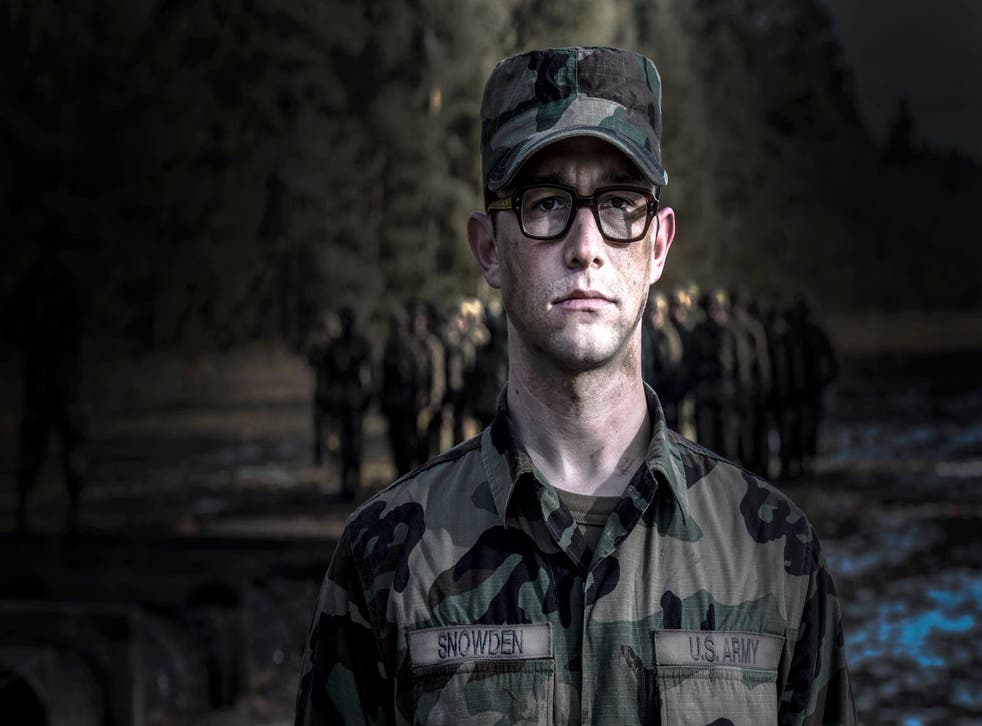 Snowden (15)
★★★☆☆
Oliver Stone, 134 mins, starring: Joseph Gordon-Levitt, Shailene Woodley, Melissa Leo, Zachary Quinto, Jaymes Butler, Robert Firth
Oliver Stone's biopic of Edward Snowden is appearing in cinemas two years after Citizenfour, Laura Poitras' Oscar-winning documentary on Snowden, and three years after Snowden leaked classified documents from the National Security Agency. Can Stone's film tell us anything that all the documentary makers and journalists haven't already discovered - and will it work as drama?
Like so many of Stone's recent movies, this turns out to be a very mixed bag. It works relatively well as a conspiracy thriller and delves into episodes of its subject's life that documentary makers like Poitras couldn't get near. In his own bombastic fashion, Stone manages to explain to a general audience just how pervasive the NSA's snooping has become with lines like, "Emails, chats, SMS, whatever… the NSA is really tracking every cell phone in the world."
Where Snowden falls down is in its attempts to dramatise its subject's private life. The brilliant young actress Shailene Woodley (star of The Descendants and Divergent) has an utterly thankless role as Snowden's liberal, doggedly loyal girlfriend, Lindsay Mills. Given that the film's real concern is the biggest security breach in US intelligence history and in the intelligence skullduggery and snooping Snowden exposed, the details of his relationship with Lindsay can't help but seem of only very secondary importance.
Snowden starts with the famous meeting between its subject, Guardian journalists Glenn Greenwald (Zachary Quinto), Ewen MacAskill (Tom Wilkinson) and documentary maker Poitras (Melissa Leo) in a Hong Kong hotel room. As you'd expect, this is all filmed as if it's a John Le Carré thriller. There are secret code words.
Joseph Gordon-Levitt: I hope Obama pardons Snowden
The journalists are startled at having to put their smartphones in the microwave (so they can't be traced) and are disconcerted by Snowden's tendency to disappear beneath the bedclothes whenever he needs to enter his password on a computer. As Poitras trains her camera on Snowden's very pale face (he doesn't get a lot of sun) we are taken back in time.
Joseph Gordon-Levitt has clearly studied Snowden's voice and mannerisms in great detail. He looks and sounds like his subject but what's impressive about his performance is that it never descends into mimicry. In scenes reminiscent of Full Metal Jacket, we're shown Snowden as a young, would-be soldier in Special Forces, desperate to serve his country but without the physical prowess to complete the assault courses and forced runs - or to deal with the bullying sergeant-majors. Instead, he enters the murky world of intelligence in which he thrives.
Stone has filled the film with well-known actors in relatively small parts. There's a creaky turn from Tom Wilkinson (sounding a little like musical hall star Harry Lauder as the Scottish journalist MacAskill.) Nicolas Cage is seen briefly but to strong effect as the mercurial intelligence expert Hank Forrester who has been banished to the basement but who acts briefly as Snowden's mentor.
Rhys Ifans isn't obvious casting as CIA recruiter and bigwig, Corbin O'Brian, but he manages to play the role in suitably sinister fashion - and with at least a hint of tongue in cheek humour.
Access unlimited streaming of movies and TV shows with Amazon Prime Video Sign up now for a 30-day free trial
Sign up
The director does his best to bring tension and drama to the film. He makes clever use of Rubik's cubes. These are Snowden's toy of choice which both allow him to show off how clever he is and to smuggle secret data out of the Aladdin's cave-like bunker in which the US spooks do their dirty work in Hawaii.
The film contrasts the secretive and ruthless behaviour of senior intelligence operatives with the frat boy atmosphere among the NSA hackers. Gabriel Sol (Ben Schnetzer) has an engagingly childish and prurient approach to a job that allows him to snoop and eavesdrop on pretty much the entire world.
Stone makes a compelling case that his subject is a hero, not a traitor, and tells his story with a fair amount of cinematic flair. Nonetheless, many elements here are on the clunky side. The late sequence of the real life Snowden being interviewed online by the former Guardian editor Alan Rusbridger feels especially pious and self-congratulatory.
Office Christmas Party (15)
★★☆☆☆
Will Speck, Josh Gordon, 105 mins, starring: Jason Bateman, Kate McKinnon, Olivia Munn, Jennifer Aniston, Jamie Chung, T.J. Miller
If you like your festive movies full of cynicism, fart jokes, and with scenes of Jennifer Aniston saying "f**k you" to kids, this is the Christmas film for you. The plotting is threadbare, characterisation is all over the place, and the film's upbeat ending makes no sense whatsoever - but there are plenty of outrageous gags along the way.
Jason Bateman is in emollient form as Chief Technical Officer at Chicago computer company Zenotek Data Storage. He's just divorced. All his work colleagues are in fractious moods but he spreads calmness wherever he goes. His boss Clay Vanstone (T.J. Murphy) is a good-natured, Aerosmith-loving dimwit who wants to give all the staff bonuses and to throw the raunchiest office party ever.
Office Christmas Party - Trailer 2
Clay's sister, CEO Carol Vanstone (Aniston) is the Scrooge in the yuletide mix. Her plan for Christmas is to sack 40% of the staff and perhaps to close the office down too for good measure. Clay does indeed throw a very debauched party along the lines of the orgy scenes in Caligula but with added alcohol and drugs. Inevitably, the wrong kind of white powder is blown out of the Christmas snow machine.
For no very good reason, the script includes Fast & The Furious style driving stunts, scenes involving prostitutes and their very intimidating pimps, and a city-wide internet blackout which gives the Zentoek staff the chance to rescue their company.
By the final reel, the Christmas spirit is overflowing and even the nastiest characters belatedly discover their powers of compassion. Much of the film is grotesque, tasteless, and stupid but Aniston enjoys herself playing the mean-spirited villainess while Bateman show how he manages to keep on looking calm and beatific amid the chaos and carnage.
Life, Animated (PG)
★★★★☆
Roger Ross Williams, 92 mins, featuring: Owen Suskind, Ron Suskind
You won't find many documentaries more heart-warming than Roger Ross Williams' Life, Animated. It's a film about autism but has the narrative arc of one of those Disney cartoons that its main character Owen Susskind dotes on.
Until the age of 3, Owen was a normal middle-class boy. His father Ron was a successful journalist and the home movie footage of him as a very young kid suggests that he was very happy. Then, as his parents describe it, the child they knew vanished. It was as if he had been kidnapped or had "disappeared" inside a prison of autism.
He began to speak in gibberish. His parents couldn't communicate with him. The Disney movies were the catalyst that enabled them to re-establish contact with him. He knew the dialogue inside out and felt an obvious sense of identification with the Disney heroes whose plight mirrored his own.
As the film starts, Owen is close to graduation and will soon be leaving home to live on his own, in supervised accommodation. He is in his first relationship. His brother Walter jokes on camera that they'll need "Disney porn" to teach him about sex. Director Williams films the family, draws on their home movies, and also uses animation (provided by Mac Guff, the company behind Despicable Me) which depicts the darker side Owen's fantasy world.
At times, the film feels evasive. One aspect which is touched on only in passing is the cost of researching Owen's condition and of his treatment. Nor is the relationship with Disney fully explained. Clips from several Disney movies are used. There are shots of Owen gazing rapt at the TV screen at scenes from Peter Pan, Bambi or Aladdin from his precious collection of VHS tapes.
Disney voice-over artists turn up at screenings he organises. The studio is clearly supportive of the film but it's surprising that the documentary doesn't explain how Disney was brought on side. It's a testament to the brilliance of the Disney animated features (and to the universality of their themes) that Owen is able to use them both to communicate with the outside world and negotiate his own path into adulthood.
Owen himself is a sweet-natured and heroic figure. One of the most poignant moments in a moving and insightful film comes when he travels to France to address a symposium on autism. Before he speaks, there's a lengthy silence and he looks lost for words - but when he finally delivers his address, he is astonishingly astute and perceptive about his condition.
The Black Hen (12A)
★★★☆☆
Min Bahadur Bham, 90 mins, starring: Khadka Raj Nepali, Sukra Raj Rokaya, Jit Bahadur Malla, Hansha Khadka, Benisha Hamal
In Iranian director Jafar Panahi's The White Balloon (1995), the story of a little girl trying to buy a goldfish is given an epic quality. This Nepalese drama is very similar in tone. It appears to be a simple tale about two boys in a remote, seemingly idyllic rural community on a quest to retrieve a hen that one's father has sold.
From such a simple beginning, director Min Bahadur Bham is able to portray an entire society in microcosm. The film is set in 2001, during a short and fragile ceasefire in the civil war. Maoist guerrillas are on the move and gun toting soldiers are on the lookout for them. The boys want the hen back not out of any sentimental attachment but because they hope it will be their ticket out of poverty.
At times, the film has a Huck Finn-like humour. We see the boys trying to dye the hen so that no-one will know they have taken it back. There are comic scenes of them bartering with mean old men and running off with their booty as a kid squawks in the background. Director Min Bahadur Bham also includes slow motion dream sequences which highlight the boys' anxieties about the violence and uncertainty around them. This little story about a lost hen becomes ever darker, ever more disturbing.
Join our new commenting forum
Join thought-provoking conversations, follow other Independent readers and see their replies