Film reviews roundup: A Quiet Place, Death Wish, Thoroughbreds, 120 BPM, Ghost Stories
An ingenious new horror film, a lacklustre action movie, one of the final performances from Anton Yelchin, a heart-pounding Aids drama, and the cinematic equivalent of a ghost train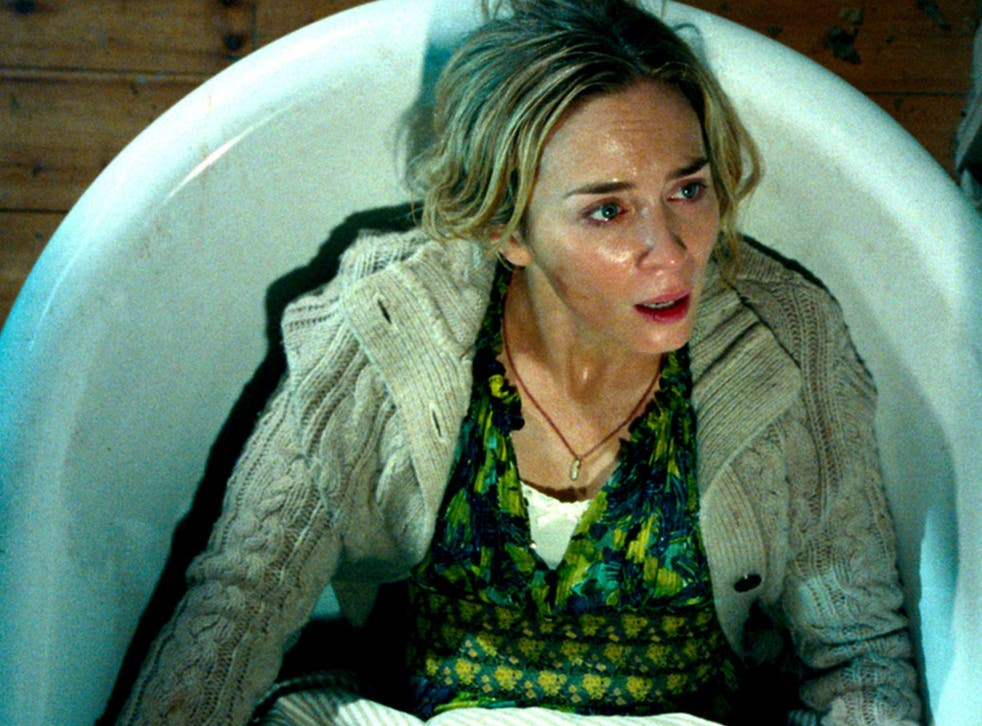 A Quiet Place (15)
★★★★☆
Dir John Krasinski, 90 mins, starring: John Krasinski, Emily Blunt, Noah Jupe, Millicent Simmonds, Cade Woodward
"Stay silent, stay alive," is the only advice the American people are given on how to survive in John Krasinski's ingenious and extremely well-crafted new horror film. Deadly creatures roam the earth. Mouldering newspaper clippings reveal that the US army has been defeated. The government can no longer protect its citizens. The electricity is down. Magnetic pulses have crippled Wall Street. Towns and cities are deserted.
The creatures, though, can't see. They rely on their powers of hearing to identify their prey. If you don't step too loudly on the twigs, you may be able to keep out of their grasp.
In an era of wearisome poltergeist movies, haunted house stories and torture porn, A Quiet Place is a refreshingly pared-down and very original affair. Krasinski relies on editing, sound effects and off-screen action to crank up the tension. We do see the creatures from time to time, sometimes even in extreme closeup. They are very grotesque, bigger versions of the polyp-like succubus which exploded out of John Hurt's stomach in Alien. However, the most terrifying moments here come when the humans are waiting for them to appear, desperately hoping that they won't.
A Quiet Place starts on "Day 89", approximately three months after the apocalyptic alien invasion. The Abbott family, rugged patriarch Lee (played by Krasinski himself), his wife Evelyn (Emily Blunt, who's his wife in real life too) and their kids are seen in a supermarket in an abandoned town. One of the children has a dangerous fascination with a toy spaceship. He wants to put the batteries in it and play with it. If he does so, the creatures are bound to hear the noise.
The Abbotts are like pioneers in an old western, living on the wild frontier. They're self-reliant and tough. The story flashes forward to Day 472. By then, the Abbotts are living in a farmhouse on the edge of the woods. They've set up elaborate lights and decoys to protect themselves from the monsters.
Screenwriters Scott Beck and Bryan Woods deliberately withhold information and keep dialogue to a whispered minimum. The boldest conceit here is that characters have to communicate for most of the time in sign language. To speak is to risk attracting the immediate and very violent attention of the creatures.
This allows for silent movie-style shots in which the characters try to convey their feelings with looks and gestures. In particular, Krasinski fills the film with closeups of Regan (Millicent Simmonds), their deaf and highly expressive daughter, and of their mischievous son, Marcus (Noah Jupe). Both child actors are excellent in what must have been extremely challenging roles.
Krasinski and Blunt are equally impressive as their embattled but resilient parents. They've built themselves a control room in the basement in which they try to plot how best to stay alive. This is full of audio equipment, diagrams and notes speculating what weaknesses in the creatures the humans may be able to exploit.
Access unlimited streaming of movies and TV shows with Amazon Prime Video Sign up now for a 30-day free trial
Sign up
Not everything here stacks up. We see the characters roaming barefoot through woods, stepping across rough terrain full of rocks and sticks as if they're wearing the sturdiest boots. The humans seem able to make incidental noises without always attracting the attention of the creatures. One of the film's best set-pieces – the pregnant woman trying desperately not to make any noise as she gives birth – is also one of the least plausible.
Certain scenes here evoke memories of Second World War films in which refugees hide from the Nazis, desperately trying not to sniff or sneeze or make the slightest squeak. The screeching, rumbling Marco Beltrami music score plays a crucial role in heightening the sense of dread.
But in its more improbable moments, the film risks seeming like one of those far-fetched M Night Shyamalan stories in which coincidences and freakish incidents pile up so high that credibility is soon lost. Thankfully, Krasinski looks as much to Hitchcock thrillers as to Shyamalan's overcooked yarns. He knows just how to put the audience on edge. The danger doesn't come just from the creatures. If we see a closeup of a nail protruding out of a staircase, we know that someone will step on it sooner or later. If someone hides out in a grain silo, we can predict that he or she will be in danger of being buried alive in the grain.
A Quiet Place includes plenty of blood and Cronenberg-style body horror but Krasinski combines the more lurid moments with character-based drama. The Abbotts have some of the same problems as any other close-knit family living in a remote rural retreat. There is sibling rivalry. The kids don't always do what their parents tell them. In amid the horror, the husband and wife even find time for romantic idylls, dancing together while listening on their headphones to Neil Young's Harvest Moon.
Michael Bay may have produced A Quiet Place but in its relative restraint, the film is the utter antithesis to Bay's own bombastic blockbusters like Armageddon or Transformers. This is genre storytelling. In other hands, it could have seemed silly and contrived but we are so caught up in the Abbott family's battle to stay alive that we barely notice the holes in the plotting. Krasinski's approach is low key and nuanced; he makes us care about the characters. This ensures that in even its noisiest, most outlandish moments, when the creatures are on the rampage, A Quiet Places remains totally absorbing as drama.
Death Wish (15)
★★☆☆☆
Dir Eli Roth, 107 mins, starring: Bruce Willis, Camila Morrone, Elisabeth Shue, Vincent D'Onofrio, Dean Norris, Jack Kesy, Len Cariou
It's over 30 years since Michael Winner's original film of Death Wish (1974) unleashed Charles Bronson as the taciturn vigilante killer. The New York-set film provoked a furore with what many perceived as its glib and irresponsible approach to violence. Bronson was the "man who decided to clean up the most violent town in the world". He took the law into his own hands and blew away the muggers and rapists who had targeted his own family.
Eli Roth's lacklustre new version is set in Chicago, named by the FBI in 2012 as the "murder capital" of the USA. Early on, there are hints that the film will at least touch on the socio-economic causes of the violence. Roth explores the inner conflicts faced by the hero, an upstanding member of the community who becomes a vicious killer. He also refers to the ongoing crime and exploitation in the city as a whole. Soon, though, this turns into a routine vigilante movie, far more interested in cheap thrills than in moral dilemmas.
The opening section of the film is by far the strongest. We see surgeon Dr Paul Kersey (Bruce Willis) at work in the hospital, trying desperately to save lives amid chaotic scenes. A wounded cop is rushed to the wards. The frenzied camera work, with long takes and little cutting, conveys the desperation of the hospital staff.
Away from work, Kersey leads an affluent and privileged life. He is part of the "Lakeshore Drive" set, wealthy enough to be cocooned from the violence elsewhere in the city. His daughter Jordan (Camila Morrone) is about to go to college. His wife Lucy (Elisabeth Shue) is a home maker who still harbours ambitions of finishing a PhD started many years before.
Joe Carnahan's screenplay emphasises the everyday banality of the family's life together. They go for meals where they're joined by Paul's good-natured but wastrel brother, Frank (Vincent D'Onofrio). Lucy bakes cakes. Jordan conspires with her best friend. The only sign of discord is when Paul almost gets into a fight with an aggressive soccer dad at one of his daughter's matches. We know that the exaggerated normalcy is deceptive and that something horrible will soon happen.
"People rely on the police to keep them safe. That's the problem. If a man really wants to protect what's his, he has to do it for himself," one character says, expressing the film's brutish basic philosophy in a nutshell. The police only come after the crime takes place – and that is already far too late. In a state of grief and trauma, Kersey decides that he needs to exercise the American right to keep and bear arms. It helps, of course, that he conveniently finds a Glock in the operating theatre of the hospital.
When the vigilante killings begin in earnest, the film begins to resemble a half-baked rip-off of Batman. Roth includes constant snippets of radio talk shows, TV news programmes and social media feeds in which the public debates whether the hooded killer is "a hero or a zero". He is murdering drug dealers and petty criminals, making the streets safer in the process but leaving a pile of corpses behind him.
Willis plays Kersey in much the same way he did the hero in the Die Hard films. He is laconic and seemingly easy-going but we learn he was a "scrapper" in his youth. He may not know how to use guns but he's a surgeon who is good with his hands. A little practice on the shooting range and a few online tutorials is all it takes to turn this left-handed gun into a grim reaper.
The filmmakers try to have it both ways: to portray Kersey both as a victim, so traumatised by what has happened to his nearest and dearest that he can no longer think rationally, and as the conventional action hero, taking care of business. Kersey may eat junk food and hide out in his squalid basement but when he is out on the streets, he is the alpha male. Inevitably, every time he shoots a low-life, a passer-by will be on hand to film the incident with a cellphone. Equally inevitably, the overworked and dim-witted detectives (Dean Norris and Kimberly Elise) can't get near him. Even if they could, they seem tacitly to approve of his actions.
The killing is portrayed therapeutic, an extreme form of self-help. As the film progresses, Kersey's grief vanishes. It becomes apparent that he is enjoying the pursuit of the men who attacked his family.
Roth is best known for his horror movies, notably Hostel. He knows how to orchestrate the violence and the bloodletting. Here, he throws in set-piece after set-piece. One moment, Kersey will be having a shootout in a pawn shop, the next, he'll be blasting away in a nightclub or defending his home against intruders. All this action become increasingly mind-numbing and repetitive. The actual reasons for his metamorphosis from middle-class professional into mass murderer are overlooked as he gives into blood lust, the emphasis all on cheap thrills. The storytelling is on a similar level to that of a shoot-'em-up video game. Winner's original film seemed nuanced and sophisticated by comparison.
Thoroughbreds (15)
★★★★☆
Dir Cory Finley, 93 mins, starring: Olivia Cooke, Anya Taylor-Joy, Anton Yelchin, Paul Sparks, Francie Swift, Kaili Vernoff
Writer-director Cory Finley's Thoroughbreds is an invigorating ride. This is a morbid and stylised comedy-drama which takes us to places where few other films about the growing pains of young Americans go near. The film marks one of the final performances of the late Anton Yelchin, the brilliant young actor who died in a freak accident almost two years ago. Yelchin gives a memorably creepy performance as Tim, a sleazy young drug dealer and sex offender who dreams of wealth and power. Tim, though, seems an innocent next to the two main protagonists, the scheming and deeply dysfunctional old school friends, Amanda (Olivia Cooke) and Lily (Anya Taylor-Joy).
The tone here is closer to that of a particularly twisted Patricia Highsmith crime novel or one of Yorgos Lanthimos' dark-hued surrealist fables than it is to a John Hughes bratpack movie. The setting is a very wealthy corner of Connecticut. Everyone seems to live in huge country houses full of European antiques and hunting trophies. The home which Lily shares with her mother and loathed stepfather could be mistaken for a French chateau if it wasn't for the sunbed and the samurai sword on the wall.
Cooke (the English-born actress also currently on screen in Steven Spielberg's Ready Player One) makes Amanda almost sympathetic. This is quite a feat considering the character is a near psychotic with a complete lack of empathy for other human beings. As she explains, her brain is basically perfectly healthy but she just doesn't have feelings. Joy and guilt are foreign concepts. She is trying to "Steve Jobs" her way through life, by which she means she is improvising and looking for the main chance.
Amanda has a wonderfully acerbic turn of phrase and is very perceptive about the insecurities of others. She will make the most outrageous remarks in an utterly matter-of-fact fashion. Her deadpan delivery never changes, regardless of the ever-more bizarre circumstances in which she finds herself. Like the main character in Peter Schaffer's play Equus, her love of horses doesn't stop her doing unspeakable things to them.
Lily appears to be more contented but turns out to be consumed with hatred for her domineering stepfather (Paul Sparks), who fully reciprocate her dislike. The humour here is very barbed indeed. Lily and Amanda are prepared to resort to murder almost on a whim. Their cheerfully amoral approach flabbergasts even a relentless low-life chancer like Yelchin's Tim. The discordant music, heavy on the drums, gives the film an ominous feeling.
Thoroughbreds is a very macabre comedy. It could easily have seemed grotesque, silly and self-indulgent. Instead, thanks to the perfectly judged performances of its two young female leads and writer-director Finley's gift for acerbic irony, it is both unsettling and frequently very funny.
120 BPM (15)
★★★★☆
Dir Robin Campillo, 143 mins, starring: Nahuel Pérez Biscayart, Arnaud Valois, Adèle Haenel, Antoine Reinartz, Ariel Borenstein, Félix Maritaud
Aids activists in 120 BPM know that time is very short. At their meetings, they don't bother with clapping speeches. Instead, they click their fingers. That way, they convey their approval without interrupting the speaker and thereby wasting precious moments. Every member of the group ACT UP, whether gay, lesbian or mother of a victim, accepts being viewed by a hostile and indifferent public as HIV positive.
The wonder of Robin Campillo's film, set in Paris in the early 1990s, is the sure-footed way it combines polemics and historical reconstructions with melodrama, as Campillo focuses on the stories of a handful of the activists.
Early on, as these activists hold stormy meetings and stage protests on the streets or in offices and lecture halls, the mood is one of exhilaration. They leap over security barriers, barge into meetings, handcuff themselves to furniture and smear their opponents with fake blood, which they make by the gallon in the bath. They are targeting the medical authorities who are refusing to share potentially life-saving research. We see them march into high schools to disrupt lessons and hand out condoms. They chant bitter slogans against politicians. Their aim is to be noticed.
It is only when some of the activists mention how few "T4 Cells", needed to fight infection, they have left that we realise how quickly the clock is running down. "Our friends are dying. We don't want to die," the activists proclaim forlornly at their rallies.
This is an ensemble drama but Sean (Nahuel Pérez Biscayart) is the most prominent character. In his mid-twenties, he is a volatile and impassioned figure, capable of cruelty towards those he disagrees with. He is also young and very vulnerable. In the course of the film, we see his body giving up on him as the disease takes hold, but Campillo refuses to portray him just as a victim. Even as the disease weakens him, he becomes involved in a romance with fellow ACT UP member, the rugged Nathan (Arnaud Valois) who is HIV negative.
Campillo clearly knows his subject from the inside. In the 1990s, he was a member of ACT UP Paris. The film captures very vividly indeed the urgency and turbulence of the period in which the Aids epidemic took hold. There are references here to the revolutionary events in Paris in 1848, when the workers took to the streets.
But for all the heady excitement of the protests, Campillo doesn't indulge in false romanticism. It becomes painfully apparent that the activists are relatively powerless. Mainstream French society ignores them. They're victims of homophobia or are relentlessly patronised by the medical experts. Their protests embarrass the authorities but don't immediately cause anything much to change.
Strangely, given the ferocious pace of the storytelling early on, parts of the film begin to drag. In his bid to show the other side of his characters' lives, when they're not protesting, Campillo sometimes indulges in pointless digressions. We will see footage of two lovers on a trip to the beach out of season or hear long stories about their backgrounds and romantic lives.
By the final sections of the film, though, the momentum has been regathered. This turns into a tearjerker and a piece of agit-prop drama as Campillo makes us aware not just of the general devastation the disease is wreaking but of the tragic effect it is having on the characters in whose company we have just spent the last two hours.
Ghost Stories (15)
★★★☆☆
Dirs Jeremy Dyson, Andy Nyman, 97 mins, starring: Andy Nyman, Paul Whitehouse, Martin Freeman, Alex Lawther, Nicholas Burns
When you see comedian Paul Whitehouse as a gurning nightwatchman, fiddling with his torch in the dark, or Martin Freeman as a country gent, the natural reaction is to think that Ghost Stories is a spoof horror film. In fact, a few good jokes about car insurance and mobile phone providers aside, this turns out to be a deadly serious attempt to chill us to the bone. It just about succeeds.
Early on, viewers are likely to share the same scepticism about the paranormal as the film's main character, Professor Goodman (Andy Nyman). He presents a TV show exposing psychic quacks and charlatans. We see him expose a stage medium played by real-life magician Derren Brown.
Goodman's inspiration is dour Scottish parapsychologist Charles Cameron (Leonard Byrne), whose motto is "the brain only sees what it wants to see". After a visit to a seaside caravan park, Goodman is presented with three of Cameron's toughest cases which, he is warned, he may struggle to explain through rational means alone.
Paul Whitehouse is first up as the obnoxious nightwatchman who once worked in an old asylum. Next comes Alex Lawther as the youngster who has some hair-raising experiences when his car conks out in a forest on a very dark night. The third is Martin Freeman as a city slicker whose wife went to extreme lengths to have a baby.
The film is adapted from the stage play by Nyman and co-writer/director, Jeremy Dyson. It starts slowly but the terror levels quickly rise. Doors lock mysteriously; electricity goes on the blink; we see hideous dolls with very long nails; repressed childhood memories come flooding back. The three-part structure recalls that of the old Ealing Studios portmanteau film, Dead Of Night. Dyson and Nyman make ingenious and very sinister use of old Anthony Newley song "Why?" (with its refrain, "I'll never let you go").
Some religious and philosophical references are thrown into the mix but the film is generally free of pretension and bombast. The goal here is to frighten the audience. Just like Professor Goodman, we start off feeling we have seen it all before. One poltergeist is much like another. The screeches on the soundtrack, sudden edits, fades to black and shots of ghostly, demonic figures in the distance are familiar from countless other horror movies. All three of the characters whose stories are investigated by Goodman look as if they have a screw loose anyway.
Even so, by a process of repetition and attrition, the film gradually becomes more and more frightening. Familiar objects – mops, car seats and the like – take on a sinister, totemic significance. It helps, too, that we half want Professor Goodman to get his comeuppance. He is smug and arrogant in his pursuit of those he dubs "psychic cheats", but there are more things in heaven and earth than he has ever dreamed of. "You don't believe, do yer?", Whitehouse's character sneers at the professor early on, confident that he will soon be exposed to experiences that will jolt him out of his complacency.
Ghost Stories isn't very profound. It doesn't try to explain the nature of evil or how death was brought into the world. Nyman and Dyson just want to give us some cinematic shock treatment. This is the screen equivalent of a fairground ride on the ghost train. The scarier it gets, the more fun it becomes.
Join our new commenting forum
Join thought-provoking conversations, follow other Independent readers and see their replies