Film reviews round-up: Roman J. Israel, Esq., Journey's End, Den of Thieves
Denzel Washington's Oscar-nominated performance, RC Sheriff's play gets a new burst of life, and a derivative LA thriller
Geoffrey Macnab
Wednesday 31 January 2018 15:05 Comments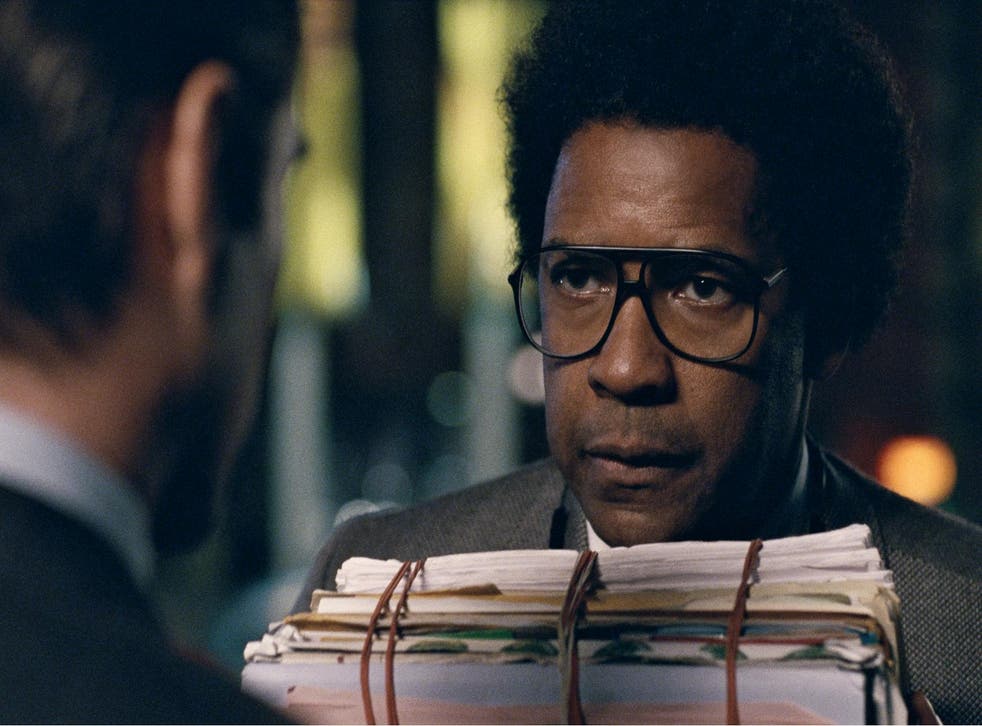 Roman J. Israel, Esq. (15)
★★★☆☆
Dir Dan Gilroy, 122 mins, starring: Denzel Washington, Colin Farrell, Carmen Ejogo, Lynda Gravatt,
"Purity can't survive in this world," civil rights attorney Roman J Israel (Denzel Washington) laments late on in Dan Gilroy's new film. Roman is the living proof of that. He's an idealist who did his part in the civil rights era but when his business partner falls ill, money all of a sudden becomes "a very motivating factor" in his life.
This is a tragicomedy which, in its best moments, rekindles memories of crusading Sidney Lumet films of the 1970s and 1980s. Washington has won an Oscar nomination for his performance – and it's easy to understand why. Roman is both gauche in the extreme and very brilliant – a beguiling mixture. "He's a bit of a savant," notes George Pierce (Colin Farrell), the city slicker boss of the law firm which hires him.
Roman dresses like Eddie Murphy in The Nutty Professor. With his afro, spectacles and ill-fitting pullovers, he is very unkempt. He lives in Los Angeles but doesn't have a car. This means he is always to be seen walking up the sidewalk, carrying his huge briefcase, looking like Mr Magoo.
He has the knack of putting his foot in his mouth and can always be counted on to say "the inappropriate thing". He is, though, also the holy innocent, an African-American equivalent to Peter Sellers' Chance the gardener in Being There.
Roman J. Israel, Esq. - Trailer
He lives in a tiny apartment full of pictures of political activists like Angela Davis and Bayard Rustin. His every spare moment is spent listening to jazz and soul music. (The film has a very rich soundtrack as a result.)
Roman's dream is to present a class action suit at the Supreme Court. If successful, this will revolutionise the justice system and stop poor Americans being incarcerated without fair trails.
Washington plays up the comic side of the character but never to the extent of making Roman seem merely a buffoon. He wrings considerable pathos from the role and occasionally shows flashes of the anger we know from his more familiar alpha male type roles in action movies.
Washington isn't above throwing in a few very actorly tricks, fiddling with his hair or scratching his face when he is on camera to ensure that the attention is always on him. It's still a virtuoso and very precisely drawn portrait in a sprawling, unfocused movie that eventually loses its way.
In his earlier feature, Nightcrawler, Gilroy highlighted US TV's voyeuristic obsession ("if it bleeds, it leads") with death and violence. That film was effective because its tone was satirical and ironic. In Roman J. Israel, some of the same satirical thrust remains but Gilroy is also trying to tell a heartfelt story about an idealist in a racist world that has no room for him. The politics, the comedy and the melodrama collide and the storytelling becomes increasingly improbable.
Access unlimited streaming of movies and TV shows with Amazon Prime Video Sign up now for a 30-day free trial
Sign up
There is an awkward romantic sub-plot, never fully developed involving a young activist, Maya (Carmen Ejogo), who sees Roman as epitomising the selflessness and heroism of the Martin Luther King generation.
The other key relationship is that between Roman and Farrell's sleek, Mephistophelian lawyer, Pierce. Roman dismisses Pierce as a "low flying bee" but becomes increasingly dependent on him.
The set-up is clunky. The film opens with Roman typing out a legal motion in which, for reasons that will eventually be explained, he is trying to have himself disbarred.
In the course of the story, Roman undergoes a strange transformation – selling his soul to the devil, or at least accepting a job in a big law firm that charges extortionate fees and only pays lip services to the welfare of its clients.
All of a sudden, the bumbling, unworldly lawyer of the early scenes discovers his avaricious side. Tired of "doing the impossible for the ungrateful" he decides to make some real cash instead.
In expensive suit and loafers, he looks little different from any of the other lawyers preying on the misery of their clients. For a few scenes, Washington looks as he did in American Gangster. He enjoys his new found wealth, moving into an expensive apartment, eating at expensive restaurants and forgetting the social conscience that had previously defined his life.
Gilroy fails to find a tidy way to reconcile all the contradictory elements in his own screenplay. This results in a final reel which is glib and contrived. The film can't live up to the complexity of its own leading character. It ends in a very unsatisfactory way but that doesn't take away from the mercurial originality of Washington's performance.
Journey's End (12A)
★★★★☆
Dir Saul Dibb, 108 mins, starring: Sam Claflin, Paul Bettany, Asa Butterfield, Stephen Graham, Toby Jones, Tom Sturridge
RC Sheriff's play Journey's End was first made into a film by James Whale in 1930. Its success paved the way for Whale to move to Hollywood to direct Boris Karloff in Frankenstein the following year. Now, a century after the events the play depicts, it has inspired a new film version, directed by Saul Dibb.
One question you can't help asking is just what fresh insights into World War One the film can provide given how exhaustively the subject has already been covered in books and films in the last 100 years.
From Wilfred Owen to Paths Of Glory, from Paul Fussell's The Great War And Modern Memory to Robert Graves' Goodbye To All That and Oh, What A Lovely War, the nightmare of the trenches has been looked at from every perspective imaginable.
You wonder, too, what screenwriter Simon Reade can do to give Sheriff's play a contemporary resonance. The answer isn't much. However, even if the film doesn't tell us anything new about the war to end all wars, this is a very solid adaptation, bolstered by some fine performances from appropriately shell-shocked-looking British actors.
Asa Butterfield plays James "Jimmy" Raleigh, the fresh-faced young soldier newly arrived in northern France in 1918 and just about the only character in the film who isn't already suffering from some form of post-traumatic stress. There is a lot of small talk in the trenches.
Everyone observes etiquette, even if they are using corpses to shore up the trench fortifications and squelching through the mud. Mason (Toby Jones), the company chef, does his best to keep up morale by cooking the men cutlets of dubious provenance, tinned apricots and pink blancmange but there is no hiding that most of the men's nerves are completely shot.
Raleigh has a family connection to the company commander, Captain Stanhope (Sam Claflin). "He was my house monitor, three years above. He used to come and stay with me and my sister Margaret in the holidays," he explains to the kindly Lieutenant Osborne (Paul Bettany). Osborne warns him that he will find Stanhope "changed".
The film has a stagey feel. Characters sit around the mess table or stand in their tin helmets by the sandbags. Raleigh's naiveté is a source of amusement and of worry for the other men. They know he'll either get himself or them into trouble.
Claflin gives a notably febrile performance as the tormented Stanhope, the "best commander" of the lot but now drinking himself stupid and full of shame that he is no longer "the wonderful chap" who so charmed Raleigh's sister that she wanted to marry him.
At times, the film begins to resemble Blackadder. Soldiers will blithely say "cheerio" to each other as they march off to likely death. In one bizarre scene, Stanhope is told by his very pompous commanding officer, "stay where you are for as long as you can and slow them down".
In other words, the tactics are to wait for the dreaded Boche to attack and to allow themselves to be killed. In another scene, the tactics are refined. The commanding officers come up with the idea of a surprise daytime raid. That is another way of saying that they're going to charge headlong at the enemy, without even waiting for the cover of darkness.
The pipe-smoking Osborne once played rugger for England. Not that he is the type to boast about it. To their credit, the actors put across lines that easily have sounded anachronistic and very arch with complete conviction. "I am afraid I can't stick it much longer," one despairing officer says, keeping his manners even as he has a breakdown.
The filmmakers capture the pity of the war as well as its absurdity. Their traditional approach turns out to be a strength, not a weakness. They trust in the original material. This version of Journey's End may not offer any new perspectives into its subject matter but it is made with a commitment and intensity that stop it from ever seeming old fashioned.
Den Of Thieves (15)
★★☆☆☆
Dir Christian Gudegast, 140 mins, starring: Gerard Butler, Jordan Bridges, Pablo Schreiber, Evan Jones, O'Shea Jackson Jr, 50 Cent
It's hard to think of any recent thriller as derivative as Den Of Thieves. This Los Angeles-set potboiler borrows most obviously from Michael Mann's Heat but also throws in elements from William Friedkin's To Live And Die In LA and countless other LA-set cop flicks and TV dramas as well as one of two ideas that could have been borrowed wholesale from The Usual Suspects.
The set-up is very similar to that of Heat. The cop hero, Nick O'Brien (Gerard Butler) and the bank robber villain, Ray Merrimen (Pablo Schrieber), provide a twisted reflection of one another, just as Al Pacino and Robert De Niro did in Mann's movie. The key difference between Den Of Thieves and Heat is the lack of polish and professionalism here.
Gerard Butler gives a performance of blustering, Val Kilmer-like eccentricity as "Big Nick," the belligerent, hard-drinking, chain-smoking, hairy-chested, gangster-like cop. He will half throttle a suspect to get information out of him and then burst into tears at the mess he has made of his private life the next.
Every bit as brutal as Merriman and his crew, he is frequently hungover. His wife is about to leave him; he looks horribly unfit. Nonetheless, come the final reel shootout and the mandatory foot race against the baddie, he shows stamina that would put Mo Farah to shame.
Whatever guile there is here comes courtesy of O'Shea Jackson Jr (Ice Cube's son who also registered strongly in Ingrid Goes West.) He plays the likeable everyman/barman/fast food deliveryman caught between the gangsters and the cops but who tries to play one side against the other.
The film isn't ever as slick or ingenious as it needs to be. 50 Cent is largely wasted as one of Merriman's lieutenants but has one good scene where he and his fellow heavies put the fear of God into his prospective son-in-law.
Register for free to continue reading
Registration is a free and easy way to support our truly independent journalism
By registering, you will also enjoy limited access to Premium articles, exclusive newsletters, commenting, and virtual events with our leading journalists
Already have an account? sign in
Join our new commenting forum
Join thought-provoking conversations, follow other Independent readers and see their replies