Gone Girl, review: Ben Affleck and Rosamund Pike excel in David Fincher film
Gone Girl is slippery, deceptive and immensely pleasurable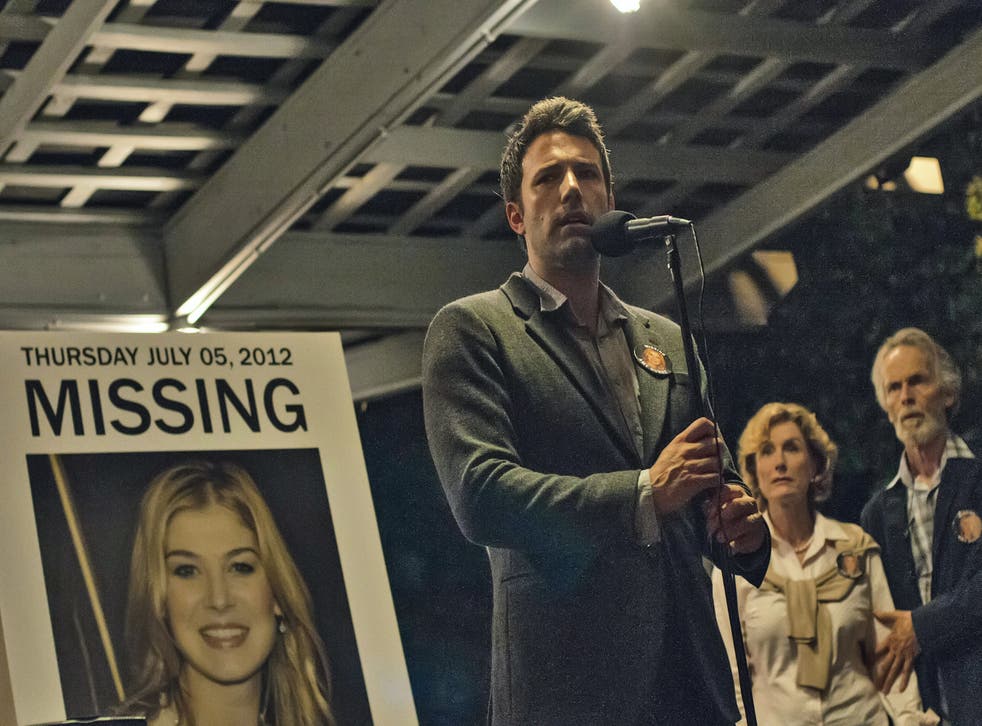 David Fincher's Gone Girl (which opens the New York Film Festival later this week) is an immensely slippery, deceptive affair - and that's what makes it so pleasurable. It's a story in which the manipulation of the main characters by one another is matched by that of the audience by the filmmakers. The rug is continually being pulled from under our feet.
Early on, Fincher seems to be offering us a hardboiled thriller about a husband, Nick Dunne (Ben Affleck), suspected of murdering his wife, Amy (Rosamund Pike). Like Cary Grant in Suspicion or Laurence Olivier in Rebecca, he's a charming man who may have a very dark side. As the film progresses, the Hitchcock touches are combined with wildly melodramatic flourishes and some very funny, very caustic satirical sideswipes at the American media's prurient obsession with sex, marriage, death and celebrity.
Affleck and Pike excel as the happily (or not so happily) married couple. As Nick, Affleck gets to reprise his likeable, American everyman routine while also portraying someone with a sleazy and possibly murderous side.
English actress Pike, playing an over-achieving Ivy League woman, gives the performance of her screen career so far - one, that more than a decade after her appearance in the James Bond movie Die Another Day (2002), looks set to establish her as an international star. She captures her character's Martha Stewart-like perfectionism and romantic notions about love as well as her relentless drive. She's a complicated and contradictory personality. "Complicated is code for bitch," one character acidly notes of her.
As the film begins, Amy has just gone missing from her home in Missouri. There are blood spatters in the kitchen and the police suspect she may have been murdered. As the search for her gets underway, we are whisked back in time to her first meeting with Nick, their courtship and early marriage. (It helps that Amy has kept a diary seemingly detailing her innermost thoughts about the relationship.) We learn that Amy was the subject of a children's book series, Amazing Amy, in which her parents celebrated her Little Miss Perfect-like exploits as a kid.
Nick, whose once promising career as a journalist in New York collapsed as the magazine and newspaper industry dive-bombed in the internet age, dragged Amy to live in the midwest. She refers to it as "the navel of the country."
Gone Girl movie: Who's playing who

Show all 9
Fincher uses techniques from film noir - moody, chiaroscuro lighting, lots of atmospheric Trent Reznor music - but combines them with elements you might find in a far-fetched daytime soap. A film which initially seems very dark takes on an increasingly comic tone as it shows how the search for Amy plays out in the media. Nick has the temerity to smile during a TV appeal for information about her disappearance - something which immediately makes him a suspect. For the watching public, Amy is a beautiful but very wronged wife.
There is even more duplicity here than in House Of Cards, the TV series set against the cut-throat world of Washington politics that Fincher executive-produced and co-directed. This time, the in-fighting is in the domestic sphere. There are some very enjoyable cameos, notably from Tyler Perry as Nick's charismatic attorney and from Kim Dickens as the small town detective, doggedly pursuing her case.
Gone Girl is so full of reversals and so laden with irony that its attempts at a Husbands And Wives-style anatomy of a relationship under strain soon begin to founder. This isn't an especially insightful film about what makes marriages creak but it is very entertaining and provocative one that full justifies its lengthy running time.
Join our new commenting forum
Join thought-provoking conversations, follow other Independent readers and see their replies