Grimsby film review: Sacha Baron Cohen's joyous ride that takes the 'grim' out of Grimsby
The film could easily have seemed patronising - instead, it combines gleeful comic set-pieces with action sequences worthy of Jason Bourne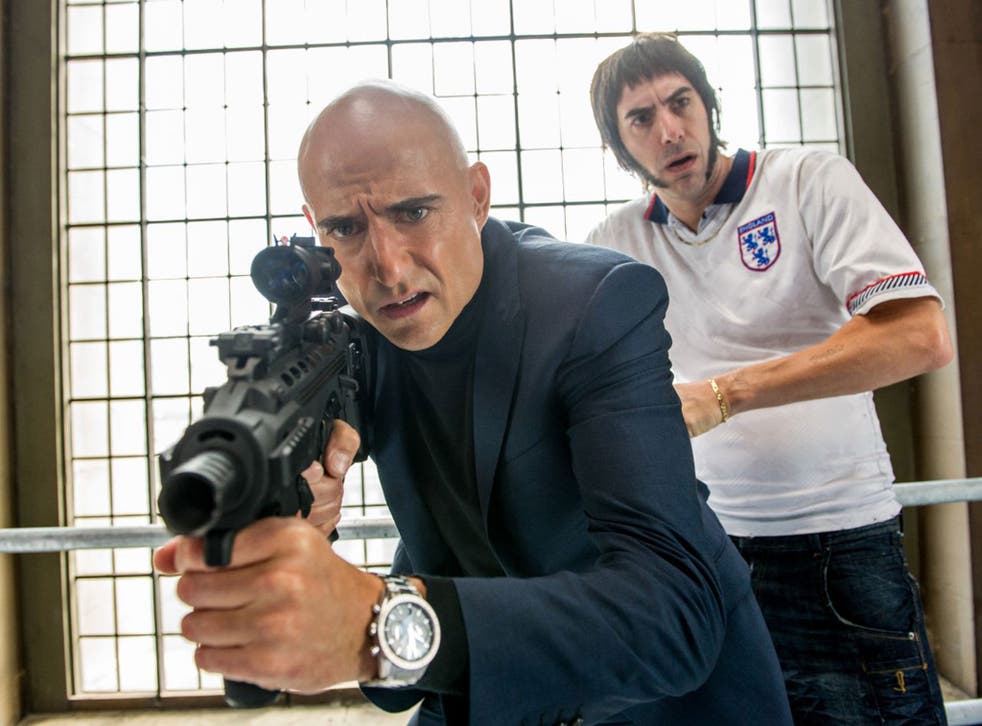 After his outings as Ali G, Borat and Brüno, Sacha Baron Cohen is back on screen with his latest comic creation in Grimsby, a joyously crude comedy which combines gags so filthy that even Roy Chubby Brown might have blushed at them with action sequences worthy of Jason Bourne.
Baron Cohen (who turned up at Monday night's Leicester Square premiere in his underwear and swigging lager) plays Norman "Nobby" Grimsby, an English football hooligan with a Liam Gallagher haircut and sideburns. First encountered, he is living happily up North with his buxom wife (Rebel Wilson), who models herself on "Sharon Stallone in Basic Instinct", and many kids. He spends his days watching football in his local pub, The Trawler, and sticking rockets up his backside to celebrate English victories.
Nobby is harbouring a secret. Years ago, he was separated from his beloved brother Sebastian (played as an adult by Mark Strong) when they were in an orphanage. Nobby pines for his lost sibling. Seb, who has grown up to be a super-suave MI6 agent, doesn't pine for him.
The film could easily have seemed patronising and caricatured in its use of Northern stereotypes. Grimsby is portrayed as a derelict town full of fat-bellied lager louts and feral kids. Everybody lives on welfare. Grimsby is twinned with Chernobyl. Nobby himself is a dim-witted slob with extreme nationalistic tendencies. He and his friends are referred to as "working-class scum" by the villainous rich folk plotting to reduce the world's population.
It's then sheer glee off the comic set-pieces that enables Grimsby to transcend its preposterous plotting. Nobby almost causes his brother's death and then becomes his saviour. As the film progresses, the jokes become ever dirtier and more outrageous. They revolve around sex, faeces and bodily fluids, especially sperm, which is shed by the gallon. As ever, Baron Cohen pushes every idea to extremes.
Despite its often obscene humour, Grimsby is upbeat and very cheery. Nobby himself has an innocence about him that never leaves him, even in the most extreme situations. The flashbacks to his childhood, when he and Seb were brothers taking on the world together, are shown in a sepia-tinged fashion.
The settings here range from the bright lights of London to Grimsby itself; from South Africa to South America. There are car chases, some brutal fight sequences and pitch invasions whenever football is shown. The targets of the often very vicious humour range from Daniel Radcliffe to Donald Trump.
Baron Cohen's Northern accent wavers at times but he makes a surprisingly sympathetic anti-hero and even gets to give a very rousing, Churchill-style speech on behalf of "the scum of the world". For all of its Viz-like humour and delight in obscenity, this is also a family movie: a rousing, feel-good tale of a Grimsby everyman taking on and beating the world.
Join our new commenting forum
Join thought-provoking conversations, follow other Independent readers and see their replies