The Shape of Water review: Guillermo del Toro's monster movie plays like Beauty and the Beast
We're so sucked in by the storytelling that we don't even realise how outlandish the concept behind 'The Shape Of Water' really is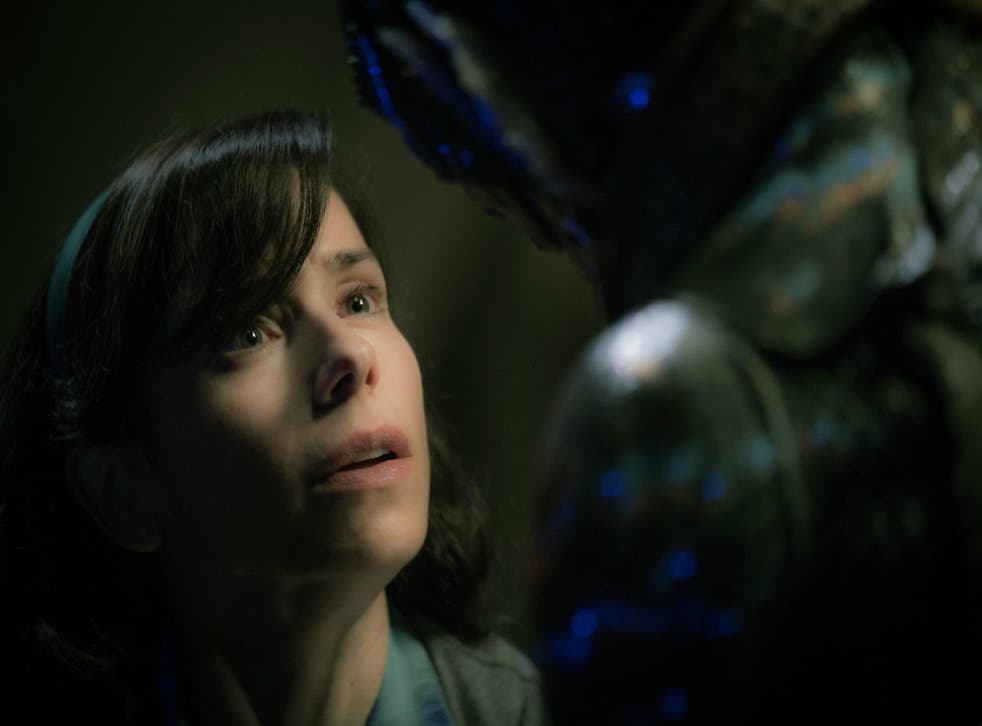 Dir Guillermo del Toro, 120 mins, starring: Sally Hawkins, Michael Shannon, Octavia Spencer, Richard Jenkins, Michael Stuhlbarg
You can't help but gargle in admiration at the extraordinary visual flamboyance of The Shape of Water. Writer-director Guillermo del Toro may have taken his inspiration from Creature from the Black Lagoon but this is no low budget sci-fi pastiche. It's a film with the grace and formal ambition of one of those Vincente Minnelli musicals in which the camera never stops moving. This is a monster movie but it plays like a Beauty and the Beast-style romance.
Del Toro signals his intentions right from the outset with an astonishing underwater tracking shot in which we see the camera sweep through a 1960s apartment in which all the furniture is floating and everything is perfectly preserved, as if this is a scene from the wreck of the Titanic.
The film's Baltimore-based heroine Elisa (Sally Hawkins) is a young, mute woman. She has scars on the side of her neck which hint at how she lost the ability to speak. She works as a cleaner at a mysterious government laboratory and has two close friends in an otherwise hostile world, her neighbour Giles (Richard Jenkins), a commercial artist, and her fellow cleaner, Zelda (Octavia Spencer). Elisa lives above a cinema. She's a dreamer who loves to watch old Alice Faye, Shirley Temple and Carmen Miranda movies on TV but she has a practical streak.
Hawkins first made her name in Mike Leigh movies but it's easy to understand why Hollywood casting agents are coming after her. It is not just her happy-go-lucky demeanour, which Leigh foregrounded, but her Chaplin-like flair for clowning and her jolie laide quality which make her such an appealing screen presence. She is utterly captivating here… so captivating that even the strange, scaly, Amazonian creature that the US government is keeping in top secret at the labs falls for her.
Del Toro pitches the film as if it is a cross between a Cold War thriller and a Disney-style fairy tale (albeit one with its share of sex and gore). The Russians are desperate to get hold of the creature and have a mole at the labs, informing them of what is happening to it. The poor beast is mercilessly tortured by the film's very evil villain, Strickland (Michael Shannon), who likes to prod it and electrocute it with his "Alabama Howdy-do", a lethal black truncheon.
He thinks that vivisection is the best thing for it. Shannon gives a memorably nasty performance as Strickland, a sneering, bullying, sarcastic figure who, away from the work place, seems to live a typical American family life. Octavia Spencer excels as the stoical, wisecracking cleaner who spends her days clearing the piss and blood that seems to be spilled in such quantity at the lab. Jenkins brings a lugubrious charm to his role as the artist the world and his former bosses have passed by.
This is the early Sixties, at the height of the civil rights protests, and racism is still prevalent everywhere. So is homophobia. In such an intolerant society, there's no chance that the underwater creature will be accepted. Elisa, though, feeds it boiled eggs, teaches it sign language and very quickly brings out the beast's Prince Charming side.
At times, The Shape Of Water teeters on the brink of extreme kitsch. It's the kind of fantastical story that you'd expect to be told in graphic novel or animated form, not in a live action film. Del Toro, though, is such a flamboyant and resourceful director that he makes the movie work. Watery metaphors abound.
Early Oscars Best Picture Contenders 2018

Show all 15
He throws in philosophical aides about the nature of memory ("time is but a river throwing from our past") and uses water throughout the film in an ingenious fashion. (The film includes surely one of the best scenes of a bathroom being flooded in movie history.)
We're so sucked in by the storytelling that we don't even realise how outlandish the concept behind The Shape Of Water really is. It goes without saying that audiences will struggle to keep a dry eye when it gets to the film's heart-tugging final reel.
The Shape of Water first premiered at the Venice Film Festival and is out now in UK cinemas.
Join our new commenting forum
Join thought-provoking conversations, follow other Independent readers and see their replies