The Gunman, film review: Sean Penn's half-cocked hitman fires wide of the target
(15) Pierre Morel, 115 mins. Starring: Sean Penn, Javier Bardem, Idris Elba, Ray Winstone, Mark Rylance, Jasmine Trinca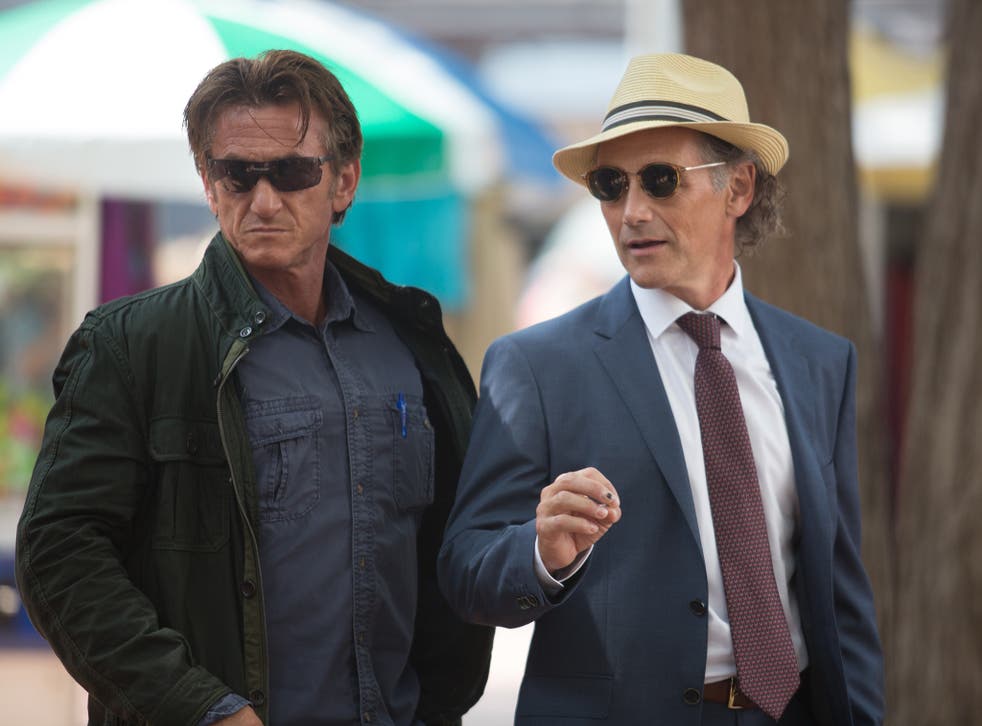 Sean Penn plays a "special forces" contractor who has done some "bad things" in Pierre Morel's half-cocked new thriller. Jim Terrier (Penn) isn't a mobster hitman but he is just as lethal as one. He works for one of those shadowy private companies which operate in the world's danger zones, sometimes carrying out targeted assassinations when Western business interests are threatened.
Bizarrely, Penn's character is a cold-blooded killer and a conscience-torn aid worker. When he is not the "designated trigger", taking aim at African mining ministers, he is shown digging wells to bring water to impoverished villages.
As a film, The Gunman is as uncertain of its identity as its central character is of his role in life. On the one hand, this wants to be a film with a political conscience – a drama exposing the way Western businesses seek to control natural resources in developing countries, "regardless of the humanitarian consequences". On the other, Morel (best known for the Liam Neeson vehicle Taken) is making an out-and-out thriller in which there is so much testosterone-driven action – gunfights, car chases, explosions, hand-to-hand combat – that little time is left for introspective musing about geopolitics.
In the early scenes, set in the Democratic Republic of Congo in 2006, the film-makers seem to be aiming for an atmosphere akin to that of Graham Greene's The Quiet American. Western aid workers and security contractors live in their own self-enclosed world. Their camaraderie hides the tensions between them, their bad faith and their corrupted idealism. Felix (Javier Bardem) is drawn to Penn's beautiful girlfriend, Annie (Jasmine Trinca), and seems to be conspiring to steal her away. Terrier's colleagues joke among themselves but also know they can't quite trust one another.
The set-pieces are handled confidently enough. Early on, there is a chilling, Lee Harvey Oswald-like assassination of a politician in a motorcade, shot by a lone killer from an upstairs hotel window. In the final reel, the showdown comes amid the colour and carnivalesque violence of a big Spanish bullfight. The problem is the increasingly creaky and nonsensical plotting.
When machete-wielding thugs try to chop him up, Terrier works out his old associates are betraying him and want him dead. To muddy matters further, after the traumatic head injuries he has endured, he is prone to sudden mood swings, blackouts and even, inconveniently, to throwing up during fights.
Penn's character is supposed to be a grizzled old-timer, a little like the action heroes Neeson has been portraying on screen of late, but the film-makers still take every opportunity to show off his muscled, well-toned, Peter Pan-like body. Penn is either remarkably youthful and well-preserved for a man in his 50s – or is the beneficiary of some sly digital buffing up. Perhaps to echo his early teen movies, such as Fast Times At Ridgemont High, one sequence shows him taking time out to go surfing.
The film-makers throw in as many changes in location as are found in the average Bond movie. We start in central Africa in 2006 but are then whisked off to Afghanistan, the UK, Spain and Gibraltar for no particular reason. We're presented with shots of Tower Bridge to emphasise the fact we are in London. Meanwhile, Barcelona – the setting for some of the film's most violent scenes – is shot in picture-postcard fashion. The most violent scenes take place in the most picturesque settings.
The most disappointing aspect of a consistently misfiring film is the way it squanders the considerable artillery at its disposal. Morel has a tremendous cast but does very little with it. As Terrier's friend and rival for Annie, Bardem's character is sketchily drawn. We are never quite sure whether he is an out-and-out villain or just a jilted suitor in a bad mood. Terrier's attitude toward Annie verges on indifference. She is supposedly the love of his life but he seems happy enough to go for eight years without seeing her or even trying to contact her. In one scene, Bardem and Penn come face to face in a Spanish restaurant. They're Oscar-winners but they mug it up as if they are featherweights in an afternoon TV soap opera.
Access unlimited streaming of movies and TV shows with Amazon Prime Video Sign up now for a 30-day free trial
Sign up
Ray Winstone is in Sexy Beast mode as Terrier's loyal old chum Stanley. He is the diamond-geezer type, who will always stick up for a friend, whether it is in a pub fight, or if he is being beaten to a pulp as a consequence.
As Terrier's shadowy friend Cox, Mark Rylance has a hint of Wolf Hall's Thomas Cromwell about him. He is a husky-voiced Machiavellian who has given up his career on the frontline to work in an office for a Blackwater-like company. Unlike Winstone's character, he is ready to betray former colleagues if it is good for the company share price. "It is just a job," is how he justifies his actions, telling Terrier that regardless of who gets killed, the job will still get done. He is dapper, avuncular and doesn't lose his good humour even when he is torturing or drugging his enemies. Rylance brings some much-needed self-mocking humour to a film that, at times, takes itself absurdly seriously.
Idris Elba has an especially thankless cameo as an Interpol agent who speaks in coded language to Terrier while trying to persuade him to turn evidence against his former comrades. "If you're still interested in building a treehouse, I could use another hammer," he tells his bewildered contact.
Penn is an award-winning actor who has done exceptional work behind and in front of the camera. After the triumphs of Milk and Mystic River, it's a mystery as to why he wanted to produce and star in such lumpen genre fare. This is one of his worst films since he was selling glow-in-the-dark ties in Shanghai Surprise (1986), the ill-fated comedy adventure in which he co-starred with his then wife, Madonna. Not lean or stylish enough to make a convincing Jean-Pierre Melville-style existential thriller, too portentous to work as an action-hero romp, and far too sweaty and derivative to have any kind of political or satirical kick, the movie misses almost every target at which it aims.
Join our new commenting forum
Join thought-provoking conversations, follow other Independent readers and see their replies