The Judge, film review: Hot-shot actors Duvall and Downey Jr make a compelling case
(15) David Dobkin, 142 mins Starring: Robert Downey Jr, Vera Farmiga, Robert Duvall, Vincent D'Onofrio, Billy Bob Thornton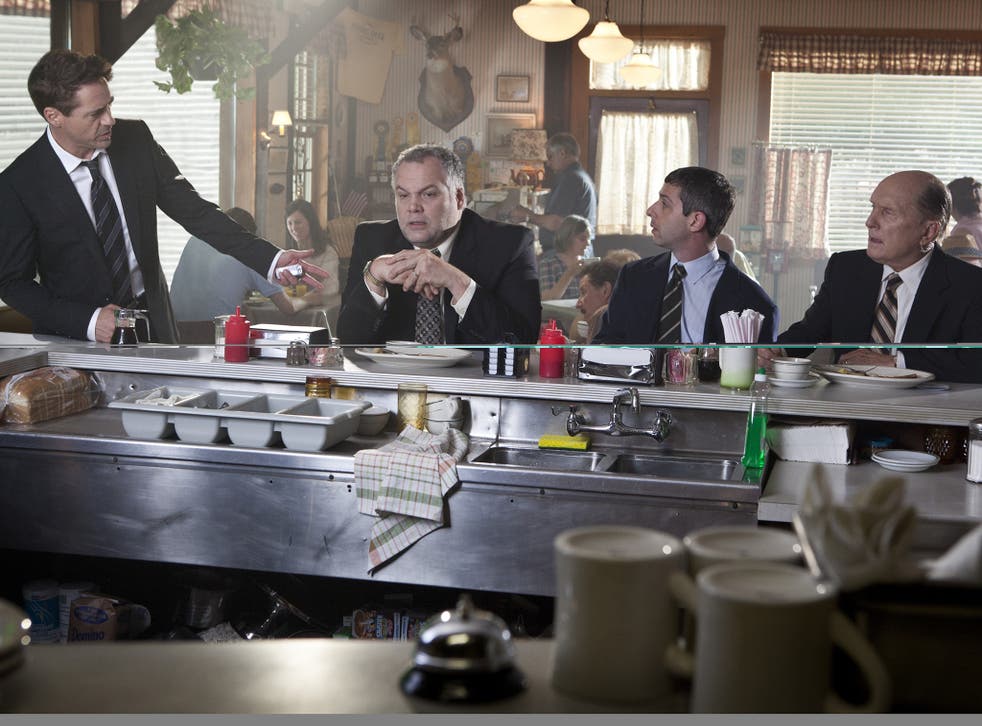 The best courtroom dramas are never simply about the case in question. From Twelve Angry Men to Anatomy of a Murder, stories ostensibly about lawyers, juries and the inexorable march of justice invariably shift their focus away from the "accused" and on to those pondering his or her fate. The Judge is an Oedipal drama masquerading as a film about a murder case. The twist here is that the judge himself (Robert Duvall) is in the dock and that the hot-shot lawyer (Robert Downey Jr) defending him is both his own son and the one who feels most betrayed by him.
For all its contrivances and occasional lapses into On Golden Pond-style mawkishness, this is a richly crafted yarn that boasts barnstorming, if very showy performances from Duvall and Downey Jr.
For Downey Jr, a film that is dialogue-driven must come as a welcome relief after all the gadgetry and special effects of the Marvel movies that have made him currently the highest-paid star in Hollywood. He is a virtuoso character actor who here shows his ability to switch in an instant from comic nonchalance to sarcasm and from guilt and grief to filial tenderness.
Duvall, meanwhile, gets to perform like a midwestern version of King Lear, raging against storms and railing against his son's ingratitude even as his own faculties begin to fail him.
Downey Jr plays Hank Palmer, a workaholic, thoroughly obnoxious Chicago lawyer. His trick is bending the law to get wealthy (and guilty) clients off the hook. His marriage is close to breaking point and he rarely sees his young daughter.
The director David Dobkin (best known hitherto for raucous comedies such as Wedding Crashers and The Change-Up) relishes showing just how nastily Hank can behave. He is glib, witty and full of malice. "This really isn't an act. You really aren't a pleasant person," someone says to him. When the call comes telling him his mother has just died, he plans to take a day at most out of his schedule to head home to small-town Indiana to attend the funeral. We discover that he is long since estranged from his father, Joseph Palmer, a martinet judge who is as curt in his own home as he is in the courtroom.
"Nothing changes," Hank grumbles as he rolls back into Carlinville after so many years away. Viewers might feel the same sentiment about a movie that unashamedly recycles all the old clichés about the city slicker adrift in his backwater home town.
Duvall's Judge Palmer is first seen from behind, presiding over his courtroom as if he is an Old Testament prophet dispensing wisdom from the mountaintop. In his presence, Hank behaves like the truculent teenager he was at the time he left town. The film-makers signal the hostility between father and son in subtle fashion. Whereas Judge Palmer hugs every other relative, he will only shake Hank's hand, as if he barely knows him. There are also hints dropped that the judge's health is beginning to fail. Names elude him. For all his bluster, he is feeling vulnerable after the death of his wife.
As in Alexander Payne's Nebraska, the curmudgeonly old father and the son belong on different planets. They simply can't communicate. We're given hints as to why there is such bitterness between them. The judge blames Hank for the injury that cost his brother Glen (Vincent D'Onofrio) his baseball career.
Access unlimited streaming of movies and TV shows with Amazon Prime Video Sign up now for a 30-day free trial
Sign up
The Judge is so full of stock characters and situations familiar from other films that you have to suspect that Dobkin had a check list. Yes, there's the childhood sweetheart (Vera Farmiga) whose heart Hank broke when he left town. There is the "holy innocent" simple-minded younger brother (Jeremy Strong), who makes sense of the world by filming it with a home movie camera. There's the beautiful barmaid (Leighton Meester from Gossip Girl) who looks disconcertingly familiar to Hank. Then, there are the hostile neighbours – the white-trash types who bear a grudge against the judge. When one of these neighbours, an ex-con who murdered his wife, is killed in a hit-and-run incident, the judge is the only suspect. Hank takes over his defence.
In summary, the film may sound trite in the extreme but it has a resonance that belies its mechanical, by-the-numbers plotting. Downey Jr and Duvall push far further than any bickering father and son in a made-for-TV melodrama. In particular, there is one extraordinary scene in which Judge Palmer collapses and becomes delirious and incontinent. His son tends him with a tact and sensitivity that seemed far beyond him when he was back in Chicago, taunting a rival lawyer he despised by pissing over him as they stand by the urinals.
The cinematographer Janusz Kaminski lights the courtroom scenes themselves in the same rich, dark way that he filmed the debates about the Thirteenth Amendment in Congress in Steven Spielberg's Lincoln. The film takes the sanctity of the justice system very seriously. It also offers the familiar pleasures of the typical courtroom drama. There's a sly cameo from Billy Bob Thornton as the dapper, well-spoken but vicious prosecutor who likes to drink his water out of a silver cup. Both he and Downey Jr's Hank play shamelessly to the jury – and to the cinema audience. Every time one of them introduces a piece of evidence, the other shouts "objection" on cue. The presiding judge is irascible but fair, just as you would expect.
Sure enough, there is some last-minute video evidence that threatens to throw the case on its head. As viewers, though, we all know that the only verdict Hank really cares about is the one from his father. He wants reconciliation and approval.
The Judge is not a film that will ever wrongfoot viewers or confound their expectations. Its pleasures lie instead in the central performances. The wonder is that Downey Jr and Duvall are able to work so well together without trying to steal each other's thunder.
Join our new commenting forum
Join thought-provoking conversations, follow other Independent readers and see their replies