Knight of Cups, review: Natalie Portman and Christian Bale can't help Malick weave his magic
A hermetic mystery without anything approaching a key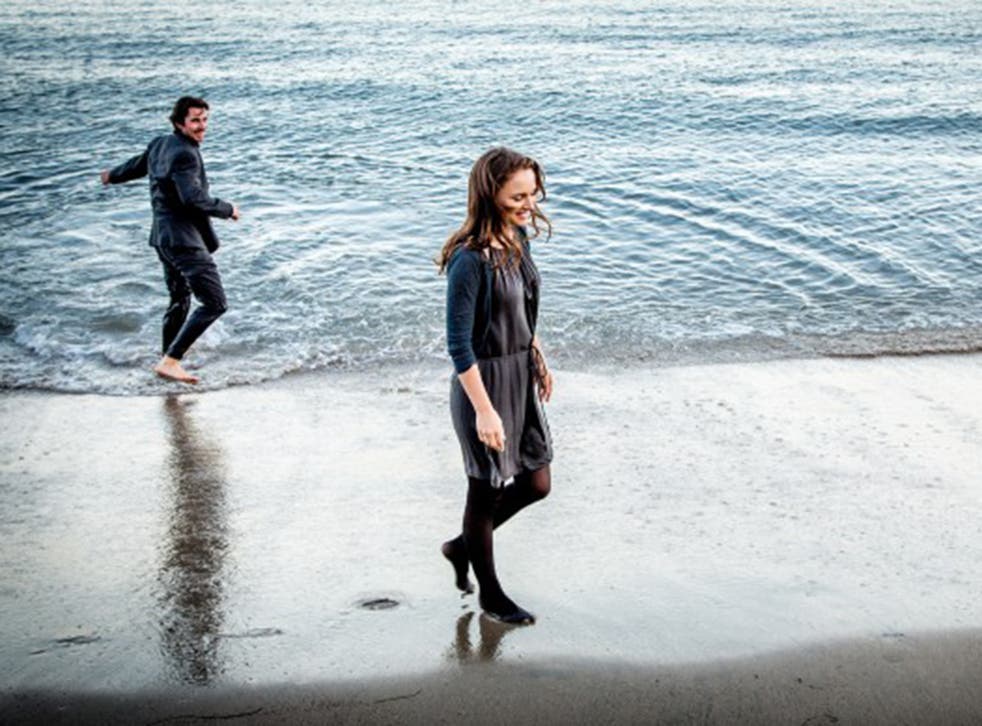 In synopsis, Terrence Malick's Knight of Cups (premiering in the Berlin Festival competition) sounds like a seamy erotic thriller. A single man, Rick (Christian Bale), is living near the sea in Santa Monica and trying to make sense of his life by having affairs with as many beautiful women as possible. He is getting over a broken marriage (to Cate Blanchett) and is still tormented by incidents in his family's past, in particular his relationship with his father (Brian Dennehy.)
This, though, is Malick in impressionistic mode. The director pays little attention to conventional narrative as he trawls for epiphanies and moments of cinematic rapture. He doesn't give his impressive cast – Bale, Blanchett, Natalie Portman, Antonio Banderas, Imogen Poots, Wes Bentley – much to work with either. Dialogue is limited and elliptical. There is not much in the way of contextualisation or back story.
Best films to watch in 2015

Show all 10
At times, the director's approach is utterly ridiculous. For example, at one stage, a dog dives for a ball in a swimming pool. It's something you might expect to see in a Disney kids' movie but Malick films it in slow motion, as if it's a transcendent moment.
The virtuoso Mexican cinematographer Emmanuel Lubezki (Gravity, Birdman) can make shots of driving down the freeway seem poetic. That is fortunate as this is a film that has plenty of such shots. The sound design is as self-conscious as the visuals. We hear constant, murmuring voiceovers, accompanied by sacral music, in which Rick and others (Ben Kingsley sounding like John Gielgud) muse in portentous fashion on the meaning of life.
Chapter headings (The Tower, The Hermit and Knight of Cups itself) are taken from tarot. This accentuates the sense of mysticism that surrounds the film – but does little to explain what it might be about.
If you're prepared to accept Malick's oblique storytelling style, this is a beguiling film to watch. One of its pleasures is the director's idiosyncratic depiction of Los Angeles. Malick somehow makes LA seem like an eerie, ancient metropolis. He gives the city a dream-like feel. Just occasionally, he throws in a moment of social comment or of humour.
For example, when Rick's apartment is burgled at gunpoint, the thieves are bewildered that they can't find anything to steal. They're poor and he is rich but, as one grumbles, they have more possessions than he does. It's an intriguing insight – in the new digital age, the richer you are, the less stuff you need.
Malick's detractors argue he should have stuck at three films (his early masterpieces Badlands and Days of Heaven, and his magisterial comeback The Thin Red Line.) They contend that films like Knight of Cups and its predecessor To the Wonder are tarnishing his once immaculate reputation. A more generous assessment is that he is trying to evolve a new filmic language, one that is hyper-lyrical and hyper-intimate.
Knight of Cups is best taken as an experimental mood piece, a cinematic meditation of love, loss and identity. As a feature film with an A-list cast, it is absurdly hermetic: a mystery without anything approaching a key.
Join our new commenting forum
Join thought-provoking conversations, follow other Independent readers and see their replies