Nicholas Barber on Alpha Papa: I'm still Alan Partridge – ah ha ha ha ha!
It's more like a TV special, but even so, Steve Coogan serves up the funniest movie this year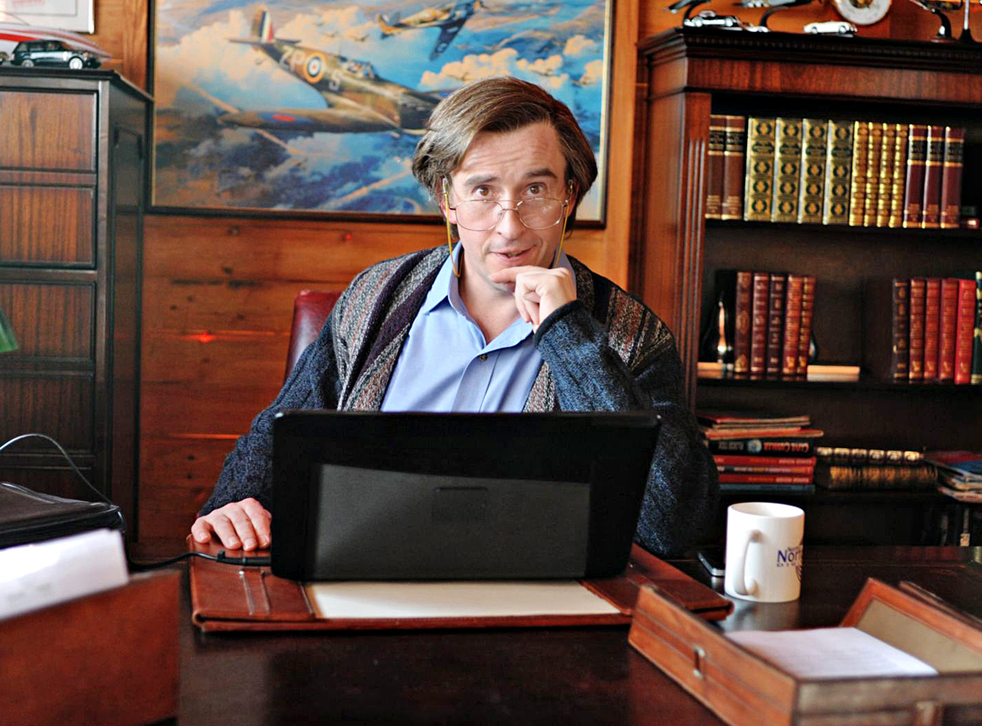 Steve Coogan may be revered by the Hollywood comedy fraternity, but whenever he crops up in a Hollywood comedy, the results are always as excruciating as watching a British football team fumbling a World Cup match. Whether it's Night At The Museum or The Other Guys or Tropic Thunder, you get a gang of American actors showing off their easy-going improv, and then you get Coogan being clenched and awkward, heightening every word and gesture for maximum comic effect. You could call it The Rowan Atkinson Phenomenon. Coogan doesn't seem to belong on the same planet as his co-stars, let alone the same film set.
As long as he's safely in Coogan-land, though, where his exaggerated tics and grimaces are the rule rather than the exception, his genius is never in doubt. So it's a relief to confirm that in Alan Partridge: Alpha Papa he's back on his home turf, in a role that fits him like a faux-leather driving glove. The belated big-screen debut of his most enduring character, the film is, as Alan himself might put it, 90 minutes of pure, unadulterated Coogan. It may not offer audiences a great deal beyond the chance to hear how absurd the word "prejudices" can sound, or to luxuriate in a script that's stuffed with quotable lines (Oh, all right, just one: "She's a drunk racist. I can tolerate one, but not both"), but it's still more enjoyable than any of Coogan's misguided Hollywood excursions.
Not that Alpha Papa doesn't make a few concessions to the movies. It has more action than the various TV series ever had: there's a Dog Day Afternoon-inspired plot about an aggrieved ex-DJ (Colm Meaney) staging a siege in Alan's Norwich radio station. There's also less squirm-inducing discomfort than usual. Alan appears to be younger, fitter and generally more Cooganish than he used to be, and he's frequently in the unaccustomed position of being the most dignified person in the room. A decade ago, it would have been Coogan's character, not Meaney's, wielding the shotgun. But the film is essentially a showcase for Alan Partridge at his most magnificently naff and tactless – no more, no less – and that's something to be welcomed.
The only problem with all this uncompromising Partridgeness is that Alpha Papa feels more like a TV special than a movie. The director, Declan Lowney, regularly makes sitcoms which look as if they should be in the cinema, but his first film looks as cheap as anything on telly. Still, that doesn't stop it being the year's funniest comedy.
The Lone Ranger (Gore Verbinski, 149 mins, 12A ****) hobbles into town spavined by bad reviews and worse box-office takings in America, but if you prefer your summer blockbusters to have more ambition than Fast And Furious 6, you shouldn't be put off. It may be over-long and over-complicated, but The Lone Ranger is still a rollicking Wild West epic, with bags of surprising jokes, acres of screen-filling Utah desert-scapes, and some ingenious action set pieces which deserve to rank alongside those of Indiana Jones and Wallace and Gromit.
It's not hard to see, mind you, why viewers expecting some straight forward Western heroism were non-plussed. They may well have accepted the Batman Begins-style origin story of a priggish, pacifist lawyer (Armie Hammer) becoming a mask-wearing, gun-toting outlaw. And they may not have baulked when said outlaw teamed up with a half-crazed, make-up-plastered American Indian (Johnny Depp, hilariously channelling Buster Keaton). But they wouldn't necessarily have been ready for a cannibalistic bandit (William Fichtner) with a cross-dressing henchman, or a bordello madam (Helena Bonham Carter) with a rifle inside her ivory false leg.
Gore Verbinski, the film's director, is once again working with the writers who scripted the Pirates of the Caribbean series, and they aren't known for their economical plotting. In The Lone Ranger they pile on the weirdness for two and a half hours, stacking sombre sequences involving the slaughter of innocents on top of some whimsical gags about flesh-eating rabbits.
But if you're open to Verbinski's revisionist vision, it's bracing to see the eccentricity and the dust-smeared griminess which were there in Rango, the last Western which he and Depp made together. And it's not often you can criticise a blockbuster for trying to be too clever, rather than not clever enough.
Join our new commenting forum
Join thought-provoking conversations, follow other Independent readers and see their replies