Nicholas Barber on Kick-Ass 2: Pantomime violence with an ethical edge
It could be called 'Gouge-Eye 2' or 'Stab-Leg 2', but this sequel is more moral than its prototype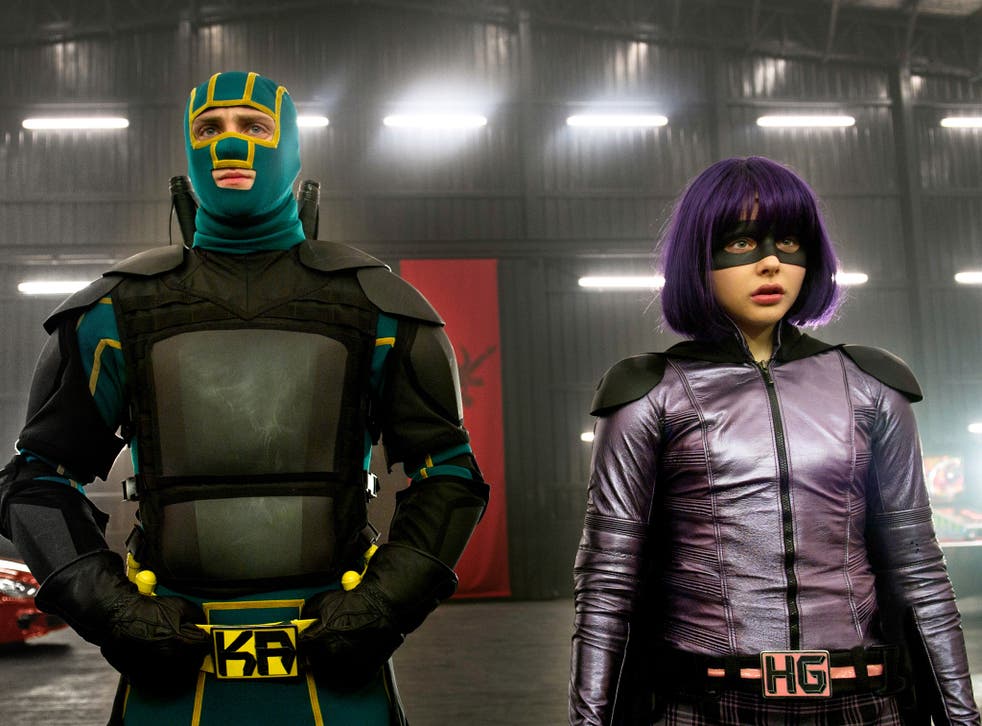 Jim Carrey recently announced that he wouldn't be publicising Kick-Ass 2, because, in the wake of the Sandy Hook shootings, he didn't want to endorse such a violent film.
I think he's mistaken. It's true that Kick-Ass 2 is so violent that it might have been named "Gouge-Eye 2" or "Stab-Leg 2". And it's true that much of its violence features Carrey, who plays a punch-drunk Captain America wannabe called Colonel Stars & Stripes. But it's far more moral than most action movies – and it's certainly more moral than the first Kick-Ass instalment three years ago.
Both films begin by asking what would happen if an ordinary teenage schoolboy (Aaron Taylor- Johnson) decided to put on a costume and call himself a superhero, but the original Kick-Ass soon betrayed that premise. Its director, Matthew Vaughn, was too much in love with his show-offy camerawork and editing to stay in the real world.
The writer-director of the follow-up, Jeff Wadlow, keeps its tone under tighter control. Kick-Ass 2 may be a foul-mouthed knockabout comedy, but it engages with the ethics of being a fancy-dressed vigilante; it explores why costumed crime-fighting might appeal to alienated adolescents; and it examines how such oddball behaviour would affect society at large. It also keeps reiterating that violence has consequences. Its hero receives ass-kickings more often than he gives them, and he's left bruised and bleeding as a result. Even the pint-sized Hit Girl (the terrific Chloë Grace Moretz) is forced to question whether beating up muggers is really the best way to pass one's childhood, or whether going to a suburban high school might be a safer occupation (it's a close call).
Compared with Man of Steel, which was happy to demolish densely populated neighbourhoods for the sake of a fight scene, Kick-Ass 2 is practically a public service announcement. Another point in Wadlow's favour is that, unlike the makers of such angst-fests as The Dark Knight and Iron Man 3, he acknowledges the fundamental silliness of the superhero conceit: one character backs out of an evening's crime-busting because he has tickets for The Book of Mormon.
If only Kick-Ass 2 had left some of its slow and repetitive subplots on the cutting room floor, it might have been one of Carrey's best films.
It's a lot harder to defend 2 Guns (Baltasar Kormakur, 102 mins, 15 **), another action comedy adapted from a series of comics. It never threatens to be anything more than a laid-back, tongue-in-cheek, Tex-Mex crime caper, and for at least half of the running time, that doesn't seem like a problem. Denzel Washington and Mark Wahlberg have delightful buddy-buddy chemistry as two bank robbers with hidden agendas. And for an hour or so, the plotting is so unpredictable and the banter so sparky that, despite the moseying pace, I was already hoping for a sequel ("2 Guns 2"? "4 Guns"?).
But you get the impression that, with the last half-hour approaching, someone chucked the script in the recycling bin and substituted its elegant twists with senseless carnage.The finale is a let's-just-shoot- everything farrago, and the only reason that the good guys emerge triumphant is that they're the good guys. If Jim Carrey is still taking pot shots at movie violence, this would be an ideal target.
It takes some temerity to make a raucous comedy about bridesmaids so soon after, well, Bridesmaids, but Bachelorette (Leslye Headland, 88 mins, 15 ****) doesn't seem like a pale imitation of Kristen Wiig's surprise megahit. It's more like an evil twin. Closer in structure to The Hangover than Bridesmaids, it unfolds on the night before Rebel Wilson's New York wedding. Three of her best friends from school have reunited for the event, but your immediate reaction is incredulity that they were ever her friends at all. Kirsten Dunst, Lizzy Caplan and Isla Fisher are more poisonous than a sackful of cobras.
Access unlimited streaming of movies and TV shows with Amazon Prime Video Sign up now for a 30-day free trial
Sign up
It's rare to see a comedy with three female leads, so it's brave of Leslye Headland, the writer-director, to make them so vile. It's impressive, too, that they're despicable in their own distinct ways: Dunst is the brittle control freak, Fisher the air-headed party girl, Caplan the sardonic mess. But what's even more impressive is that, having introduced such irredeemable monsters, Bachelorette redeems them. As they blunder around Manhattan in the small hours, trying to mend the wedding dress they've torn, Headland's boldly bilious farce reveals enough about their histories, and about their shared sense of desperation, that we come to care for them. We stop wishing they'll be wiped out by a meteor strike, anyway.
Credit is due not just to Headland's carefully structured script, but also to the three tremendous central performances. Dunst has such ferocious intensity in the chaotic final scenes that you half-expect laser beams to fire out of her eyes.
Join our new commenting forum
Join thought-provoking conversations, follow other Independent readers and see their replies