Professor Marston and the Wonder Women review: Startling and funny origin story
The mystery, which the film gradually elucidates, is what links the respectable Ivy League couple from the 1920s with the scandal surrounding the comic-book heroine 15 years later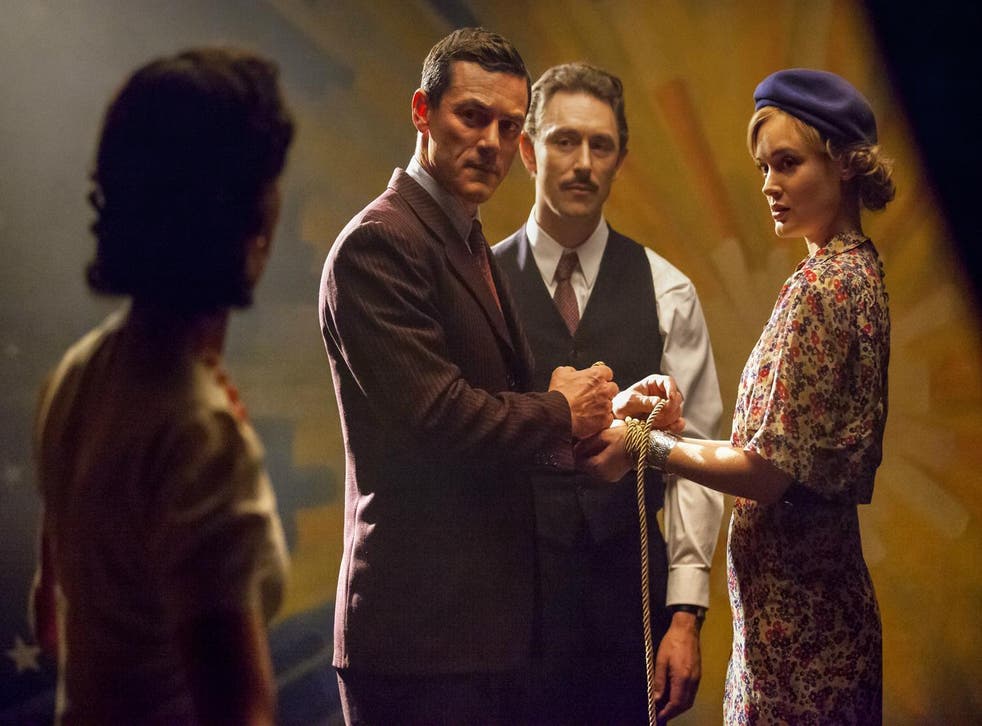 Dir. Angela Robinson, 108 mins, starring: Rebecca Hall, Bella Heathcote, Luke Evans
Early on in her subversive and unashamedly kinky new feature, writer-director Angela Robinson teases the audience into thinking that this will be yet another tasteful and conventional campus-set costume drama. Psychology professor William Moulton Marston (Luke Evans) is seen lecturing at Radcliffe College (part of Harvard). It is 1928.
He is in an immaculate tweed suit. His female students are dressed as formally as he is. His wife and fellow teacher Elizabeth (Rebecca Hall) sits on a window ledge during her lectures. Only when she first speaks do we realise how mischievous Robinson's intentions really are. Elizabeth complains bitterly about the "cocksuckers" who've denied her a professorship yet again. She is being discriminated against, she protests, because she "has a vagina".
Elizabeth uses language in aggressively coarse fashion to signal her anger at how she is treated by the male-dominated academic establishment. Even before Elizabeth's rants, during the film's prelude, Robinson has already thrown in references to bondage, torture and spanking.
There are shots from the 1940s of Americans burning copies of Wonder Woman as if they are banned books in Nazi Germany. The mystery, which the film gradually elucidates, is what links the respectable Ivy League couple from the 1920s with the scandal surrounding the comic book heroine 15 years later.
There has been controversy as to how accurately Professor Marston And The Wonder Women reflects Marston's real life and relationships. The film is "based on a true story" but his relatives have complained that it takes liberties with Marston's complicated private and creative life. What it does offer is a playful, poignant and always surprising account of the birth of Wonder Woman.
Director Robinson looks for the connections between Marston's psychology lectures, in particular his championing of "DISC" theory, and the emergence of the Amazonian warrior who is still a fixture in popular culture today.
"DISC" stands for "dominance, inducement, submission and compliance", which Marston defined as four of the key human behavioural traits. As he and Elizabeth explore the secrets of human nature, they trample on sensitive territory. In one of the film's best and most bizarre scenes, we see them hiding in the college dorm of their new teaching assistant; beautiful young student Olive Byrne (Bella Heatchote), as she takes part in a sorority initiation rite.
Professor Marston And The Wonder Women - Trailer

This involves Olive and all the other female students dressing up in baby outfits. Olive is instructed to spank one of the young women, who has been speaking out of turn, with a paddle. Marston and Elizabeth are amused and aroused by what they watch while Olive finds the experience shameful and disturbing but it excites her too.
We are able to gauge their feelings because they ask one another about it later while using an early prototype of the lie detector Marston has also been busy designing. When they show emotion, the needle of this machine scratches up and down in a mini frenzy. It helps them determine that they love and lust after each other.
Access unlimited streaming of movies and TV shows with Amazon Prime Video Sign up now for a 30-day free trial
Sign up
What starts as a strait-laced biopic about a pioneering scientist quickly veers off into Henry And June territory. Elizabeth is worried that the young teaching assistant may steal her husband but Olive's desire is as much for her as it is for her husband. Unsurprisingly, their ménage a trois causes a scandal and they end up expelled from their Ivy League Eden.
They have to scramble to make a living. The trio form their own unconventional version of an all-American family (one man, two women, children with different mothers) and do their best to get on with the neighbours, who have no idea of their interest in fetishism and sadomasochism.
Much of the film is jaunty and humorous. Rebecca Hall plays Elizabeth in wonderfully imperious and outspoken fashion. She is the real Wonder Woman here. Luke Evans's Marston is a dashing figure, a former spy who enjoys conspiracy and adventure, on the battlefield and in the bedroom.
Bella Heathcote, last seen looking distraught in Fifty Shades Darker, is playing an ingénue here who turns out to be far more single-minded in her desires than the older couple who take her in tow. Olive is the niece of Margaret Sanger, a leading feminist campaigner from the period, and shares her aunt's fierce resistance to patriarchal conventions.
The sex scenes are always played at least partly tongue-in-cheek. Even so, the narrative becomes progressively darker. It unfolds in flashback as Marston is interrogated late in his life by the Child Study Association of America and their McCarthy-like head, Josette Frank (Connie Britton).
27 films to look out for in the first half of 2018

Show all 27

Frank can't help but notice the multiple references to bondage and submission in the Wonder Woman comics which the kids of America are reading with such glee. Marston's health is failing. He has a bad cough. He struggles to defend himself from her accusations that he has been peddling obscene material.
It is never quite clear whether Wonder Woman is a way for him to make money after his academic career hits the reefs or whether the comics give him the chance, as he memorably puts it, to inject his ideas about sex and submission "right into the thumping heart of America".
He's a complicated character, part visionary, part huckster and part pornographer. He's fascinated by Freud and Jung but even more obsessed by burlesque and by the seamy world of Charles Guyette (JJ Feild), the "king" of fishnet fetish.
There's a grim scene in which he and Elizabeth and Olive are caught in flagrante by the neighbour. The scene highlights the impossible situation in which they've entangled themselves. For the sake of their children, they want to be part of mainstream society at the same time that they are living an utterly unconventional, Bohemian lifestyle.
Professor Marston suffers from some of the same problems as its characters in defining its identity. It has all the trappings of a traditional period drama that yearns to be taken seriously and yet it's also often very tongue-in-cheek and risqué.
"Suffering sappho!" was one of Wonder Woman's slogans. The humour a--nd the social comment can't help but rub uncomfortably together. The film, though, is funny and startling. You won't be able to look at Lynda Carter or Gal Gadot in their Wonder Woman finery in quite the same way once you've seen it.
Professor Marston and the Wonder Women hits UK cinemas 10 November
Join our new commenting forum
Join thought-provoking conversations, follow other Independent readers and see their replies