Queen Of The Desert, review: Werner Herzog's film is like a feminist Lawrence of Arabia
Berlin Film Festival 2015: Nicole Kidman plays a Victorian 'blue stocking' in this surprisingly conventional movie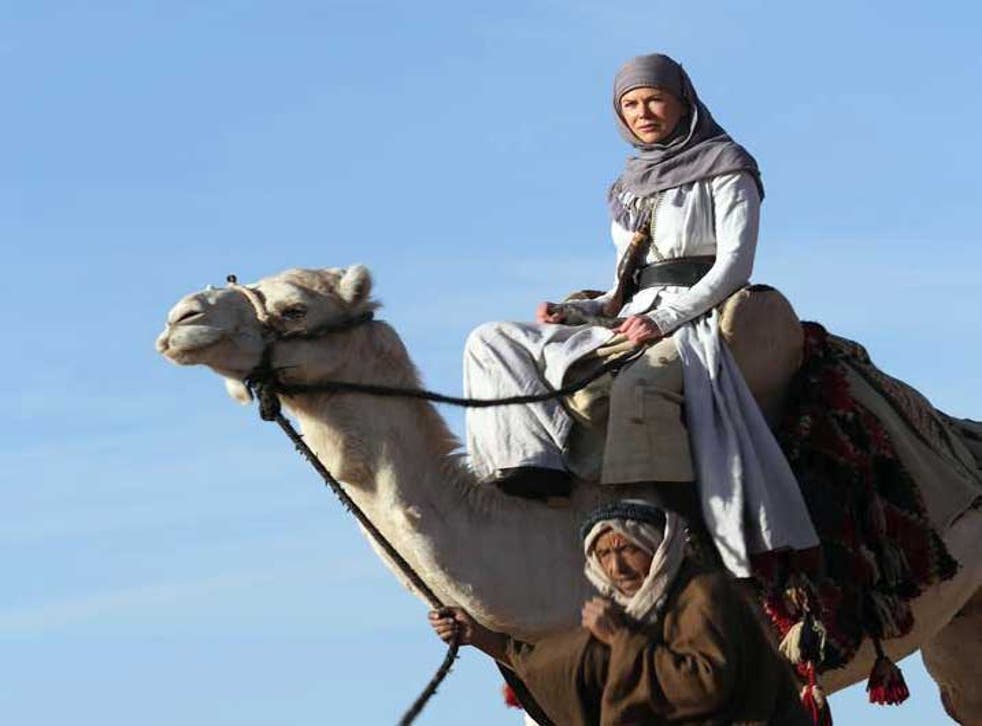 Queen Of The Desert isn't what you expect from the visionary German director Werner Herzog. A world premiere in The Berlin Festival this weekend, the film might best be described as Herzog's feminist version of Lawrence Of Arabia. T.E. Lawrence himself appears (played in eccentric, tongue in cheek fashion by Robert Pattinson of Twilight fame) but the main protagonist here is the English writer and archaeologist Gertrude Bell (Nicole Kidman), who eventually became an Arab expert and helped draw the borders of Iraq.
We're used to Herzog movies about deranged adventurers (often played by Klaus Kinski) on reckless missions into the jungle or over mountains. After a prelude set in 1914, Queen Of The Desert, though, starts off as if it is an episode of Downton Abbey. Kidman's Gertrude is a "blue stocking" in late Victorian England, recently graduated from Oxford and bored rigid by British both country house life and by the parade of chinless wonders who want to marry or elope with her. She implores her father to allow her to travel and eventually he ships her off to Tehran where her uncle is British envoy. Here, she falls in love with gambler, poet and cardsharp Henry Cadogan (James Franco, playing an upper class English roué.)
Herzog deals with the affair between Gertrude and Cadogan in sappy fashion. To show his devotion to Bell, Cadogan gives her half of a priceless coin. Cadogan also encourages her love of Persian culture. The swirling camera work and expressive music heighten the sense we're watching an overcooked TV mini series-style melodrama.
Gradually, as Bell becomes more and more steeped in Arab culture, the storytelling develops an edge. Kidman gives a typically intelligent performance as Bell, showing her as a strong willed woman who refuses to accept conventional patriarchal attitudes, whether she encounters them in English drawing rooms or Bedouin tents. She has a beauty and a dignity that immediately command respect. At the same, she is always prey to her emotions. She feels just as strongly toward the handsome, repressed British officer Charles Doughty-Wylie (Damian Lewis sporting a Ronald Colman-like moustache) as she once did to Cadogan.
Lewis doesn't have much screen time but gives a strong sense of his character's torment: he is unhappily married and very drawn to Bell but, at the same time, he has such a strongly developed sense of duty and honour that he can never fully pursue his desires. Pattinson's performance, meanwhile, is comic and a very long way removed from Peter O'Toole. He plays Lawrence Of Arabia as a sharp-tongued, sardonic figure who can see through the pretensions of his bosses and colleagues.
One of the disappointments of Queen Of The Desert is that Herzog doesn't draw more trenchant parallels between the Middle East that Bell encountered and the region today. He includes some enjoyably satirical scenes with a blustering Winston Churchill (Christopher Fulford) and other high ranking Brits, having their photos taken with camels. He is more interested, though, in exploring Bell's love of desert culture than in unpicking the politics behind British imperial policy. She talks in rapt fashion of the freedom, dignity and "poetry" of Bedouin life.
There are some beautiful shots of desert landscapes, plenty of scene-stealing work from the camels, and, early on, some very picturesque shots of the British countryside. Herzog's dialogue is often witty, especially in the scenes involving Bell's outspoken uncle. At times, Herzog seems to be aspiring to the grandeur of David Lean's widescreen films. Composer Klaus Badelt's music self-consciously invokes memories of Maurice Jarre's scores for Lean's films. In the end, though, Herzog's approach is surprisingly diffident. We are never quite sure whether the film is intended as an epic weepie or a character study of a visionary British eccentric. This is the closest Herzog has come to making a conventional Hollywood movie - what it lacks is the perversity, drive and wildness that are usually his hallmark.
Join our new commenting forum
Join thought-provoking conversations, follow other Independent readers and see their replies