She's Funny That Way, review: Jennifer Aniston stars in absurdly contrived and flimsy film
Venice Film Festival 2014: Aniston gives a genuinely funny performance in Peter Bogdanovich's deadening new movie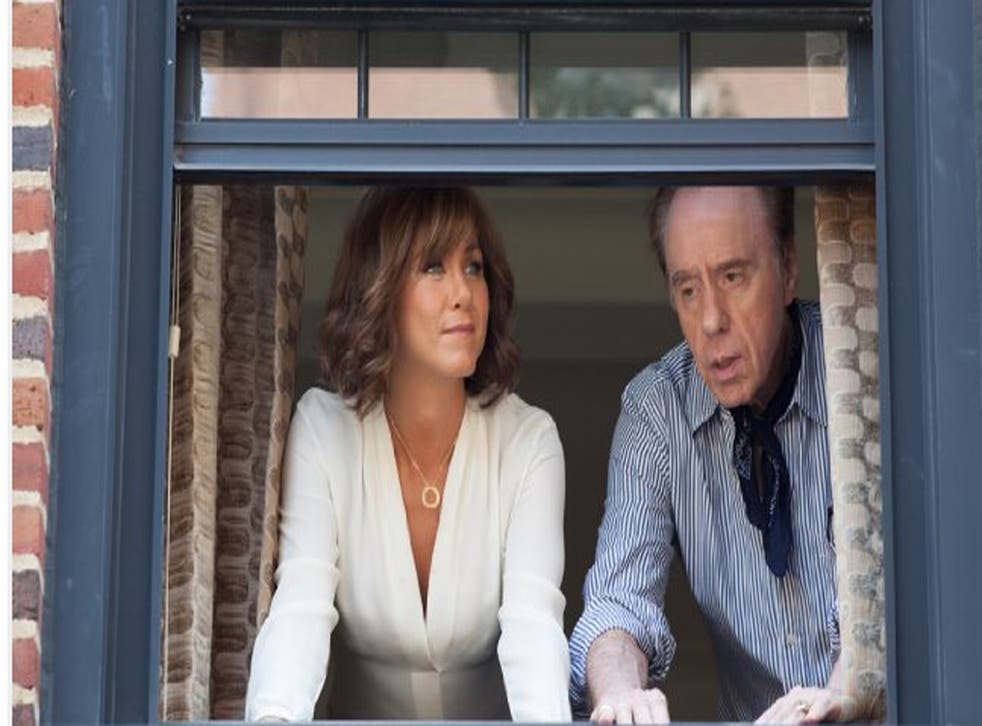 There's a lot of star wattage in Peter Bogdanovich's new screwball comedy (which premiered out of competition in Venice on Friday) but none of it shines very brightly. The film, executive produced by Bogdanovich's admirers Wes Anderson and Noah Baumbach, is closer to a Ray Cooney bedroom farce than it is to the great Hollywood films of the 1930s and 1940s that it self-consciously invokes. Bogdanovich elicits a fair amount of laughs along the way.
There are some genuinely funny performances here (notably from Jennifer Aniston as an abrasive, foul mouthed therapist with a compulsion to share intimate details about her clients) and the tone of the film is nothing if not good natured.
The problem is an absurdly contrived and flimsy screenplay and a storytelling tempo that doesn't come near to the breakneck pace of the similarly themed Birdman (which opened the Venice festival earlier in the week).
Owen Wilson plays Arnold Albertson, a director who has just arrived on Broadway to stage a play. This will star boorish matinee idol Seth Gilbert (Rhys Ifans) and Albert's own wife Delta (Kathryn Hann.) Albert has a secret. He likes to hire high class call girls, whom he charms with money and wisecracks stolen from old Ernst Lubitsch films. Played by any other actor, he would seem extremely sleazy but Wilson is so amiable and laidback that this serial philanderer still comes across as a boy next door type.
Imogen Poots plays Izzy/Glo, the working class New York girl who ends up in his hotel bedroom and then, by one of the many coincidences in the film, auditions for the play and wins a leading part.
Bogdanovich and co-screenwriter Louise Stratten have come up with a very strange framing device. The story is told in flashback by Poots' character, now a sophisticated and famous Hollywood actress, as she is interviewed by a journalist (Illeana Douglas.)
Izzy is intended as a modern-day counterpart to Holly Golightly in Breakfast At Tiffany's. She is both ingénue and femme fatale, muse and prostitute. Every man who comes across her is immediately besotted by her. English actress Poots plays her with gangly charm and an appealing Brooklyn accent but isn't quite right for a role that would need an Audrey Hepburn or Jennifer Jones to do it justice.
As the story progresses, the confusions mount. There are all the ingredients you might find in an overcooked sex farce - private detectives, long lost fathers, prostitutes hiding in bathrooms and continual chance meetings that cause havoc.
In one scene, funny enough in an Are You Being Served way, Albert encounters a former lover in a department store and tries to hide from her by sticking his head in the racks of designer clothes. Hann is good value as his aggrieved and vengeful wife.
Access unlimited streaming of movies and TV shows with Amazon Prime Video Sign up now for a 30-day free trial
Sign up
The Italian press at the early screening on Friday enjoyed the film, laughing uproariously at gags that seemed both laboured and improbable.
After all, with its nostalgic music and New York settings, She's Funny That Way has the flavour of the Woody Allen films that have been so cherished at previous Venice Festivals. Outside Venice, though, Bogdanovich's comeback (his first feature since The Cat's Meow in 2001) is likely to enjoy a far rougher ride.
Its pointless celebrity cameos (we catch glimpses of everybody from Vanity Fair's Graydon Carter to Quentin Tarantino and JoannaLumley) and inane jokes have an increasingly deadening effect.
The film seems fatally undercharged by comparison with the screwball classics it is trying so hard to emulate.
Join our new commenting forum
Join thought-provoking conversations, follow other Independent readers and see their replies