Southpaw, film review: Absurd and unoriginal but rousingly entertaining
Antoine Fuqua, 124 mins, starring: Jake Gyllenhaal, Forest Whitaker, Beau Knapp, Curtis '50 Cent' Jackson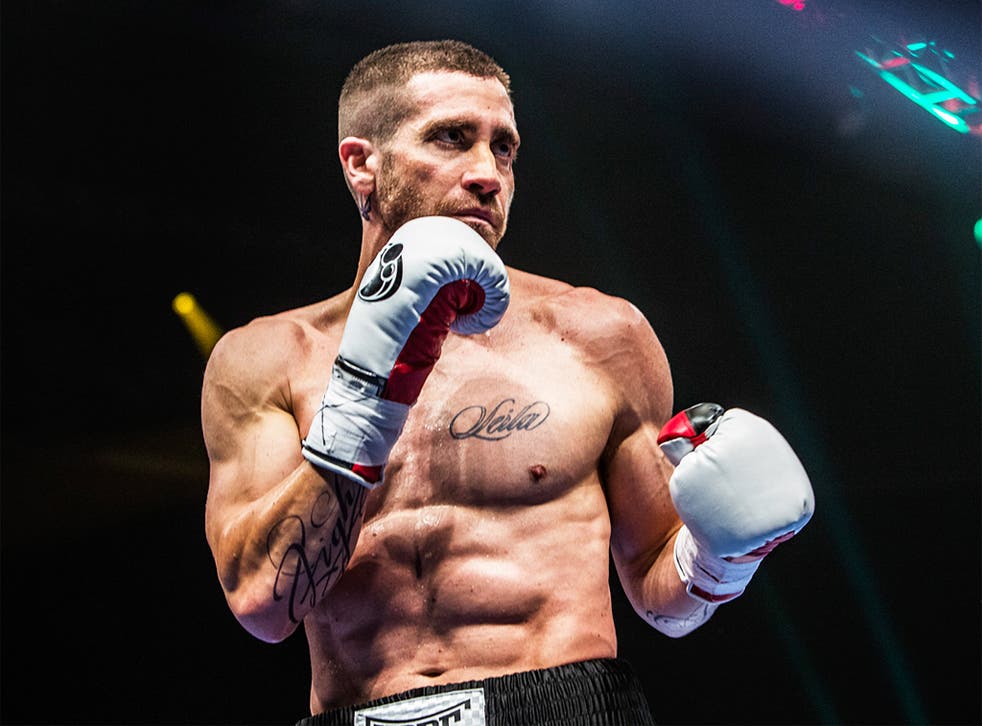 Boxing movies tend to be exercises in masochism, machismo and redemptive melodrama. Southpaw hits all these targets square in the midriff.
Its plot twists are as easy to spot as the right hands Billy Hope (Jake Gyllenhaal) throws before he belatedly learns the art of subterfuge from a new coach (Forest Whitaker.) The film doesn't take us anywhere we haven't been before in Rocky, Raging Bull, Body And Soul and countless other films. Southpaw isn't remotely original but it still provides rousing enough entertainment for fight fans. Director Fuqua has an eye for the grotesquerie of boxing , throwing in plenty of close-ups of Billy in a rainstorm of blood and saliva as he grimaces his way through fights. The name on his mouthguard, "Hope," can't help but seem ironic as he suffers. At the same, Fuqua celebrates the drama and nobility of the sport.
As we first encounter him, Billy is light heavyweight champion of the world. He is happily married to his childhood sweetheart Maureen (Rachel McAdams) and has a daughter he dotes on. His weakness is precisely what made him a champ in the first place, namely his capacity for rage. He is an all action brawler who wins through his sheer fury but invariably takes enormous punishment along the way. Maureen, who watches ringside, is fearful that he will soon become punch drunk. Very predictably, the blows he suffers inside the ring are mirrored by what happens on the outside.
Gyllenhaal hurls himself into the role with the obligatory De Niro-like "Method" intensity. His Billy is not articulate but he is expressive through his sheer, scowling physicality. Gyllenhaal looks entirely plausible as a boxer while also conveying his character's emotional vulnerability and tendency toward self-pity. We learn Billy grew up in care homes, as did Maureen. He knows what it is like to have nothing - and we know that he is bound to experience extreme financial and personal hardship again. With Curtis "50 Cent" Jackson playing his slippery, disloyal manager, it could hardly be otherwise
Forest Whitaker gives a fine performance as the coach Tick Willis: a wily old timer who comes a cross like a Zen version of the character Burgess Meredith played in Rocky. Tick runs a community gym where he shows Brendan Ingle-like dedication to keeping local kids out of trouble. There are demons in his past too. No, he doesn't train professionals any more but, yes, he is bound to make an exception for Billy who, through some outrageously far fetched plotting, takes a job as the cleaner at the gym.
Some of the sentimentality that comes gushing out between rounds here would make even Charlie Chaplin blush but the final reel 12 round showdown between Billy and the villainous Colombian fighter Escobar (Miguel Gomez) is staged with so much oomph that you forget how absurd the film has become.
Join our new commenting forum
Join thought-provoking conversations, follow other Independent readers and see their replies