Steve Jobs, film review: Danny Boyle captures the Apple guru's showmanship but the film runs out of steam
Unconventional biopic loses its way after a dynamic start with Jobs portrayed more and more as a messiah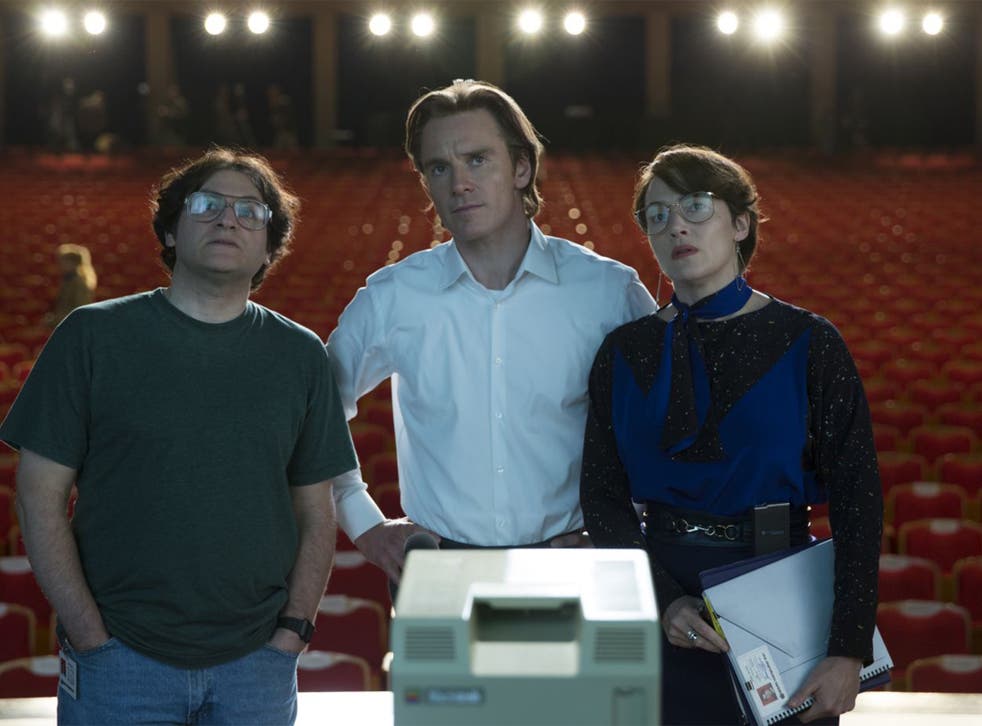 Danny Boyle's drama about Apple guru Steve Jobs, which closed the London Film Festival, plays more like a backstage musical than it does a conventional biopic.
Its story is organised around three product launches – the Macintosh computer in 1984, Jobs' NeXt computer four years later, and his triumph with the iMac in 1998. That may sound like very dreary subject matter for a movie, but with Boyle's hyper-energetic direction and a brilliantly witty screenplay by Aaron Sorkin (who also wrote The Social Network), each launch is as full of tension, drama and backbiting as any Broadway first night.
Boyle even throws in shots of empty seats and of crowds waiting expectantly for the doors to open to the theatres. As we know from his Olympic opening ceremony, he knows how to stage a show.
The film begins in very dynamic fashion. Michael Fassbender as Jobs, Kate Winslet as his devoted assistant Joanna Hoffman, Seth Rogen as his colleague Steve Wozniak and Michael Stuhlbarg as the put-upon software engineer Andy Hetzfeld all ping Sorkin's one-liners off one another with zest and humour. Right from the outset, Jobs is portrayed as a perfectionist with an infuriating streak. "Your products are better than you are" is the criticism levelled at him as he rides roughshod over the sensibilities of his colleagues and pays (at least initially) scant attention to his young daughter.
He's a man in a rush, with no time to be "polite and realistic" as he ushers in a revolution in computing. Fassbender plays him as a Mephisto-like figure with a demonic energy and a genius for marketing.
Jobs doesn't know how to write code; he is not an engineer; he is not a designer. But when someone has the temerity to ask what he actually does, he makes it clear that he is the conductor: "I play the orchestra." His followers "live and die" by his praise, which he is reluctant to give. He enjoys keeping the limelight for himself.
Steve Jobs is successful in conveying the excitement verging on hysteria that each new launch provoked. It deals very skilfully with the ups and downs in Jobs' career – his wilderness years after he left Apple and his glorious return.
Most of the performances are excellent. With her big spectacles, short dark hair and seductive Polish accent, Winslet brings a Moneypenny-like glamour to her role as the doggedly loyal but very frank Joanna, the one person whose criticisms occasionally sting Jobs into something like remorse.
Seth Rogen captures well the admiration verging on awe that Wozniak felt for Jobs but also his frustration that Jobs wouldn't even have the courtesy to acknowledge his efforts in designing the Apple II.
Access unlimited streaming of movies and TV shows with Amazon Prime Video Sign up now for a 30-day free trial
Sign up
Where the film loses its way is in a final section in which Jobs is portrayed more and more as a messiah. Rakishly thin, wearing that familiar black turtleneck, he is shown in huge close-ups, as if he is a cross between Gandhi and Moses.
The wit and irony which has run through the movie begins to fade, the reverence increases and the treatment of his relationship with his daughter Lisa becomes conventionally melodramatic.
Sorkin hasn't really found a way to balance the private and the public sides of Jobs. It doesn't help that the grand finale is the unveiling of the iMac, a product which may have revolutionised home computing but still, as Jobs' daughter memorably puts it, looks like "Judy Jetson's Easy-Bake oven".
Join our new commenting forum
Join thought-provoking conversations, follow other Independent readers and see their replies