The Theory of Everything, review: Eddie Redmayne plays Stephen Hawking brilliantly
A highbrow tearjerker about the life and times of a Cambridge physicist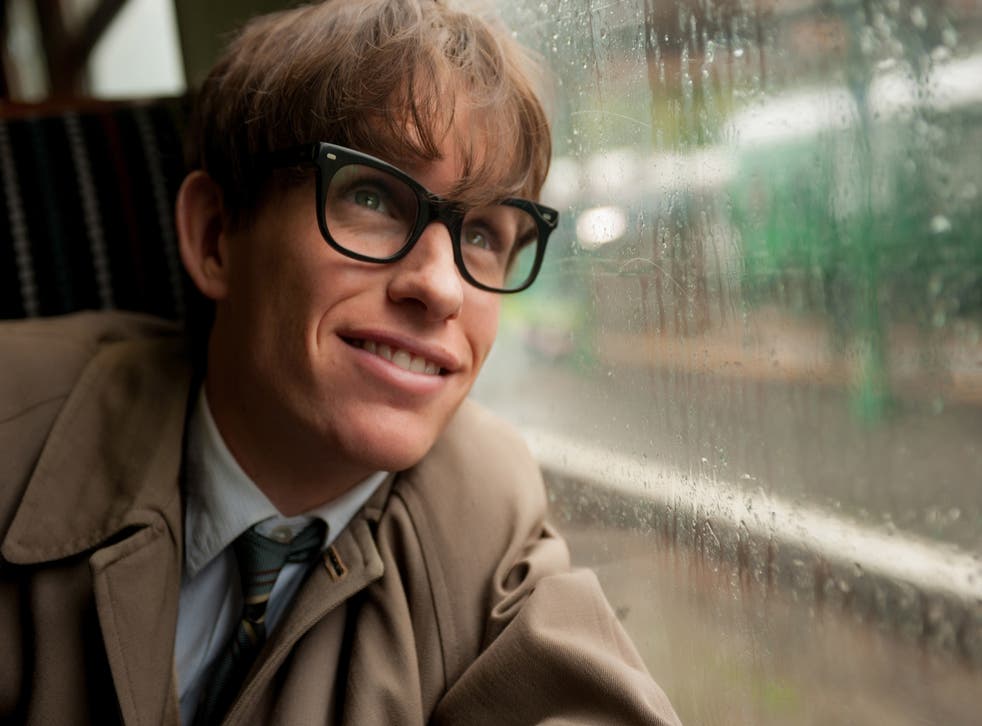 Last night at the Baftas Eddie Redmayne was named Best Actor for his portrayal of Stephen Hawking in The Theory of Everything - and the biopic also won the awards for Outstanding British Film and Adapted Screenplay. Here's our review:
What's most impressive about The Theory Of Everything is how it transcends the pitfalls of the typical biopic. In spite of its very conventional approach to its material, the film has a lightness and inventiveness that most dramas taking us through the lives of real people lack. This is a love story but one with a lot of jargon about "space time singularity" thrown in.
As the film begins, brilliant young physicist Stephen Hawking (Redmayne) meets literature student Jane Wilde (Jones) at Cambridge. She is studying "medieval poetry of the Iberian peninsula." He is embarking on the research into relativity and black holes that will make him famous. They fall in love and marry. Their relationship endures in spite of Hawking's deteriorating physical condition (the motor neurone disease) that eventually leaves him wheelchair bound.
Director Marsh shoots The Theory Of Everything in fluid, fast moving style. Whether showing Hawking working out complex equations at the blackboard or riding on a fairground carousel with Jane, he never lets the narrative tempo drop. Cinematographer Benoît Delhomme uses natural light and handheld camera, managing to make scenes set in very familiar surroundings (Cambridge courtyards and lecture halls, rustic British pubs) seem fresh and invigorating.
Redmayne gives a brilliant performance: one that captures Hawking's restless intellectual curiosity, his drive and humour. The actor is very precise in his depiction of Hawking - the twitching and muscle decay, the Chaplinesque walk and the way his neck tilts when he is on his wheelchair.
The Theory of Everything picture preview

Show all 12
He never lapses into mimicry, one reason why the performance is so moving. We know that his brain is not affected. Jones is also impressive as his devoted, doggedly loyal wife who may not understand the intricacies of the science but is enraptured by Hawking's sense of wonder.
There are times when the film feels too cheerful given Hawking's physical afflictions and the strains that emerge in the marriage. The triumphalism occasionally grates as the filmmakers strive to make a rousing and upbeat movie.
Thankfully, there is just enough irony to counterbalance the manipulative and sometimes openly melodramatic elements. Marsh has somehow made a tearjerker (albeit a highbrow one) about the life and times of a Cambridge physicist - and that itself is an achievement.
James Marsh, 123 mins, starring: Eddie Redmayne, Felicity Jones, David Thewlis
Join our new commenting forum
Join thought-provoking conversations, follow other Independent readers and see their replies