The Turning review: Henry James adaptation is muddled but not entirely pointless
It's clear that somewhere, at some point, Floria Sigismondi's worthwhile film took a wrong turn
Dir: Floria Sigismondi. Cast: Mackenzie Davis, Finn Wolfhard, Brooklynn Prince, Joely Richardson. 15 cert, 94 mins
There's a wonderful simplicity to Henry James' The Turn of the Screw. A young governess sees phantoms. She's convinced they have a hold over the children in her care – but is it all in her imagination? So far, the only adaptation to do justice to the Gothic classic is 1961's The Innocents – but that hasn't stopped filmmakers from trying their hand at it, again and again. Before Netflix launches its own attempt, The Haunting of Bly Manor, later this year, we have The Turning.
Set in the 1990s, The Turning shifts events from Essex to Maine (inconveniently so, since the film struggles to conceal the fact it was all shot in Ireland). The story follows Kate (Mackenzie Davis), a teacher who volunteers to tutor a young orphan named Flora (Brooklynn Prince), whose last nanny did a runner. Poor Flora is stuck in her sprawling manor, unable to leave after witnessing the death of her parents in a car crash outside the front gate. Her only company is an aggressively British housekeeper (Barbara Marten), since her brother Miles (Finn Wolfhard) is off at boarding school. That is, until he isn't. He turns up unannounced one night after being expelled. The more Kate learns about him, the more it disturbs her.
The film is muddled, but not entirely pointless. It's clear that somewhere, at some point, a worthwhile project took a wrong turn. It was initially conceived as Steven Spielberg's long-awaited return to horror, only for him to pass the project on to Juan Carlos Fresnadillo and then pull the plug entirely after becoming displeased with some last-minute changes to the script. The project was later resurrected and entrusted to The Runaways director Floria Sigismondi, though the final film still bears the scars of its troubled production.
Chad and Carey W Hayes' screenplay probes at new ideas previously absent from the source material, exploring the radial trauma left behind by violent acts. Miles comes under the malignant influence of a previous employee, thrusting Kate into a battle for his soul. Davis' bright, kind eyes are perfectly framed by a blunt fringe, but her sympathetic looks are rebounded time after time by Wolfhard's Miles and his inscrutable smile. The two actors are surprisingly well-matched as sparring partners.
37 horror films that are genuinely scary

Show all 37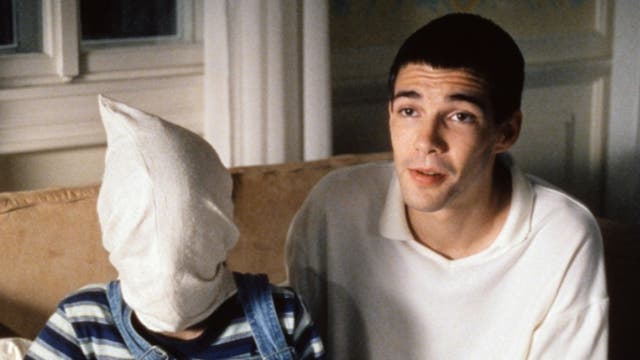 But there's an odd mix of styles at play here. The Turning's Gothic origins clash with Sigismondi's edgy, music video-style visuals, while also being saddled with the conventional scares of your average cheap-and-cheerful horror film. Kate slowly pieces together clues from lost diaries, broken mannequins, and the mysteries of the forbidden east wing – but it's hard to build a sense of creeping dread when ghosts keep popping up at every corner like a bunch of broken fairground animatronics.
The director's knack for startling imagery – a fountain decorated with decapitated Barbie heads, for example, or a koi fish with its guts hanging out – counts for little when it fails to come together as a cohesive vision. The Turning takes a straightforward story and overcomplicates it.
Join our new commenting forum
Join thought-provoking conversations, follow other Independent readers and see their replies