Two Years at Sea, Ben Rivers, 88 mins (U)
This black-and-white documentary, following the doings and dreamings of a recluse in the Cairngorms, is almost wordless – and is quietly extraordinary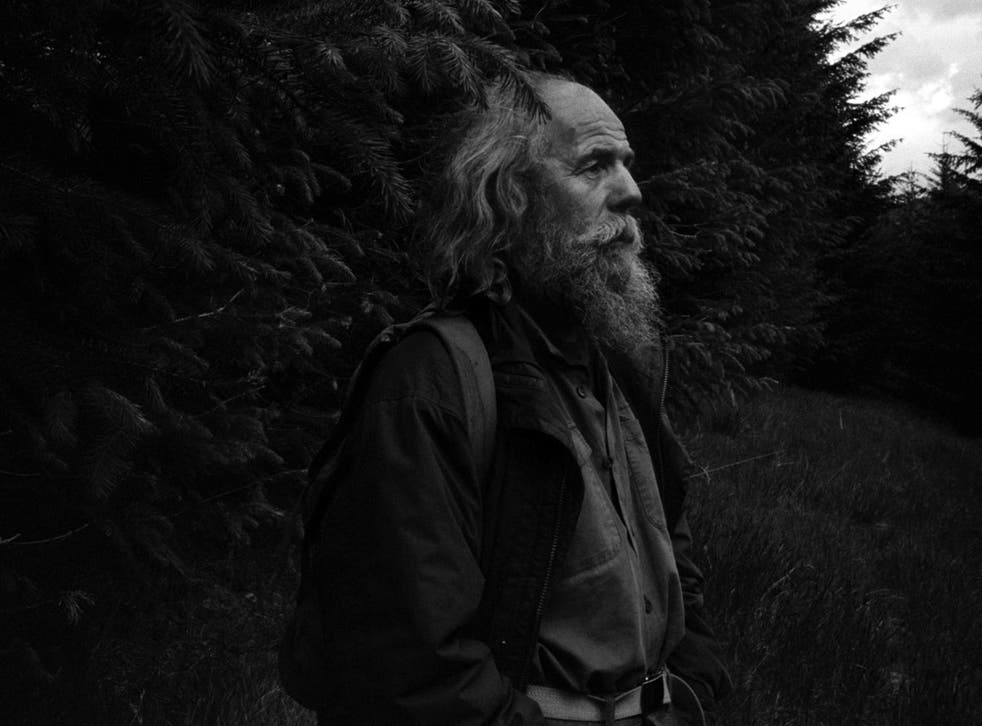 The fact that I'm devoting 950 words of prose here to Two Years at Sea might suggest that it is what you'd call the Major Movie of the Week. Not quite. It's really a minor movie, but I mean "minor" in the noblest, most exalted sense. This is film-making in a minor key, thoughtful and melancholic: a black-and-white, almost wordless documentary with no discernible narrative, its only human figure being a weather-beaten man with the long grey beard of Count Leo Tolstoy.
By normal film budget standards, Ben Rivers's elegiac miniature is barely on the map: it's made on a shoestring with a spare, lean aesthetic. We're talking about handmade cinema par excellence, by a young British film-maker who not only shoots his own 16mm footage on a hand-cranked Bolex camera but develops some of it, quite literally, in his kitchen sink. If you believe a film isn't a film without the battalions of technicians it takes to cook up Avengers Assemble, this one may not be for you – but if you're susceptible to something more personal, then you shouldn't miss this mysterious, quietly robust dream of a film.
Two Years at Sea is less a documentary as such, more an impressionistic portrait, or a film poem. Its subject is Jake Williams, who lives in a tumbledown house in the Cairngorms (it actually looks more like two houses that have collided violently at right angles). The film, without commentary or dialogue, never tells us that Williams is a hermit as such, but it's clear that he lives a solitary life – and, though it's one that most of us would find unbearable, what emerges is the sense of a truly happy existence.
We see Williams over the seasons, at home and in the landscape, engaged in various activities that you'd normally call simply pottering around. It's hard to define exactly what he does with himself; we see him performing various tasks, like driving his car round the hills, pulling down a tree with a block and tackle, or poring over detailed charts that he's drawn up, to what end we don't know (we sense that he's a skilled technician, but it's hard to gauge the exact nature of his expertise). In one extraordinary sequence, he trudges across a flat landscape, carrying a frame and some plastic canisters. Then he uses them to build a makeshift boat and floats off across the still surface of a lake or pond, drifting into an extended contemplative silence that stands in for the otherwise unexplained seabound years of the title.
Elsewhere, Rivers explores the corners of Williams's seemingly chaotic world. This is a film of objects, in which each thing we see bears the marks of its own well-used history: like the collapsing armchair on which Rivers reads al fresco, or the crackling Tannoy over which he plays his old records. One we hear is of Indian string music, another a ribald folk ballad about a rivalrous sexton and carpenter; the song evokes a violent, comical ancient England that Williams himself might once have inhabited.
Williams has granted Rivers extraordinarily intimate access to his world, not least when he takes a shower in his cluttered kitchen-cum-bathroom. But he reveals little of himself, and never speaks, except to mutter "chesty cough" as he examines a medicine bottle. We learn nothing about him, and can only speculate on his story. Glimpsed photos suggest a past life: the woman we see may be an ex-partner, the two girls his children, and the young man dry-stone walling is presumably a younger Williams. But the less we know for sure, the more we feel drawn into Williams's world – the more we inhabit his small, strange personal planet.
Ben Rivers is a young British film-maker whose work has mainly been seen in galleries until now. His 2010 film Slow Action was a quasi-futuristic evocation of imaginary worlds, using footage from the Canaries, Japan and elsewhere, and combining the imaginative spirits of Peter Greenaway, J G Ballard and the French poet and inventor of fake ethnologies Henri Michaux. Although it's more straightforward than Slow Action, Two Years at Sea is unmistakably a Rivers film: the images bear the marks of his hand-processing, with sudden flares from overexposure, and effects of bubbling and fermentation in the grain. We could be watching ancient footage, unearthed in an archaeological dig. But the widescreen photography is consistently beautiful, whether showing the vastness of landscape, or focusing on throwaway details (Rivers finds magic even in a bit of string dangling in a doorway). The boat sequence is so austerely breathtaking that it could have come from one of Bela Tarr's dramas of laconic angst on the Hungarian plains.
Two extraordinary moments could be fairly described as reveries. In one, Williams wakes to find that his caravan has mysteriously floated into the treetops; the sequence appears to be a dream, although the caravan is still up there later, suggesting that in Williams's world, there's no boundary between dreaming and living in the here and now. Then there's the final shot: an eight-minute close-up of Williams gazing into a fire. We don't know what he's thinking or feeling, and while he seems perfectly at ease with the camera, all we can do is accompany him, keeping our respectful distance as we study his pensive features. Rivers' tactful, sympathetic film doesn't coax us into considering his subject a sage, a mystic or a madman; but making the most of the proximity that Williams allows, he paints a portrait of a man, and a way of life that – romanticism apart – comes across like a utopia of sorts.
Join our new commenting forum
Join thought-provoking conversations, follow other Independent readers and see their replies