Unsane, review: It's too demented for its own good
'The Crown' star Claire Foy, who plays a woman involuntarily committed to mental institution maintains interest in Steven Soderbergh's film, which was shot on a smartphone, forcing him into poor lighting decisions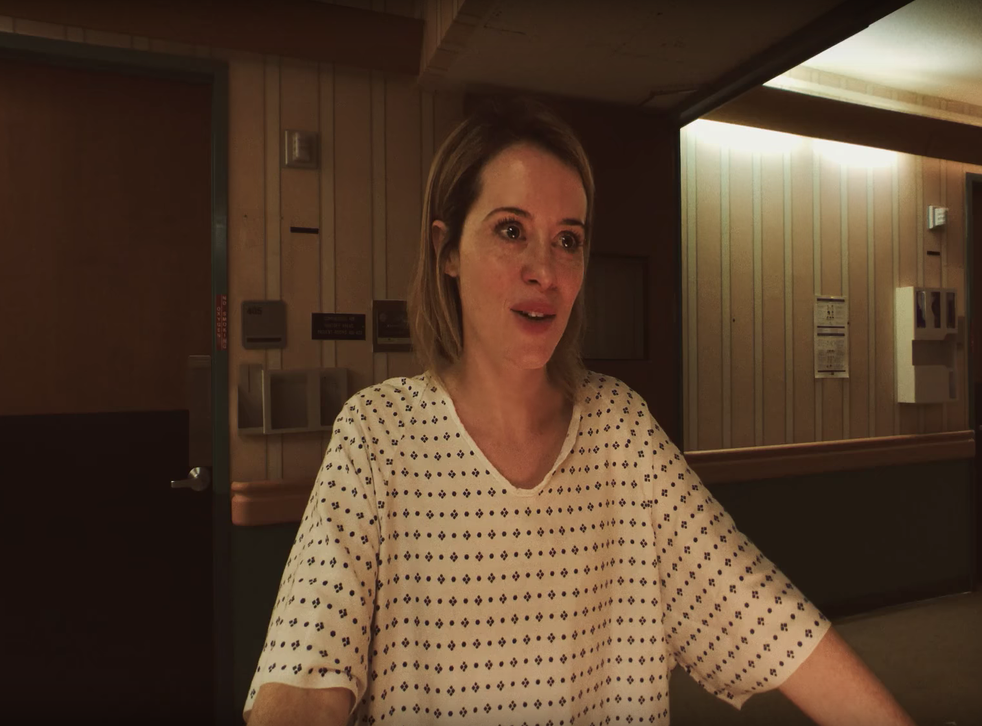 The Crown star Claire Foy gives an exceptional performance as a woman trapped in a mental institution and it's her performance that maintains interest in Steven Soderbergh's genre movie, filmed using the camera on a fruity smartphone, which after a promising beginning is too demented for its own good.
Foy plays Sawyer Valentini, an account manger who has relocated from Boston to Pennsylvania. Playing a neurotic American, it's a performance that shows her range is far beyond Buckingham Palace. Everything seems to be going great and Sawyer does what any self-respecting singleton in a new city would do and gets straight on a dating app. Her date is awesome, but it transpires she is not.
Soon after Sawyer finds herself in a mental institution and we learn that she's been stalked for two years. But is she an unreliable narrator, who like her namesake Tom Sawyer has an active imagination that leads to trouble for themselves and those around him? After all she claims her stalker is in the institute with her.
It's a neat premise that initially seems like a metaphor for #MeToo. A woman trapped against her will and no one, not even the police, listening to her complaints. Those that believe her are persuaded otherwise. This reading does become a touch too literal when Matt Damon makes a needless cameo. Thankfully Damon's character is only chatting about security and not about moral and physical boundaries of Foy's life.
Soderbergh's movie seems inspired by One Flew Over The Cuckoo's Nest, especially when it starts to seem like the inmates have a better grip on reality than everyone else. Juno Temple, who seems to be on Face Time whenever a director needs an actress to play unhinged, appears as Sawyer's nemesis and the dashing opioid addicted Nate (Jay Pharoah) is her friend on the inside. But as far as Sawyer is concerned the real crazies are the staffers George Shaw (Joshua Leonard) and the Highland Creek Behavioural Centre clinician Ashley Brighterhouse (Aimée Mullins).
Long gone are the days using digital cameras or phone cameras will result in the poor quality images that bedevil the Thomas Vinterberg classic Festen, and the choice of shooting on a smart phone could be theorised as another way for Soderbergh to highlight how mobile phones are stalking our lives. However, it's still a poor aesthetic choice for a filmmaker who photographs his own films, under the alias Peter Andrews, and once shot a 1940s set movie, The Good German, using only the cameras actually available at the time. It's different to Sean Baker's decision to shoot Tangerine on a phone, as that was the only way Baker could afford to make the film, here Soderbergh's desire to be 'technologically innovative' seems like he's cut off his nose to spite his face. The lighting decisions this forces him into are particularly poor.
It's also odd that for a film that has elements of Repulsion, Rosemary's Baby and Fight Club that it should so abruptly turn into a sub-par thriller that made me want to liken it to the cinema of Eli Roth, which is faint praise indeed. Soderbergh's work is littered with duds and although this has too many good ideas and Foy's great performance to stop is quite ploughing the depths, it's definitely minor Soderbergh.
Join our new commenting forum
Join thought-provoking conversations, follow other Independent readers and see their replies