Whiplash review: JK Simmons achieves a ferocious, barbed intensity
Damien Chazelle, 106 mins, starring: Miles Teller, J.K Simmons, Melissa Benoist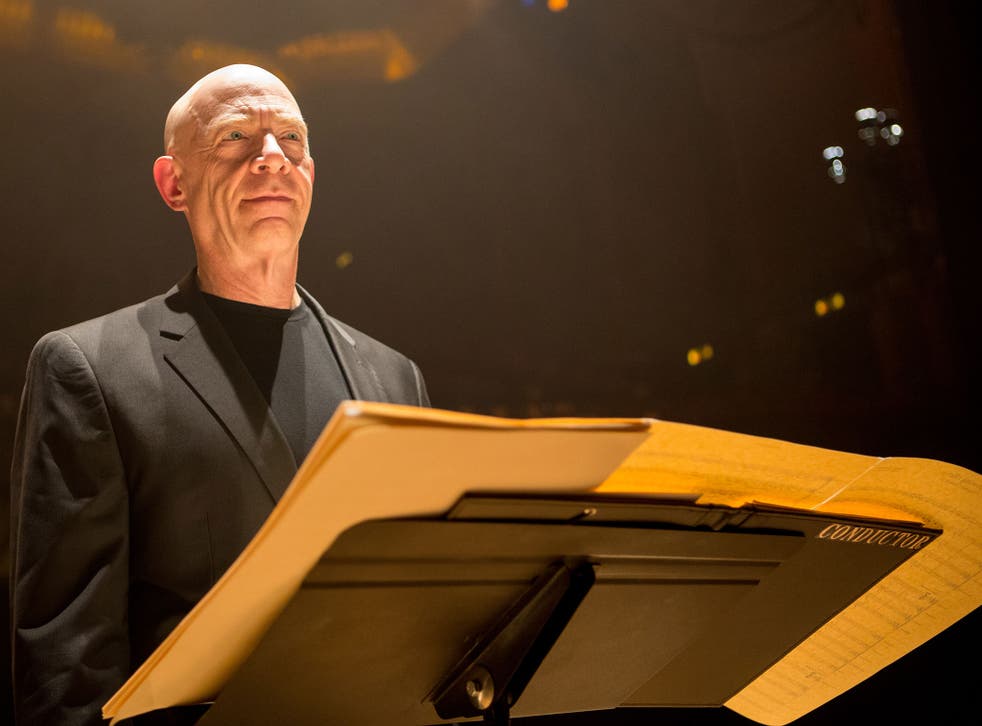 After Whiplash won Best Supporting Actor, Best Editing and Best Sound at the Baftas last night, here's our review:
You don't think of jazz drumming as a rigorous academic discipline - but that is how it is portrayed in writer-director Damien Chazelle's riveting Oedipal drama Whiplash.
There is barely a whiff of cigarette smoke here and sex, drink and drugs - staples of most jazz based movies - seem off limits too. Instead, the drama largely plays out in rehearsal rooms in the basement of a prestigious conservatory. Chazelle's achievement is to bring a ferocious, barbed intensity to a film that could easily have seemed a claustrophobic and austere chamber piece.
Miles Teller plays 19-year-old Andrew Neiman, a young, ambitious jazz drumming student at the Shaffer, an elite music school. Terence Fletcher (J.K. Simmons) is the school's most ruthless teacher.
In Whiplash, the attitude toward music is akin to that toward dance in Powell and Pressburger's The Red Shoes (1948). There is a famous scene in The Red Shoes in which the young ballerina (Moria Shearer) is asked why she wants to dance by the impresario Lermontov (Anton Walbrook.) "Why do you want to live?" she replies. This is an answer that would win Fletcher's approval. He despises mere proficiency or "good work." His philosophy is that to achieve true excellence, you have to practice, suffer, then practice more and drive yourself beyond the point of exhaustion.
Oscars 2015 nominations

Show all 28
Early in the film, we discover that one of Fletcher's best former students has committed suicide - just as the ballerina did in The Red Shoes. The teacher is upset but doesn't feel any guilt. Fletcher makes frequent references to Charlie Parker, "Bird," the legendary jazz saxophonist who died aged only 34. Parker's early death is irrelevant. All that matters is the brilliance of the work - a brilliance, he claims, that Parker only achieved after a fellow musician threw a cymbal at his head when he was playing badly, humiliating him and thereby pushing him to better himself.
Fletcher is not interested in reason or "perspective," which is what Andrew's kindly but mediocre school teacher dad (Paul Reiser) likes to talk about. His job, as he sees it, is to use any means possible to push students to achieve more than is expected of them.
Chazelle makes music school seem like boot camp. Blood and sweat are spilled in fetishistic close ups as Fletcher roars at the young drummers to go "faster, faster." He dresses all in black, which makes him look like a fascist torturer in a political thriller, trying to elicit the truth from a stubborn enemy spy. As soon as a student loses the tempo or plays a note out of tune, "rushes" or "drags," he holds up his right hand - and everyone immediately stops playing as he harangues the unfortunate "squeaker" or yells at the "pansy-ass weeping and slobbering over my drum kit like a nine year old girl."
The students behave to each other as if they're on leave from Lord Of The Flies. They may be part of a band but there is no camaraderie between them.
Access unlimited streaming of movies and TV shows with Amazon Prime Video Sign up now for a 30-day free trial
Sign up
Whiplash could easily have seemed ridiculous. Fletcher's abusive behaviour is for far beyond the pale that it is unthinkable either his students or the school authorities would tolerate it. Chazelle's attitude toward creativity is romanticised. He peddles old clichés about the links between genius and suffering. The film portrays jazz musicians as strangely docile, compliant figures without the ability to improvise. The title itself (which refers both to a piece of music that is constantly played and to the car crash-like trauma that Fletcher's students suffer) feels contrived.
What gives the film such a kick, in spite of its improbabilities, is its raw and brutal but also very subtle portrayal of the shifting, attritional relations between teacher and student, sorcerer and apprentice.
Andrew is desperate to win the approval of Fletcher. He yearns to be one of the "greats" but regards his teacher as the only arbiter whose opinion he can trust. Fletcher is endlessly cruel and sarcastic - and has a tremendous knack for vicious, expletive-filled put-downs. Andrew takes on Fletcher's affectations the more time he spends with him. He even prepared to ditch his long-suffering girlfriend (Melissa Benoist), because she will get in the way of his career. As in all such Oedipal tales, the only way the student can emerge as a musician in his own right is by destroying the father figure.
The casting is crucial. With less sympathetic actors, Whiplash would have been difficult to endure. J.K. Simmons generally plays comic roles or kindly, genial types, for example the avuncular professor in recent Hugh Grant comedy, The Rewrite. Even here, the humanity flickers through. Andrew spies on him speaking to the tiny daughter of one of his old students with tenderness and humour. In another scene, he watches him play the piano in a nightclub. The teacher has a rapt expression on his face which makes his joy in the music obvious. The irony is that he is performing a schmaltzy number in an utterly unoriginal and banal way. He is certainly no "Bird" himself.
Miles Teller is an equally likeable screen presence who has played his share of laid-back romantic types in teen movies. You don't expect him to portray such an obsessive figure as his jazz drummer here.
Chazelle leaves it up to us to decide whether this relationship between pupil and teacher is destructive or inspirational. Depending on your vantage point, the film either endorses the 10,000 hour theory written about by Malcolm Gladwell and others (the idea that genius is achieved by relentless practice) or demolishes it. What is clear is that in telling the story of the teacher and his pupil, Chazelle had driven himself to make a film that is dynamic, provocative and moving - and in which the emotional tempo never stops rising.
Join our new commenting forum
Join thought-provoking conversations, follow other Independent readers and see their replies