Star Wars fans to marry in queue at Hollywood premiere of The Force Awakens
'At 2pm on opening day, we will walk down the aisle. We [will] go see the movie as a celebration after - so I hope it's good'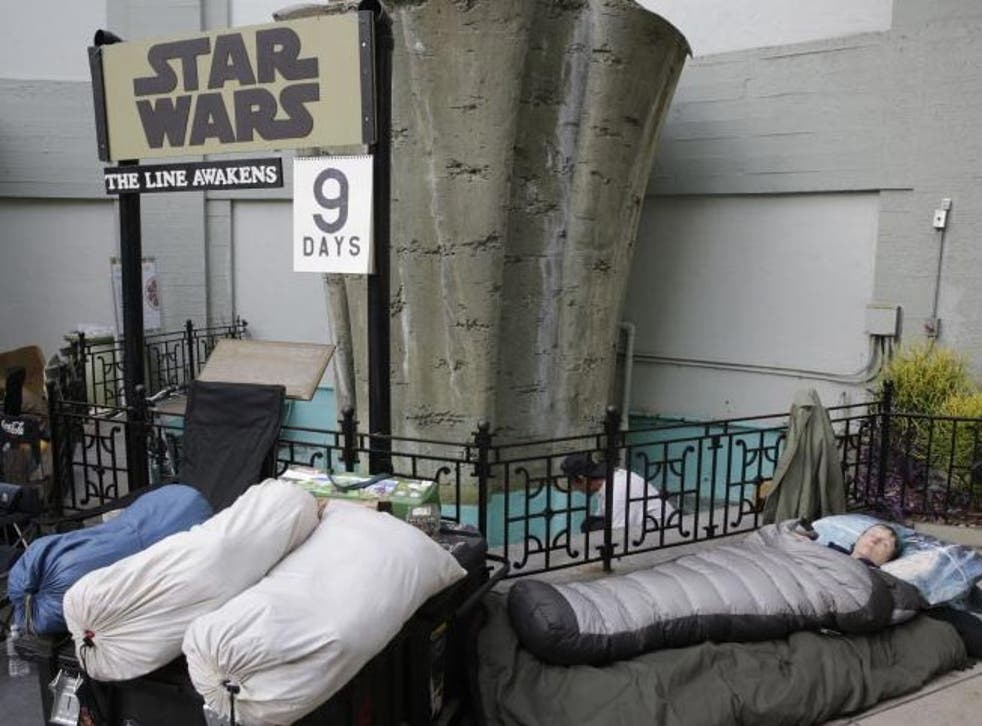 Marking their love of Star Wars and of each other, two fans are set to marry in the queue before they watch The Force Awakens.
Caroline Ritter and Andrew Porters - both of whom flew to the US from their home in New South Wales, Australia - have been camped outside the TCL Chinese Theatre in Hollywood since 5 December to get the best seats when Episode VII: The Force Awakens is released.
For the nuptials, Mr Porters will wear a traditional suit with a Storm Trooper bow-tie and braces while Ms Ritter will wear a white dress. She will be accompanied by Darth Vader as she walks down the aisle.
"At 2pm on opening day, we will walk down the aisle. We will go to see the movie as a celebration after - so I hope it's good," said Ms Ritter, who previously queued for the release of Attack of the Clones 13 years ago.
EW's Star Wars: The Force Awakens photos

Show all 8
"Because 2002 was such a big event for me and changed the course of my life, it seemed right. We have been engaged for eight years but not successfully planned a wedding so this all just fell into place."
The Guardian reported that ice cream specialty shop Baskin-Robbins had agreed to create Star Wars-themed wedding cake for the couple and that a local hotel would be allowing them to stay in one of their suites on the night of the wedding.
The couple are part of a group of more than 100 people who are lining up for the 12 nights before the film is released. Each person is allowed to buy a pair of tickets after waiting for 24 hours in the queue, Mashable reported.
Additional reporting by AP
Join our new commenting forum
Join thought-provoking conversations, follow other Independent readers and see their replies