Star Wars episode 7 screenings: Take off those Darth Vader masks and put away the lightsabers
Audiences warned amid security concerns for UK unveiling of The Force Awakens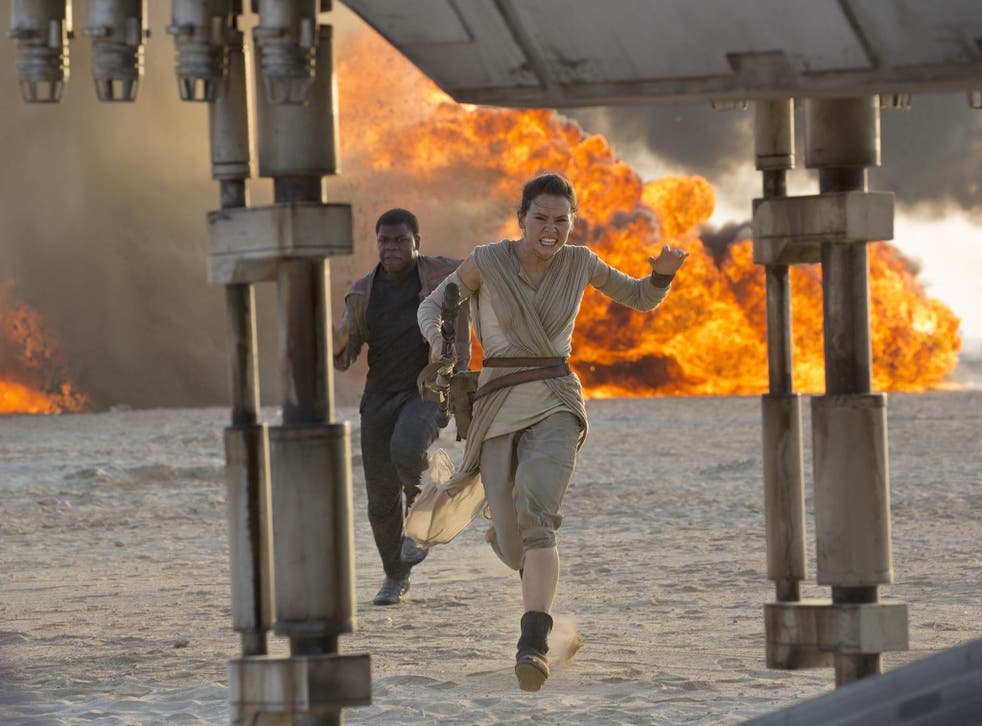 It's a hi-tech tale of encrypted files, digital keys and security patrols with night-vision goggles. The greatest anti-piracy campaign in the history of cinema is being mounted to ensure that the new Star Wars film doesn't fall into the wrong hands ahead of next week's global release.
Star Wars: Episode VII - The Force Awakens will finally be unveiled in UK cinemas at one minute past midnight next Thursday.
Cinema chains have banked record-breaking advance ticket sales for JJ Abrams' new blockbuster, which is expected to blast through Avatar's $2.76bn box office take and become the world's biggest grossing film.
The Disney Studio, which acquired the Star Wars franchise for $4.6 billion from Lucasfilm three years ago, is taking extensive measures to ensure that digital pirates don't make a killing from its hottest property ahead of the release.
The Force Awakens has not been entered for the traditional round of pre-Oscars film awards to avoid the circulation of "screener" DVDs to voting members.
UK cinema chains will begin receiving their copies of the film early next week under the strictest secrecy. "The film will be distributed on digitally-encrypted files on a hard drive. There will be a special electronic key that contains the code to unlock that copy of the film for that particular auditorium," said Phil Clapp, Chief Executive at UK Cinema Association.
Even if someone took tried to use the hard drive in another digital projector server it would not work without the correct key.
Empire's Star Wars: The Force Awakens covers

Show all 6
Cinema managers will hold discreet advance screenings of the Force Awakens to ensure the file contains no sound or picture flaws.
Mr Clapp added: "The biggest challenge is to stop people recording the film on handheld devices. There is always competition to be the first to upload a full pirate copy of a big film but we have a very good security record in UK cinemas. There will be extra staff with night-vision goggles who are trained to look out for unusual behaviour."
Access unlimited streaming of movies and TV shows with Amazon Prime Video Sign up now for a 30-day free trial
Sign up
French audiences will get to see the film a day earlier than the UK, with the international roll-out telescoped within three days in a bid to supress demand for pirate copies.
The anti-piracy campaign extends to the merchandise deluge accompanying the film. Facebook deleted a picture of a new action figure for the character Rey, played by Daisy Ridley, which had been purchased legitimately at a Walmart store and posted by the Star Wars Action News site, after a complaint of "copyright infringement".
Security concerns of a different kind have been heightened following the Paris terror attacks. Cinemas are encouraging fans to wear Star Wars costumes to screenings but the Odeon & UCI chain said customers will be asked to remove Darth Vader masks and keep their lightsabers sheathed.
A spokesman said: "We're going to see some amazing costumes but we're asking people to be sensible so please leave anything that resembles a gun or a blade at home. Fans who wear full-face helmets will be asked to lift them up so we can say 'hi'." Eight foot Wookie outfits, which might block the view of those sitting behind, will also have to be discarded.
Vue cinemas said Duty Managers would have the final say on appropriate wear and asked audience members to avoid "items which might offend a family audience."
The Odeon chain said it had sold a record 500,000 advance tickets so far, with many fans planning to attend multiple screenings. Vue said it had sold a record 320,000 advance tickets.
Mr Clapp said: "The buzz around Star Wars is bigger than anything we have seen before. Our hope is that by mid-January we will be looking at the biggest UK film of all time."
Odeon cinemas have stocked up with 600,000 cartons of popcorn and 300,000 Star Wars souvenirs, including souvenir cups and keyrings to meet the expected demand.
Join our new commenting forum
Join thought-provoking conversations, follow other Independent readers and see their replies