Tina Fey and Amy Poehler's best jokes from the 2015 Golden Globes
Best friends end their three-year hosting stint in typically brilliant style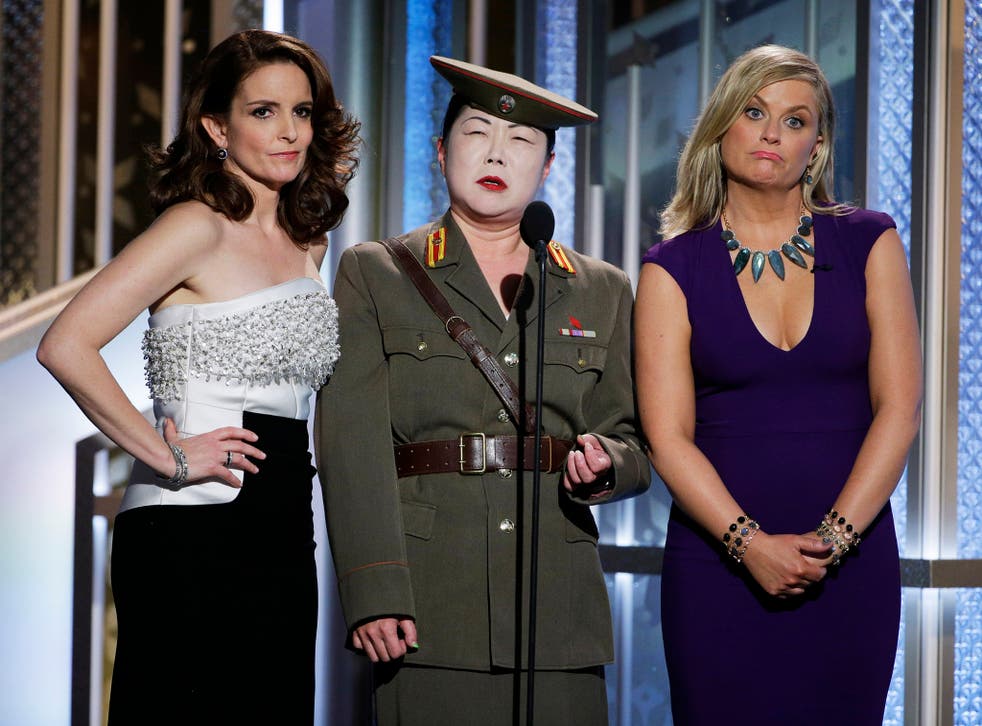 The British may have dominated the American film world this year, but there is one area the US puts its neighbours across the pond to shame: award show presenting.
After three years of hit-and-miss performances by host Ricky Gervais, Tina Fey and Amy Poehler have produced a tour-de-force demonstration on how to nail award show comedy with just the right mix of risk and humour.
While Gervais never quite found the right tone to proceedings, promptly offending the likes of Mel Gibson and Johnny Depp, Fey and Poehler's three-year stint - which came to an end on Sunday night - has jabbed fun at Hollywood's finest whilst making sure its more playful joshing rather than biting banter.
Golden Globes 2015 winners

Show all 15
In typical fashion, the pair opened by calling the crowd a "bunch of despicable, spoilt, minimally-talented brats", while also teasing the Hollywood Foreign Press Association (a Golden Globes tradition) by introducing the awards as the "the 72nd and final Golden Globe awards".
Here are the other best lines from the pair's final performance:
Making fun of The Interview
Amy Poehler: The biggest story in Hollywood this year was when North Korea threatened an attack if Sony Pictures released The Interview, forcing us all to pretend we wanted to see it.
TF: North Korea referred to The Interview as absolutely intolerable and a wanton act of terror. Even more amazing: not the worst review the movie got.
Flying the flag against Hollywood sexism
AP: Patricia Arquette is here, so wonderful. So, so wonderful in the film Boyhood. Boyhood proves there are still great roles for women over 40, as long as you get hired when you're under 40.
TF: Steve Carell's Foxcatcher look took two hours to put on, including his hairstyling and make up. Just for comparison, it took me three hours today to prepare for my role as "human woman".
The usual Joaquin Phoenix gag
TF: Joaquin Phoenix is nominated for Inherent Vice, but obviously he isn't here tonight because he has said publicly that awards shows are total and utter bull— oh hey, Joaquin! There you are!
The Wes Anderson hipster joke
AP: Wes Anderson is here tonight for The Grand Budapest Hotel. Per usual, Wes arrived on a bicycle made of antique tuba parts.
Joking with Steve Carrell
AP: Steve Carell is here tonight, for Foxcatcher. In Foxcatcher, Steve Carell plays a paranoid, murderous billionaire. The role was a stretch for Carell who in real life is a paranoid, murderous millionaire.
The 'George Clooney'
TF: George Clooney married Amal Alamuddin this year. Amal is a human rights lawyer who worked on the Enron case, was an advisor to Kofi Annan regarding Syria, and was selected for a three-person commission investigating rules of war violation in the Gaza Strip. So tonight, her husband is getting a lifetime achievement award.
The best game of Who Would You Rather
TF: Richard Linklater or Alejandro Inarritu?
AP: Hmm. I'm going to say Inarritu: one take, two hours straight, no stopping.
TF: Linklater: Five minutes once a year.
A well-played civil rights joke
TF: In the 1960s, thousands of black people from all over America came together with one common goal — to form Sly and the Family Stone. But the movie Selma is about the American civil rights movement that totally worked and now everything's fine.
Join our new commenting forum
Join thought-provoking conversations, follow other Independent readers and see their replies