Carl Cox Interview: Legendary DJ talks Ibiza, social media and the shifting nature of electronic music
One of the founding fathers of the techno-house genre, Cox talks to The Independent about the changing fortunes and perceptions of the music
Megan Townsend
Thursday 02 August 2018 19:30 Comments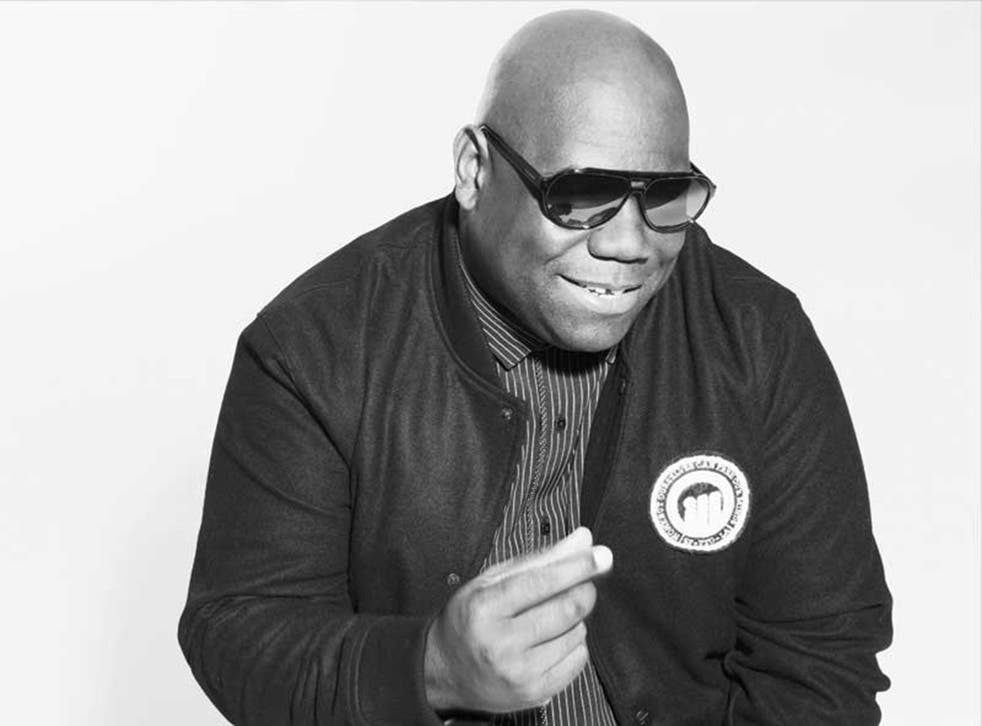 Carl Cox has become eponymous with the legacy of electronic music. The Oldham-born British DJ began his career in the late Eighties and since then has built up a reputation as one of the founding fathers of the techno-house genre.
His credits include massive sets at Ultra Music, Awakenings and BPM Festival, a regular spot on BBC Radio 1's Essential Mix, and even a critically acclaimed Netflix documentary What We Started that has both reminded his existing followers of, and introduced new audiences to, the complex and rich world of underground music.
For fans, Cox's annual residency at Space Ibiza became something of a pilgrimage – a bucket-list show that featured not only music from the man himself but also an array of new talent. It was sad news for many when the DJ announced the end of his residency, after 15 years at the Balearic club, in 2016.
Two years later, however, the island appears to be the place Cox just can't help himself from returning to. There he is performing three shows, at three different venues: DC10, Pacha and Amnesia. The Independent caught up with Cox on his thoughts about Ibiza, how social media continues to change the role of a DJ and the rising popularity of the techno sound.
So you're in the middle of your One Night Stand shows in Ibiza. How have you found the island this year?
Since Space has closed, there hasn't been any unity on the island, I think. Space had the opening party Fiesta, it felt like the official opening of the season, which meant people from all over – the workers, people from the mainland, locals, everybody – they celebrated the opening and now they don't have that, there hasn't been that build up or that crescendo, so it feels a bit weird for people. It's a bit daunting, to be honest.
The VIP culture of it all has had an impact too, you end up having empty chairs, empty seats everywhere – it feels like the island hasn't truly opened yet, it's a bit weird how its taken so long. Now it's the height of the summer, it should be packed everywhere and it just isn't, there's plenty of space on the island at the moment – no pun intended.
You have mentioned in other interviews that Ibiza's energy has changed somewhat. Do you think this is down to commercialisation?
Yeah, everyone's going for the dollar, you know. Hotel prices have gone up, drinks prices have gone up, club entrance... everything is expensive. It's incredible. It's reacted to the growth of what's been going on over the years and I think its come to the point now where the bubble has burst, and [the island] can't come down from it, and this is it, a lot of people are looking to go elsewhere. You know you've got somewhere like Croatia, Croatia is the next big thing – you know it's the beautiful place, you get to explore a lot more: it's more like what Ibiza was in the old days.
Enjoy unlimited access to 70 million ad-free songs and podcasts with Amazon Music Sign up now for a 30-day free trial
Sign up
Has social media played a part in the change?
When you went to Ibiza you never had your phone with you, you'd leave your phone at home and you wouldn't use it, and you went away for a week and you had the time of your life. Whereas now everything is name-dropping, and where are you and what are you doing now, here's a selfie, here's a boomerang shot. As soon as you go on the turntables the first thing you see go up are phones. Whereas before everyone would start dancing, excited to hear some music, and now all you're getting is wobbly videos and distortion – telling all your friends, "wow look at that, look at the great summer I was having – on my phone, which I've dropped now and everyone's stomping on it, now I've got to buy a new phone".
How was going back to the island after your Space residency?
We were like a well-oiled machine, how we did it, why we did it, and the ideas we had of how to make things better. Whereas I think now we're going back and doing things individually and it changes, the work has changed, the mood's changed, the motivations to do this have changed on every single event that we do now. But I do think less is more: I think I've gone in and I've thought – well, I'm not doing so much on the island anymore, I've really been savouring these nights – I'm going in and I'm like "that's it, I'm going to have the best time possible", because I'm not going to be here every weekend.
Does the crowd for One Night Stand differ from your old Space spot?
I think it's the way people have treated it, you can't go and be like "ugh, yeah, it's not as good as last week" or "I'll skip it, I'll go next week, or next year even", because next year of course I'll go back, but I'm not sure what time or what date even – but the idea now is you keep people guessing. Back in the day we'd have secret parties and secret raves, and you'd have to get in your mates car and drive and you'd turn up and have the best time because you knew that this might not happen again, whereas in Ibiza now you know, you've always got an app for that, you can buy a ticket for your friend, you can plan your holiday around an event and it's all pretty much set in stone.
From the clubbing point of view, you're not coming here now for a general experience any more, there really has to be something that you're really excited about going to.
What was the last show you went to in Ibiza as a clubber?
I actually can't even remember the last time I went to a club night (laughs). If it was me leaving my house to actually go out and see someone play it was probably Erick Morillo at Pacha when he was doing Subliminal Sessions. That was awesome on a Wednesday night down there, he was really the king of that castle, and he got everyone out to enjoy his music. You know I used to play on a Tuesday, and his night was on a Wednesday and I was always drained from my night, but I'd still rest up as much as possible and head down to Pacha and there was no air conditioning, nowhere to stand and it was always super hot, but it was worth it.
Has the industry become more high maintenance?
The expectation on everything is really high now, it's hard to have an event now in Ibiza without having like four or five big names, whereas you used to just go to the club. If the DJ was any good then happy days. You know we even had Privilege that wasn't even full up, of course it's one of the biggest clubs in the world, but with that lineup that it had, it should have been absolutely chocca, this is telling you what's going on on the island. Next week I'm sure it'll be better, but it gives you a barometer of what's really going on at the moment, even with the names people still aren't getting through the door.
Is the pressure on artists increasing?
Everyone has to step up. I feel really sorry for the new DJs that are coming through because the bar is so high, that they need to do something really special to break through. At the moment people are really into techno, so every DJ is playing techno.
What has caused this explosion of techno artists?
I think to be honest EDM has played a massive part in the techno resurgence. EDM has a massive energy in it, massive breakdowns. But if you think about it in the past five years, if you went to go see any EDM DJ most of the DJs played the same style or the same type of thing, or even the same tracks. I think people wanted to go to this kind of event, but they couldn't bear to hear the same track over and over, the same way, by the same DJs anymore.
See techno takes you somewhere else; it's a similar experience, but the audience is being taken on a developmental journey, they want to discover new sounds. You don't have to have the drops in the records, you don't need to have the vocals in it, you don't have to have the fireworks and all this paraphernalia – it's because you're into the music. So people who experienced EDM, loved it, but after five years you've had enough, this is what has pushed the techno stages at festivals.
Also with techno, you don't need to produce main stages all the time, you can be in a club with 200 people and still play techno. With EDM there has to be arenas, and they can't play past an hour and a half, whereas techno you can play as long as you like – as long as the crowd are there.
Recently I did a festival in London called Junction 2, B2B with Adam Beyer. Now usually in London if you're playing techno, you'll get 200-300 people and that's it. We had 15,000 people for a techno lineup, which is just an insane response, where before that would be numbers reserved for EDM so really there's a massive shift: I mean a few days ago, an event in Ibiza David Guetta was playing tech-house! What's going on here?
How has this affected you personally as a techno DJ?
I've always been a techno DJ of course, but I remember techno used to be a dirty word and people would instantly say: "I don't like Carl Cox, he plays too hard, I want to find something easier to listen to." But I've always played with integrity; if the crowd couldn't handle the tough techno sound which I like, then I would warm it to the point where it makes sense for the dance floor.
So funky techno, or tech-house or tech-funk or funk soul, it was always something I adapted to, and I managed to keep that all the way through until now. Now techno is the hipster word of today and all these DJs are playing techno, it's great again! it's landed on my lap just like, bang! "Oh you're a techno DJ fantastic!", before they just wanted that deep house sound 124-126 BPM with vocals, now everyone wants 132 BPM no vocals and it's just slamming!.
If you listen to Amelie Lens, she's just slamming! It's incredible you know because I used to slam it 25 years ago, and the BPMs are going down so I can basically just keep grooving you know. We're seeing 134 BPM and this is it, the people out there they want to rock, they want the DJs to push the buttons and see something. The rave was built on energy and the excitement of it all and this desire to get lost, it's like a new era for me now, it's like a new day, all these DJs have decided they want to play tougher music and I'm loving it.
What DJs coming through at the moment in techno have you got your eye on?
I mean there's so many, the old guard are still doing their thing, it's difficult really to pin point anyone truly coming through. I mean, the girls seem to be doing it for themselves right now, you know Amelie Lens, Deborah De Luca – you've got Dax J, a young guy coming through really laying down the order on his sound, it's phenomenal really that this new generation of DJs are coming through, but coming through from techno, it's brilliant to see it. I would like to see some girls coming through as well though, I think some of these girl DJs are better than some of the guys. Techno and electronic music has been so male dominated for many many years, bring them on, it's their turn, to be honest.
What about a resurgence of the more traditional acid house sound?
Yeah I mean, there's an event that i'm doing called 51st State Festival in London and everyone is really, really super excited about it – these acts, these DJs were at the forefront of the genre, me included. So it's pretty crazy to see an event that is Grooverider and Derrick Carter, and people are freaking out about it from both the older generation who were around when these guys first came about, but also the younger generation who I guess through modern techno have ended up delving into the history of dance music and ended up supporting the old guard. It's the complete opposite of EDM, we're looking back at where it all came from – we're definitely putting a stake in the ground and saying 'we're not going anywhere either, this is our music!'
So you're doing a house set at 51st State Festival instead of your usual techno?
Yeah, they had to mention that (laughs), "how can he be on the lineup? He's a techno DJ? How?" – no, I'll say, don't worry, he has house under his name, you'll all be fine. You know I came from house music, it's exactly where I want to be and what I want to do. I've done it before with these guys two years ago, it's really funny – I think you're going to have some people turning up who want to see me fail! I'll tell you now, I'm going to put one record on and you're gonna die. They're going to go, "Wow'! Coxy gets one tune, so that tune better be special."
But yeah, I could do that whole festival myself with all the music I have from house music. I kind of like it, it keeps me on my toes – I'm really conscious about it, I'm not known for playing house music. Most of these DJs on there know where I came from, I can't wait to play some of those old records. I just hope the crowd get it, because the music I grew up with, where I came from, it would be hard to see that fall on deaf ears.
For more information on 51st State Festival visit www.51ststatefestival.com/
Register for free to continue reading
Registration is a free and easy way to support our truly independent journalism
By registering, you will also enjoy limited access to Premium articles, exclusive newsletters, commenting, and virtual events with our leading journalists
Already have an account? sign in
Join our new commenting forum
Join thought-provoking conversations, follow other Independent readers and see their replies