Alanis Morissette is back in the spotlight following duet with Taylor Swift on 1989 tour
After Taylor Swift introduced Alanis Morissette on stage to her own slightly mystified young fans, Gillian Orr asks: are we ready for a comeback from the Nineties queen of pop?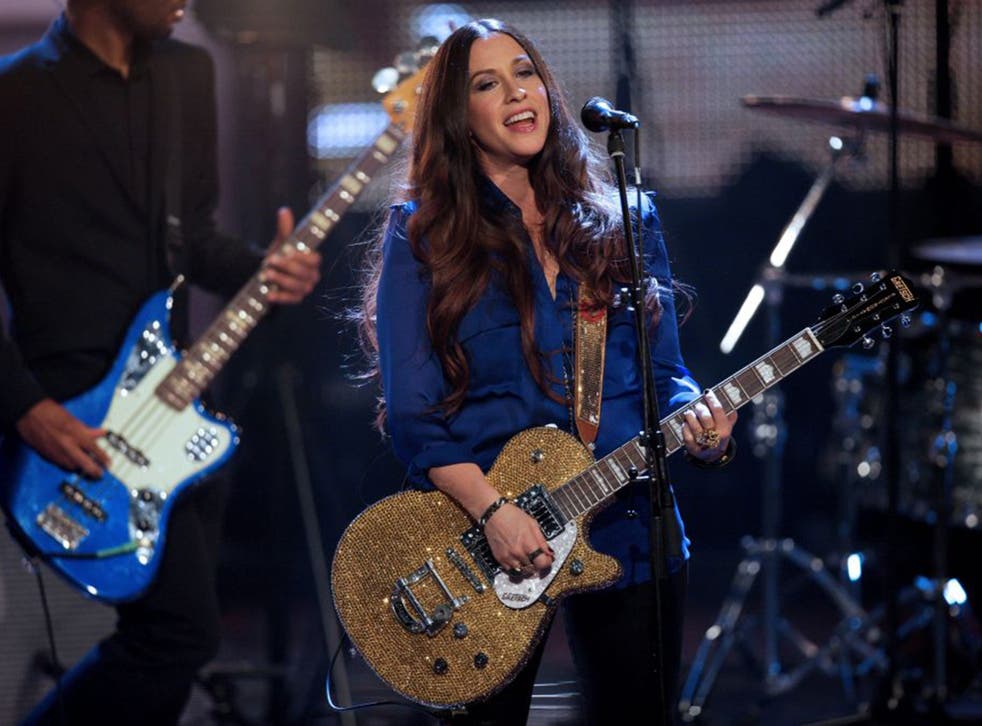 Of all the slebs that Taylor Swift has so far brought on stage for her 1989 tour – a wildly disparate group of supermodels, athletes and Friends alumni – perhaps one of the more fitting guest stars was Alanis Morissette, who this week joined the 25-year-old pop princess at LA's Staples Centre.
Introducing Morissette's "You Oughta Know" as "probably, inarguably the greatest breakup song of all-time" – a genre Swift knows a thing or two about – the pair then delivered the 1995 hit with all the passion of two women who'd gone to heal their broken hearts in Lucky Voice after a few too many rosés.
The reaction was, well, it's hard to say. There is plenty of screaming on blurry footage, but one suspects that was mainly from mothers accompanying their daughters, seeing as younger fans turned to Twitter in their droves to lacerate the forgotten Nineties star. "WHO IS EVEN ALANIS COME ON TAYLOR", wrote one dissatisfied customer. The Swifties can't have been this confused since their idol wheeled out Joan Baez a couple of weeks previously. Then you have to wonder what the assembled teens and tweens made of Morissette belting out the famous line, "An older version of me; is she perverted like me? Does she go down on you in a theatre?" "We Are Never Ever Getting Back Together" this is not.
But singing about blow jobs aside, there's plenty to tie Swift to Morissette. And on the eve of the 20th anniversary of the Canadian-American's 33 million-selling album, Jagged Little Pill, she could well be about to make a comeback.
The best and worst comebacks

Show all 10
Morissette had been the youngest person to ever win the Grammy award for album of the year, until Swift stole that particular accolade from her in 2010 with Fearless. And her angsty style of songwriting paved the way for artists such as Swift, something she acknowledged when she introduced Morissette at length on stage.
"She inspired a generation of confessional female singer-songwriters, who all of a sudden felt like you could actually say these raw feelings that you had; you could actually sing about your real life, you could put detail to it, you could get really, really mad if you wanted to," fan-girled Swift. "And I think it's fair to say that so many of the female singer-songwriters of my generation, including myself, would not write the way that we do without her and her music."
October will see the release of a four-disc "Collector's Edition" of Jagged Little Pill, the best-selling album of 1996, which will include unreleased demos, concert recordings and acoustic versions. In a statement, Morissette said she was, "super excited to share this music with a whole new generation of peeps". She is also in the process of writing a Broadway musical based around the songs of the record that Rolling Stone voted 327 on its list of Greatest Albums of All Time.
So can the woman who angered an entire generation of linguists with her wildly inaccurate use of the word ironic make a comeback? Morissette, who wrote her monster hit record in Toronto when she was just 21, never managed to recapture her early success. Her five follow up albums have all gone top ten in the US charts but, well, can you name one of them? Her most recent, 2012's Havoc and Bright Lights was quietly ripped apart by critics, with this newspaper awarding it one just star and making the observation that "Morissette is the sort of woman who does yoga to ensure she can still gaze at her navel".
Still, last time she toured through the UK she played to 20,000 people at London's O2 Arena. Presumably most of the set list was made up of her international debut, bu t that's because Jagged Little Pill remains a classic; an emotional rollercoaster through someone's psyche that warrants picking up a hairbrush and howling along.
Enjoy unlimited access to 70 million ad-free songs and podcasts with Amazon Music Sign up now for a 30-day free trial
Sign up
Yes, it might be overblown, over-sung and over-produced but the relatability of her tunes mean they have stood the test of time (the videos, however, haven't dated quite as well.)
So good on Swift for giving Morissette a platform and reintroducing her to a new generation. One can't help feeling that they really oughta know.
Join our new commenting forum
Join thought-provoking conversations, follow other Independent readers and see their replies