Amy Macdonald: Songs in the key of life – from Glasgow
Amy Macdonald isn't your average pop star. She writes positive songs, refuses to relocate to London, and has a footballer boyfriend yet hasn't sold her privacy to the tabloids. David Sinclair meets her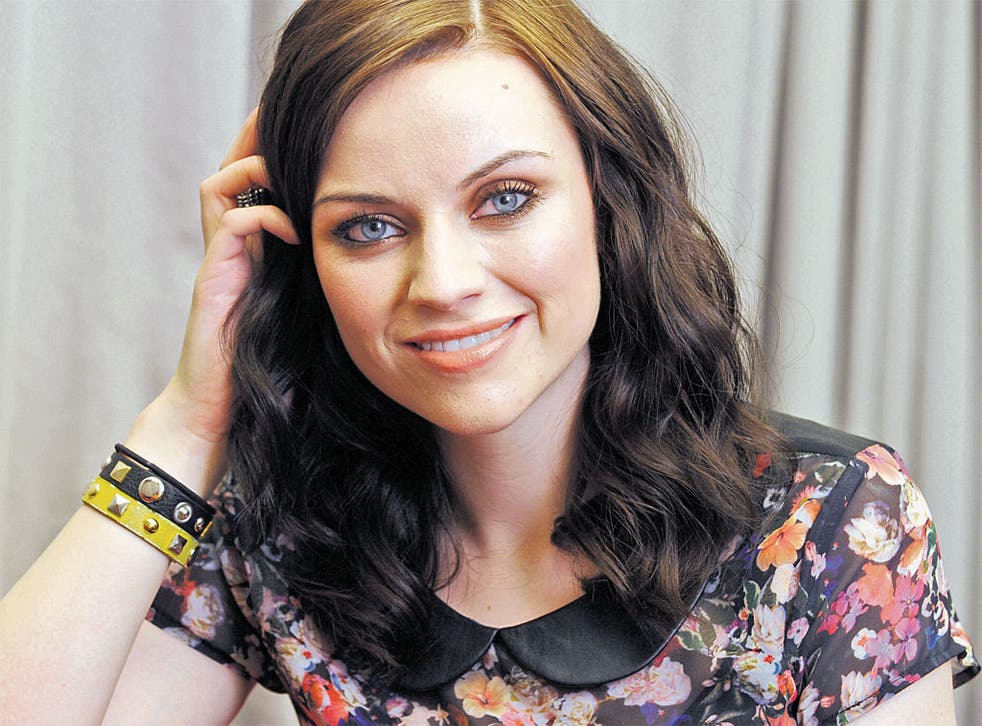 Amy Macdonald is a pretty big pop star. The Scottish singer and songwriter, who broke through in 2007 with her debut album and single, This is the Life, has sold four million albums, and topped the charts not only in Britain but right across Europe.
Indeed, in Germany, Switzerland, the Netherlands and elsewhere, she is way more popular than acts such as Florence and the Machine or Jessie J. But when it comes to playing the fame game, Macdonald still hasn't got the hang of it.
"I don't see myself as any different from anybody else and I never have done," she says. "If I've done a gig and at the end there are people waiting for autographs, they always seem nervous, but they probably don't realise that I'm more nervous than them. I get very embarrassed. I think, 'why are these people waiting out in the cold for me to ruin their nice CD with my scrawled signature?'"
Macdonald is the anti-diva. Polite, sensible, modest and still only 24, she defines herself in militantly ordinary terms. I find her sitting alone in the corner of a deserted restaurant in the Merchant City area of her beloved home town Glasgow. Pale and slender, she is nursing a bottle of water. It is a hot summer day, but she wears a cardigan which she pulls tighter round her shoulders every so often. She has come to talk up her new album, Life in a Beautiful Light, another collection of heartfelt, buoyant, pop-rock songs with catchy choruses that are already spilling on to the Radio 2 playlist. Once again the album has the word "life" in the title, for this is her big theme: the mystery, the beauty, the wonder, and, most importantly, the joy of it all.
"It was very easy to name this album," she says. "I took a year out to write it and I was at home in Glasgow the whole time. I was so happy and relaxed and positive and Life in a Beautiful Light just seemed perfect, because it summed up exactly how I felt."
As with her rejection of celebrity status, Macdonald doesn't subscribe to the fashionable notion that the serious songwriter must undergo a process of hard knocks and emotional turmoil.
"A lot of people in the music business are a bit doom and gloom," she says. "People say it's probably easier to write sad songs than it is to write happy ones, so that's maybe why. I just wanted to be a bit positive about things rather than always being negative."
Macdonald doesn't shy away from serious or difficult subjects – if anything, quite the reverse. "Left That Body Long Ago" tells the touching story of her grandmother's terminal decline due to Alzheimer's disease, while "Across the Nile" is an emotional response to the events which unfolded in Egypt during the Arab Spring. But she always manages to find a positive spin. In "The Green and the Blue", a scrupulously balanced song about the Celtic and Rangers football teams, she even manages to tease out an upbeat message from a local rivalry that has traditionally acted as a lightning rod for bitter sectarian hostilities.
"There's so many decent people who aren't like that, but who are really passionate about their clubs," she says, "And all their life is based around football, and I just think that if that makes them happy then that's not a bad thing." Macdonald moves through a pop world of garish excess with a quiet sense of decorum and an unshakable belief in her place in the scheme of things. Her fierce loyalty to her Scottish hearth and home is in some ways the key to her unpretentious nature. She lives with her boyfriend, the recently retired Partick Thistle footballer Steve Lovell. But there is not much danger of them becoming the new Posh and Becks.
Enjoy unlimited access to 70 million ad-free songs and podcasts with Amazon Music Sign up now for a 30-day free trial
Sign up
"We don't have the whole paparazzi celebrity culture up here," she says. "Being in Glasgow it's really easy to remain the same. I still have all the same friends I had when I was at school. I'm much more comfortable in a dingy old pub than I would be at some glittering ball."
Macdonald's Scottish background runs through her music like the writing through a stick of rock. She was born in Bishopbriggs, a suburb in the north of Glasgow which was "a nice place to live, not overly posh". She had a happy childhood: "I've never had any major trauma or anything like that."
Inspired by the music of Travis, Oasis and other Britpop bands of the 1990s, she taught herself to sing and play guitar, and began writing her own songs. She was smoothly plucked from obscurity after answering an advertisement in the NME by the production company run by the husband-and-wife team of Pete Wilkinson and Sarah Erasmus, who quickly secured her a major label deal with Mercury Records.
Since then, Macdonald has enjoyed an almost eerily stable career. She is still managed and produced by Wilkinson and Erasmus, who have become her second family in the south ("they care for me, the same as I do about them"). She is still signed to Mercury. She still has the same band, who play with her on the album and on the road ("I've made friends for life with all of them"). Her new album was mixed by Bob Clearmountain, who mixed her debut ("It's as if he knows what I'm thinking. Everything is always right.")
And what if this charmed pop-star life should all end tomorrow, unlikely as it seems? She appears unfazed by the idea. She would continue to write songs, which her publisher would pitch to other performers – indeed, she has already started doing this. Or else, she says, with disarming candour, she would look for work as a tour manager. "I think I'm quite organised, and I definitely have the sort of personality that would quite like to do that kind of job."
'Life in a Beautiful Light' by Amy Macdonald is released by Mercury on 11 June. She plays the T in the Park festival, Kinross, on 7 July
Join our new commenting forum
Join thought-provoking conversations, follow other Independent readers and see their replies