Arthur Russell: Homage to the lost hero of dance and minimalism
His unique achievements are now being appreciated, more than 20 years after his death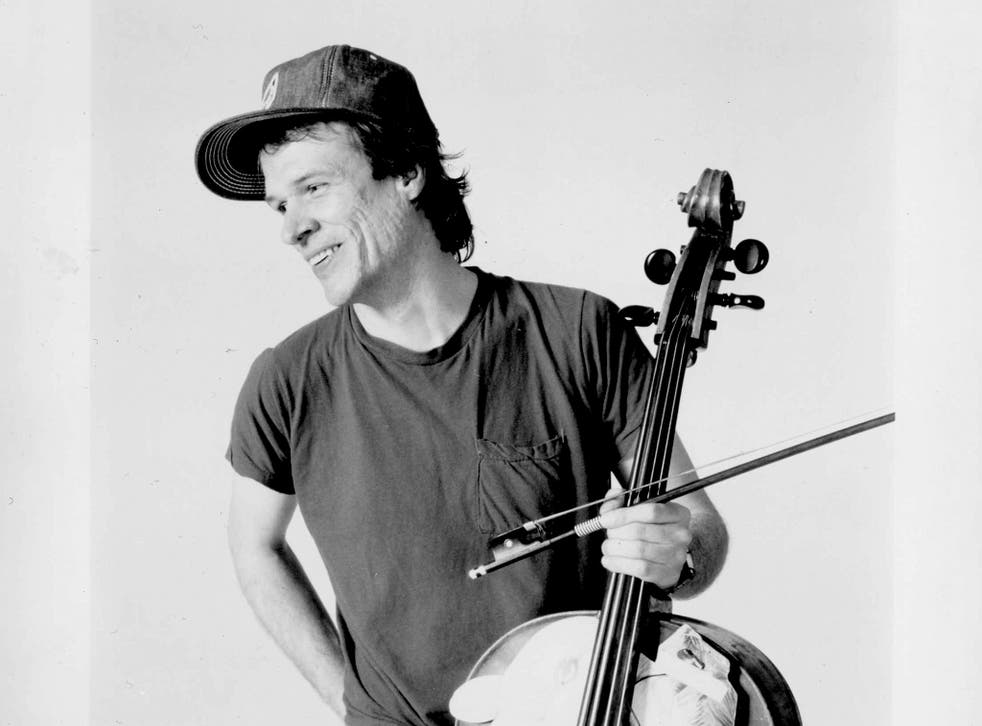 He was mentored by Allen Ginsberg, jammed with Talking Heads and collaborated with Philip Glass.
But when musician Arthur Russell died of an Aids-related condition in New York in 1992, aged 40, he was hardly known outside a couple of blocks in Lower Manhattan – where the dirt-cheap rents of SoHo and the East Village had fostered the heart of the downtown scene. It was as if, the obituary in the Village Voice read, his songs were so personal that he had simply vanished into his own music.
Today he is becoming a cult figure. Only last weekend members of Arcade Fire and Scissor Sisters paid homage at a performance in Brooklyn, while Hot Chip, Sufjan Stevens, Blood Orange and Jose Gonzalez were among the many artists to record tributes on an Arthur Russell compilation last year. Songwriters from James Blake to Tom Odell cite him as an influence. When a recent performance of Russell's Instrumentals – played once before in 1975 – was scheduled for east London's trendy Cafe Oto, the incoming traffic crashed the website in under five minutes.
On his death, the visionary songwriter, electronic pioneer, composer and cellist left behind nearly 1,000 hours of recorded material — from disco to country to avant-garde orchestral pieces, only a small fraction of which had been officially released.
The vast archive lay dormant for over a decade, presided over by his partner, Tom Lee, until 2004, when a dance-record executive, Steve Knutson, remembering Russell from his downtown hit "Go Bang" in 1982, approached Lee about releasing more material.
"People in the industry knew of Arthur and of all the tapes that he had left, many of them unreleased. They'd acquired a semi-mythological status," says Tim Lawrence, author of the biography Hold On to Your Dreams: Arthur Russell and the Downtown Music Scene, 1973-1992. "Steve was blown away by what he heard."
With the release of several posthumous albums and a documentary portrait – and another album, Corn, out this week – it seems Russell has finally found his audience.
At the London show of the Instrumentals, which was upscaled to the Islington Assembly Hall to make room for the unexpected demand, the atmosphere was electric. Most of the hip crowd looked under 30, but when the musicians arrived – guitar, organ, drums, woodwind, brass – they were happily into their sixties. The pieces hummed along in their own groove, a sweet melody breaking out, from time to time, only to disappear back into itself. Repetitive and oneiric, the Instrumentals feel somewhere between krautrock and a Hollywood theme tune. The encore, a version of Russell's 1980 disco track "Is It All Over My Face?", turned the crowd to frenzy. More UK dates have been added for August.
The revival is directed by composer Peter Gordon, a friend and collaborator who scored the first showing at The Kitchen, the Greenwich Village venue where Arthur Russell first performed Instrumentals. Gordon talks to me on a train across Switzerland, heading for the next show: "Arthur was a very shy, self-effacing person. That's probably why there was such a slow rise in interest in his music – he didn't really push himself as a persona. But there's a timelessness to his music: some art hits the zeitgeist immediately and other things take a while to find the right spot."
Russell wasn't cynical enough to be interested in creating a "brand", something reflected in the range of names he released his music under: Dinosaur L, Indian Ocean, Killer Whale, Loose Joints, and The Necessaries. Devoutly into disco and the communal ecstasy of the dance floor, he found in its sweaty repetitions a response to the highbrow minimalism that his peers Philip Glass and Steve Reich were practising in the classical world. And yet World of Echo (1986), the only full-length solo album released in his lifetime, is a lonely affair. Quietly beautiful, it brims and distorts with Russell's amplified cello bowing, harmonics and the fragile runs of his tenor croon.
Enjoy unlimited access to 70 million ad-free songs and podcasts with Amazon Music Sign up now for a 30-day free trial
Sign up
"Life isn't one-dimensional," Gordon says. "Arthur's music was rich enough for diverse groups of people to take different things from it: we've seen such a response to Arthur's Instrumentals, but others are really into his disco music, or connect to him as an amazing singer-songwriter; others relate in terms of sexual identity."
This is how artists as varied as electro group Hot Chip and Tom Odell can cite Russell as an inspiration. While the more cynical of his cult fans might sneer at one of Odell's piano ballads, Russell himself always extended his openness to pop. In fact, much to the bafflement of his friends downtown, he always believed he could be a pop star. "At one point he'd do something that would seem very avant-garde," David Byrne said shortly after Russell's death. "The next, he'd say, what I really want to do is sound like ABBA ... and after a while you'd realise that he was bringing strands of various things together."
Some of these strands can be traced through Russell's unusual background. He grew up in the grassy plains of Iowa, where he mainly wrote country and folk music; the turning point came when he went to study in San Francisco and met Allen Ginsberg, who visited the Buddhist commune where Russell was living. It was the start of a close spiritual and creative connection (and, for a brief time, sexual: Ginsberg had a crush on Russell – who was seeing women at the time – and would later tease that he had been Arthur's "first"). In the early 1970s, he introduced Russell to downtown Manhattan, where the poet was an influential figure.
They would perform together: Ginsberg reciting Buddhist mantras and Russell accompanying his variations on the cello. (Philip Glass later said: "This was a guy who could sit down with a cello and sing with it in a way that no one on this Earth has ever done before, or will do again").
In 1975, Russell was spotted by legendary Columbia Records scout John Hammond Sr, who discovered Billie Holiday, Bob Dylan and Bruce Springsteen. He invited Russell into the studio. "John Hammond had a great ear," remembers Peter Gordon, who played at the sessions. "He wanted Arthur to bring in his guitar and record 30 songs. Arthur, always contrary to expectation, showed up with a whole band – much to John Hammond's consternation." This was a missed opportunity: after a long reign of influence, Hammond's power was in decline.
"He was a big supporter of Arthur," explains Gordon. "But at that time, he wasn't able to do for Arthur what he had done for Bruce Springsteen, say, or Bob Dylan." As a result, over 30 years passed before any of the sessions were released, on the 2008 album Love is Overtaking Me.
Arthur Russell's genre-defying idiosyncrasies and his commitment to musical collaboration may have inhibited his commercial success during his lifetime, but it's this same spirit that now keeps his music alive: bringing it to an ever-wider reach.
"This is my eighth concert in as many days," says Gordon, "and I keep discovering new things in Arthur's music. It holds a greater beauty every time."
'Corn' by Arthur Russell is released by Audika Records on 9 June. 'Instrumentals' is at Vision Festival, Hackney (visionsfestival.com) on 10 August
Join our new commenting forum
Join thought-provoking conversations, follow other Independent readers and see their replies