Back in Black (Sabbath): On the comeback trail with Ozzy Osbourne and crew
Black Sabbath have pulled off one of rock music's great comebacks – against all odds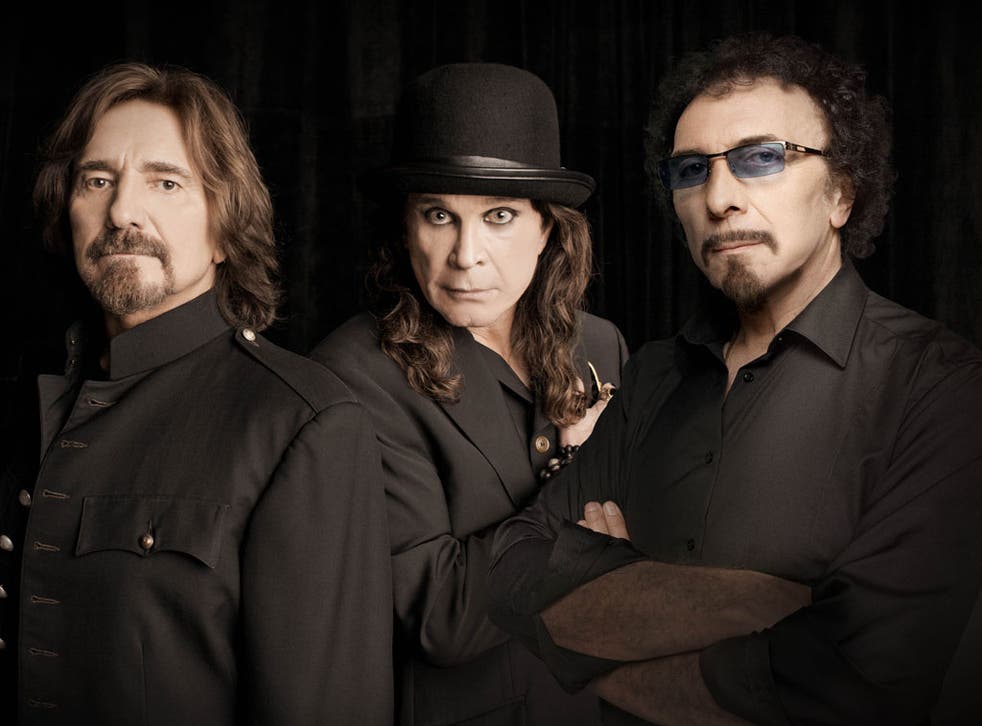 Black Sabbath are no strangers to the surreal, but the way this year has unfolded has taken even them by surprise. In June, they released comeback album 13, their first collection of new material in 18 years. It topped the charts in 50 countries: a feat all the more extraordinary for the album's difficult gestation period.
In January 2012, shortly after the reunion of Black Sabbath's original line-up, Tony Iommi announced he had been diagnosed with cancer. The following month, drummer Bill Ward exited the band after a "contractual dispute", the precise nature of which remains unclear. And then, in April of this year, singer Ozzy Osbourne was moved to publicly apologise to his wife and family on Facebook for an 18-month downward spiral of drinking, drugs and "being an asshole".
Against these considerable odds, the album has been an unqualified success, critically as well as commercially. Helmed by uber-producer Rick Rubin, who steered Sabbath back to heavy-blues basics, 13 is a surprise return to vintage form: dark and raw but melodic and accessible too. It was their first British No 1 for 43 years and their first American No 1 ever. "It's been phenomenal," beams Osbourne from behind his trademark purple round shades: "Too much for me to grasp."
Sipping tea and festooned with bling, Osbourne does not seem to be finding it especially difficult to grasp things. He is much more switched-on than a photographer friend found him to be a few years ago, when he turned up for a shoot to find the Prince of Darkness lost and disoriented in his own house. Today, sitting in a suite in London's appropriately gothic St Pancras Renaissance Hotel, Osbourne and Iommi are relaxed and in fine, sweary fettle. They are in London to attend the Classic Rock Awards (at which they will win three gongs, including one for Album of the Year).
Soon, they are reminiscing about wilder times on previous tours: anecdotes begin "I was fucking drunk at eight o'clock in the morning" (Osbourne) and "Remember the rubber chicken at Heathrow?" (Iommi). (It was spring-loaded in a container opened by a customs official.) Rock'n'roll chaos has not been completely consigned to the history books, however. "They sent the sniffer dogs on last month when we flew from Colombia to Mexico on a private jet," says Iommi. "Every bag was searched, then they sent the dogs on." "And I'm going, oh god, I hope I still haven't got those four grams of blow on here," jokes Osbourne. At least I think he's joking.
They tell me it has been "refreshing" to play new material alongside Sabbath staples such as "Paranoid", "War Pigs" and "Iron Man". "I kept my vocal pitching [on the album] down to a level that I can sing live," says Osbourne. "You can do so much trickery in the studio, but when you go on stage it's impossible to reproduce every night. It's a mistake I've made a lot in the past."
One of the new songs, "Dear Father", is a vitriolic attack on the Catholic church over the paedophile-priests scandal. How does a band that started out by cultivating a "Satanic" image feel about religion more generally? "You don't have to go to church to believe in God," says Osbourne. "I don't like organised religions – they're so fucking corrupt." But it's hard for him to be serious about anything for long: when I ask if he is a spiritual man he replies, "I used to be a very spiritual man". Pause. "It's called whisky." So, not any more, then? "No," he says. "It's pop now. But at least I remember going home, and I don't wake up in a jail cell with divorce papers landing on my lap."
This is delivered as another joke, but we all know it isn't, because his wife, Sharon (inset left, with Ozzy), revealed in her autobiography in September that she had demanded a divorce after discovering he had relapsed into drugs and alcohol last year. Osbourne says they have made up – "Things are much better now. The family are all great" – and talks uxoriously about her "flying backwards and forwards from Los Angeles to London every week to do the X Factor. I don't know how the woman does it."
And what of their former drummer Ward? Why hasn't he rejoined Osbourne, Iommi and bassist Geezer Butler to complete the classic Sabbath line-up? At first, they blame it on "fucking haggling" over contracts, which they claim not fully to grasp because "we've all got managers" and "we don't know what the deals are". But then Osbourne says: "It would have been great to have Bill. We all love him. But drumming is very physically demanding and I was afraid he wouldn't have been able to keep up with us." Iommi adds that he exchanged emails with Ward only the other day and that Ward was "in and out of hospital" with diverticulitis, a digestive disorder. "Is he OK?" asks Ozzy anxiously. "I hope he's OK …."
Enjoy unlimited access to 70 million ad-free songs and podcasts with Amazon Music Sign up now for a 30-day free trial
Sign up
Iommi, as his iron handshake testifies, is in robust health again. I do not raise the subject of his treatment for lymphoma directly with him, for fear of appearing glib, and he accepts my compliment that he is looking well without further comment. However, speaking on the phone the following day, Butler raises the subject and says that "we all thought he was on his way out at one point. He'd lost tons of weight and his hair was gone. I think the album took his mind off all the radiation and chemo. And then, as we were recording, he seemed to bloom."
Butler believes that Iommi was the main difference between this album and Sabbath's last (aborted) attempt in 2001, which yielded only six songs that were "just not good enough". "I didn't think we'd ever do an album together after that," Butler says. "Which is why we took so long. But this time Tony had got his own studio at home, and he had all these incredible riffs. The hardest part is to take an average riff and form it into a song. As soon as we heard these riffs, we knew Tony was back on form. We knew straight away it was going to work."
Will 13 be their last album? It ends with the sound of thunder and a tolling bell, which is how their very first LP began, though this was Rick Rubin's idea. "We're very pleased with the album," Iommi equivocates. "Though if it does turn out to be our last, then it's a great way to go."
Black Sabbath's UK arena tour begins next week. A new DVD, 'Live… Gathered in their Masses', is out now
Showing their metal: Five legends of hard rock where are they now?
KISS
The glamrock titans, as famed for their face paint as their music, have just completed an arena tour of North America. Gene Simmons and Paul Stanley are now part owners of an American Football team (Los Angeles Kiss). Their last album, Monster, was in 2011, but in October they became nominees for the Rock and Roll Hall of Fame.
Aerosmith
They've been through dramas in recent years including a now resolved feud between frontman Steven Tyler and lead guitarist Joe Perry, and Tyler breaking his shoulder in a stage fall. However the band seem to have put their troubles behind them and have confirmed a European tour next summer. Music From Another Dimension was their last album release in 2012.
Deep Purple
The group had various fallings-out and line-up changes but are on relatively stable form these days. Their 2013 release Now What?! was met with a generally warm reception from critics, and they are booked for European tour dates extending to early 2014.
Led Zeppelin
Since the band's last live performances at the O2 in 2007, the surviving members have been busy, with Robert Plant touring and releasing an album with country singer Alison Krauss, and guitarist Jimmy Page remastering the Zeppelin back catalogue for special release. Rumours that they would embark on a full reunion tour were scotched by Page's manager in 2009.
Van Halen
Have had two reunions, first with new vocalist Sammy Hagar from 2003-2005, then with original frontman David Lee Roth in 2006. This classic line-up is still in action, though they have been quiet of late: with only a handful of 2013 gigs, they have released no new material since 2009's A Different Kind of Truth.
Connor Cazalet-Smith
Join our new commenting forum
Join thought-provoking conversations, follow other Independent readers and see their replies