Beth Jeans Houghton - Freak folk's weird sister finally hits the charts
Four years after her debut EP kick-started the hype, Beth Jeans Houghton has an album, a new home in the US and a veteran rocker boyfriend.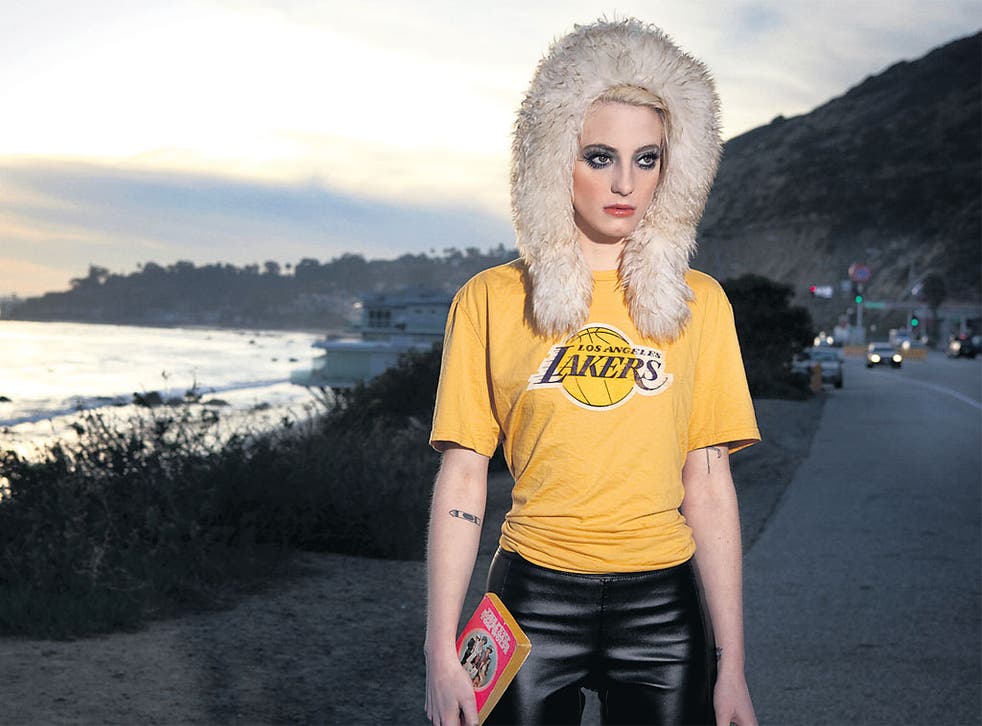 On a bright, bitter morning, the 22-year-old Geordie singer-songwriter Beth Jeans Houghton takes in the wide-screen view from a London hotel bar overlooking the bustling city centre. She is joined by one-quarter of her band The Hooves of Destiny – drummer Dav Shiel, a striking apparition in skin-tight, wet-look leggings, glam-rock silver glitter platforms and an enormous furry hat that's part feral chinchilla, and part White Russian countess.
"So many people have jobs that they don't really like. I don't ever want to retire," says Houghton. "As long as I'm able to do stuff, I'm going to be happy to do it for a long time."
In fact, she has already been doing it for quite a long time. The debut album may only just have been released, to positive reviews across the board, but the oldest of the songs on Yours Truly, Cellophane Nose (named after a prank played by Houghton and a friend, where they stuck boiled-sweet wrappers on their faces and waited to see if anyone would point it out) dates from when Houghton was 17. Despite early press attention in 2009, when she was first placed in the freak-folk genre alongside Joanna Newsom, in a canny move of creative control she refused to negotiate a label deal until the album was recorded; its release was further delayed by the illness of producer Ben Hillier.
One positive effect of the three-and-a-half year wait since Houghton first arrived on the scene has been craftily to sidestep the new-folk boom, which might have drowned her complex, subtle sound in a sea of Mumford and Sons. The glorious Yours Truly, Cellophane Nose, while it still has at least half a hoof in the freak-folk of 2009's Hot Toast EP, encompasses a wide and wonderful range of sounds, from the spiky Vampire Weekend-like highlife indie-punk of "Atlas" to the baroque Kate Bush whimsy of "Carousel", with lyrics touching on subjects from her mother's pregnancy with her brother, on "The Barely Skinny Bone Tree", to overly-perspiring lovers on "Nightswimmer".
Houghton, it's clear, is set on doing things her own way, even if it means losing out on the precious opportunities that hype offers. Unsurprisingly, she comes from the proverbial creative background; her parents were both graphic designers ("My mum used to draw the streetlamps on maps, isn't that cool?"), while her brother, Ben Jeans Houghton, is a respected artist who has designed sleeves and directed videos for her.
"My parents always encouraged drawing and creativity and stuff, and anything that involved your imagination," she says. "They never told us we were weird, whereas other parents would have. So we never noticed."
Everyone else did. From the release of Houghton's first EP in 2008, her textbook wild-child, free-spirit back-story became the stuff music hacks salivate over. She left school at 16, having taught herself guitar, and played her first gig at 17, the same year she was pulled onstage with Devendra Banhart at Green Man festival to perform her own song "Milk Bottles".
Her attention-grabbing wardrobe has featured hotpants, wigs and, in one memorable press shot, Dali-esque eyeballs painted on her breasts. Interviews might typically feature tales of her Arctic-fox spirit animal or of how she was going to live in a yurt, or focus on her synaesthesia, a condition in which, in Houghton's case, words and numbers become confused with colours and numbers.
"It makes absolutely no difference to the way I write songs," she insists, "And even if it did, I wouldn't know, because I've always had it." The development of her material and the burgeoning identity of the Hooves of Destiny have apparently reined Houghton in a little. If not exactly mature or serious, as her whimsical stage banter proves ("My mum gave me a hat for Christmas – just like a balaclava but with a moustache"), she is a decidedly less wacky performer now. It's much the sort of change anyone goes through between the ages of 17 and 22. You wonder sometimes, though, whether she feels that she is marketing a version of herself that she has outgrown.
"It's more that other people are promoting old versions of me," she says. "I find that people will take bits from interviews or reviews from, like, four, five years ago. If you took an excerpt from someone's old diaries they'd be completely different and it's the same with this. People will hold on to what they've heard a lot about, which is funny to me. I'd want to know what was new and what was happening now."
One thing happening now that Houghton is resolutely refusing to talk about is her relationship with Red Hot Chili Peppers singer Anthony Kiedis. She replies to a question about whether she frets that her band might get increasing attention for the wrong reasons with an unruffled: "I'd say no, and no comment."
Now, Houghton and the whole band are planning to decamp to Los Angeles, also birthplace of the Chili Peppers, for at least as long as it takes to record the next album. It is less fuelled by romantic convenience, though, than by a romantic obsession with the apotheosis of the rock'n'roll band. West Coast America in the 1970s, specifically Pamela Des Barres's riotous memoir I'm With the Band, and the great American weirdos like Frank Zappa and Captain Beefheart were her early obsessions, thanks to raids on her parents' record collections.
"It's just hearing these stories and the idea of travelling and working with your friends. You might get paid measly amounts for it, but I'd always choose happiness over riches," she says. "And it is so unbelievably fun. Plus, it's really cathartic singing songs. I get to express my feelings and leave them behind. Otherwise I'd probably end up all stressed up and depressed and insane. So let's never stop!"
Beth Jeans Houghton plays Queen Elizabeth Hall, London tonight, for BBC 6 Music's 10th birthday
Join our new commenting forum
Join thought-provoking conversations, follow other Independent readers and see their replies